FOR INFORMATION ON THIS CHAPTER PLEASE CONTACT:
The Greater Tidewater / Southside Virginia Chapter is headquartered at the Virginia War Museum in Newport News, Virginia. The Virginia War Museum is also the official repository of the Company of Military Historians uniform collection. The Chapter was chartered by the CMH Board of Governors in September 2006. Beginning with ten dedicated CMH members the Chapter currently numbers over fifty members from a wide variety of military history related fields. The Chapter counts professional historians, active and retired military, museum professionals, writers, collectors, re-enactors, researchers, and miniaturists among its ranks. Chapter members come from throughout the greater Tidewater and Southside Virginia regions.
The Chapter hosts a variety of events ranging from museum and battlefield tours, to member lectures and presentations. Upcoming events will include battlefield archaeology and cooperative events with other area militaria organizations. The Chapter meets bi-monthly depending on the type of event planned.
Gerald Roxbury, President: gcroxbury53@comcast.net
Fred Taylor: fred.taylor.va@gmail.com
Greater Tidewater/Southside Chapter-Company of Military Historians Facebook Page
https://www.facebook.com/groups/2237135873008560
Current News:
Fall 2021Gettysburg Show
Jerry Roxbury wins "Best in Show" for his display on "Civil War Officers Swords" at the Fall 2021 Gettysburg Show. Congratulations Jerry! Sword Display with Larry Floyd helping Jerry with the table.
Gettysburg Show April 2021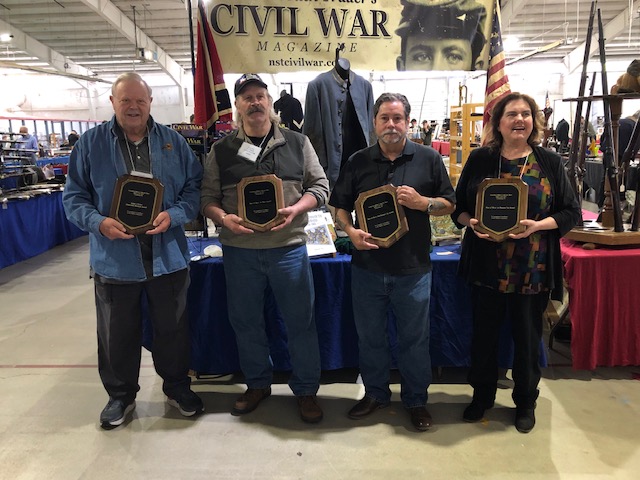 At the Gettysburg April 2021 show, CMH Chapter members took three of the four show display awards:
Juanita Leisch-Jensen 1st Runner-up for her display of Uniforms titled "Early and Ongoing Authenticity"
Jerry Roxbury 2nd Runner-up for display of swords titled "Presentation and Presentation Grade Civil War Pattern 1852 Naval Officer Swords"
Paul Johnson Judges Choice Award for his display of leather goods titled "Cartridge Boxes for Union Carbines 1839-1865"
Jim Brown won 1st prize with his display on "Virginia Manufactory Swords". Congratulations to all for outstanding displays!