Online Index Search Options
Currently, there are four methods of searching the index. The database contains entries for each signed article, Military Uniforms In America (MUIA) plate, and book review from Issue 1 forward. Company news items and announcements, the unsigned reviews in the Publications section, some letters to the editor, and the series of articles published under the heading "Keeping Tradition Alive" have not been included. Many articles have had keywords associated with them to improve searching. The index is updated regularly. Information on how indexing was accomplished, including information that might improve your searches, is available here.
There are four issues in each volume of the Journal. Search the online index by serial issue number to determine the contents of any specific issue. (e.g. Volume 2, Number 2 is Serial issue #6; Volume 40, Number 3 is Serial issue #159).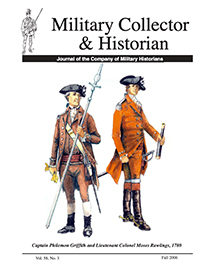 Online Index of the MC&H and MUIA Plates
Now that I have the results, where can I find the journal and plates?
Finding complete runs of Military Collector & Historian to use for research can be a problem. Finding the colored plates is even harder. We provide a guide to libraries with holdings at Open Libraries and Restricted Libraries.
Issue_No
Title
1st Author
2d Author
Additional Authors
Plate_No
Page_No
No_Illustrations
Country
Period
Branch
Army-Branch
Key_words
Type
1
Captain Henry Brush's Separate Company, Ohio Militia, 1812
McBarron, Jr., H. Charles
1
1
0
Ohio
War of 1812, 1812-1815
Militia
Infantry
uniform
Plate
1
Captain Robert Mullan's Company, Continental Marines, 1779
McBarron, Jr., H. Charles
2
2
0
USA, Continental
Revolutionary War, 1775-1783
Marine
uniform
Plate
1
22d Regiment, New York State Militia, 1862
Todd, Frederick P.
3
3
0
New York
Civil War Era, 1860-1865
State Militia
Infantry
Union Grays, uniform
Plate
1
1st U.S. Dragoon Regiment, 1836-1851
McBarron, Jr., H. Charles
4
5
0
USA
Westward Expansion, 1816-1859
Army
Dragoons
uniform
Plate
1
Some Notes on the Equipment of the American Revolutionary Soldier
Peterson, Harold L.
0
6
9
USA, Continental
Revolutionary War, 1775-1783
Army
Infantry
accouterments, cartridge box, cannister, bayonet scabbard, belt, canteen
Main article
2
Major Joseph H. Daviess' Squadron, Light Dragoons, Indiana Militia, 1811
McBarron, Jr., H. Charles
5
1
0
Indiana
Federalist Era, 1789-1811
Militia
Dragoons
uniform
Plate
2
Hesse-Hanau Regiment Erbprinz, 1776
Knotel, Herbert
7
2
0
Hessian
Revolutionary War, 1775-1783
Hesse-Hanau
Infantry
uniform
Plate
2
United States Naval Officers and Seamen in Battle Clothing, 1812-1815
McBarron, Jr., H. Charles
6
2
0
USA
War of 1812, 1812-1815
Navy
uniform
Plate
2
Brigade Company of Artillery, New York Volunteer Militia, circa 1787-1800
Kredel, Fritz
8
3
0
New York
Early Republic, 1784-1789 & Federalist Era, 1789-1811
Militia
Artillery
uniform
Plate
2
Henry Alexander Ogden, Painter of America's Army Uniforms
Groce, George C.
0
4
0
USA
Army
artist, uniform
Note
2
Notes on the Insignia of the Riflemen, U.S. Army, Part I
Campbell, J. Duncan
0
6
4
USA
Federalist Era, 1789-1811, War of 1812, 1812-1815, Westward Expansion, 1816-1859, & Civil War Era, 1860-1865
Army
Rifle
insignia, buttons, cap plates
Note
3
2d U.S. Artillery Regiment, 1812-1813
McBarron, Jr., H. Charles
Finke, Detmar H.
9
1
0
USA
War of 1812, 1812-1815
Army
Artillery
uniform
Plate
3
1st Virginia Cavalry Regiment 1861-1862
Todd, Frederick P.
Todd, Frederick P.
10
2
0
Virginia, CSA
Civil War Era, 1860-1865
Volunteer
Cavalry
uniform
Plate
3
155th Pennsylvania Volunteer Infantry Regiment, 1864-1865
McBarron, Jr., H. Charles
11
3
0
USA, Pennsylvania
Civil War Era, 1860-1865, & Reconstruction and Indian Wars, 1866-1897
Volunteer
Infantry
uniform
Plate
3
Boston Hussars, Massachusetts Volunteer Militia, 1810-1817
McBarron, Jr., H. Charles
12
5
0
Massachusetts
Federalist Era, 1789-1811, War of 1812, 1812-1815, & Westward Expansion, 1816-1859
Militia
Cavalry
Boston, uniform
Plate
3
Notes on the Insignia of the Riflemen, U.S. Army, Part II
Campbell, J. Duncan
0
6
4
USA
Westward Expansion, 1816-1859
Army
Rifle
insignia
Main article
3
The Patarero in Colonial America: A Brief Note on a Little Known Breech-loader
Peterson, Harold L.
0
8
2
Virginia, Massachusetts, Georgia
Pre-Colonial Era, 1492-1625 & Colonial Period, 1625-1774
weapons, gun, swivel
Main article
3
Bucktails
Unknown
0
10
0
USA, Pennsylvania
Civil War Era, 1860-1865
Volunteer
Infantry
insignia, 42nd Pennsylvania Volunteer Infantry Regiment, cap insignia
Note
4
U.S. Marine Corps, 1859-1875
McBarron, Jr., H. Charles
13
1
0
USA
Civil War Era, 1860-1865, & Reconstruction and Indian Wars, 1866-1897
Marine
uniform
Plate
4
1st U.S. Artillery Regiment, 1834-1851
McBarron, Jr., H. Charles
Todd, Frederick P.
14
2
0
USA
Westward Expansion, 1816-1859
Army
Artillery
uniform
Plate
4
4th Massachusetts Regiment, Continental Line, 1781-1782
McBarron, Jr., H. Charles
Todd, Frederick P.
15
3
0
USA, Continental, Massachusetts
Revolutionary War, 1775-1783
Army
Infantry
uniform
Plate
4
U.S. Mounted Ranger Battalion, 1832-1833
McBarron, Jr., H. Charles
16
5
0
USA
Westward Expansion, 1816-1859
Army
Cavalry
uniform
Plate
4
The Vinkhuijzen Collection
Finke, Detmar H.
0
6
0
art collection, New York Public Library, uniforms, Europe
Main article
4
Early Cannon Sketches by Charles Willson Peale
Peterson, Harold L.
0
8
3
Revolutionary War, 1775-1783
Ordnance
drawings, cannon, carraiges
Main article
5
Corps of Engineers, United States Army
Reprint
0
1
0
USA
Revolutionary War, 1775-1783, Early Republic, 1784-1789, Federalist Era, 1789-1811, War of 1812, 1812-1815, & Westward Expansion, 1816-1859
Army
Engineer
history
Note
5
Officer's Sword, U.S. Topographical Engineers
Perham, H. N.
0
1
1
USA
Westward Expansion, 1816-1859
Army
Engineer
sword, edged weapons
Note
5
Officer's Sword, U.S. Corps of Engineers
Perham, H. N.
0
4
1
USA
Army
Engineer
sword, edged weapons
Note
5
U.S. Infantry Uniforms, Winter 1812-1813
Finke, Detmar H.
0
5
0
USA
War of 1812, 1812-1815
Army
Infantry
winter uniform
Note
5
A Nineteenth Century Genre Painting with a Military Subject
Peterson, Harold L.
0
6
1
Westward Expansion, 1816-1859
art, Alonzo Chappell, artist
Note
5
Notes on Some New York Militia Cap Plates
Campbell, J. Duncan
0
8
3
New York
Federalist Era, 1789-1811, War of 1812, 1812-1815, & Westward Expansion, 1816-1859
Militia
insignia, cap plates
Note
5
Notes on the Dress of the Regiment of Light Artillery, U.S.A., 1808-1811
Todd, Frederick P.
0
10
0
USA
Federalist Era, 1789-1811
Army
Artillery
uniform
Main article
5
The Illinois Solider and the Belgian Musket
Peterson, Harold L.
0
10
0
USA, Illinois
Civil War Era, 1860-1865
Volunteer
Infantry
weapons, firearms; Belgian Musket
Note
5
Virginia Dragoons, circa 1800-1811
McBarron, Jr., H. Charles
Todd, Frederick P.
17
12
0
Virginia
Federalist Era, 1789-1811
Militia
Cavalry
uniform
Plate
5
The Greybeard Regiment
Todd, Frederick P.
0
12
0
USA
Civil War Era, 1860-1865
Iowa
Note
5
The Regiment of Mounted Riflemen, Mounted Companies, 1847
McBarron, Jr., H. Charles
Todd, Frederick P.
18
13
0
USA
Westward Expansion, 1816-1859
Army
Rifle
uniform
Plate
5
Hesse-Cassel Fusilier Regiment von Ditfurth, 1776-1782
Knotel, Herbert
19
14
0
Hessian
Revolutionary War, 1775-1783
Hesse-Cassel
Infantry
Plate
5
16th Infantry Regiment, Winter 1812-1813
Todd, Frederick P.
McBarron, Jr., H. Charles
20
15
0
USA
War of 1812, 1812-1815
Army
Infantry
uniform
Plate
6
American Epaulettes, 1775-1820
Peterson, Mendel L.
0
17
2
USA
Revolutionary War, 1775-1783, Early Republic, 1784-1789, Federalist Era, 1789-1811, & War of 1812, 1812-1815
Army
insignia, rank
Main article
6
Officers of the 105th Infantry Regiment (27th Infantry Division) on Saipan, June 1944
Love, Edmund G.
0
21
1
USA
World War II Period, 1939-1947
Army
Infantry
uniform
Note
6
6th Virginia Regiment, Continental Line, 1776
McBarron, Jr., H. Charles
Todd, Frederick P.
22
23
0
USA, Continental, Virginia
Revolutionary War, 1775-1783
Army
Infantry
uniform
Plate
6
Musicians, 1st Infantry Regiment, Winter Uniform, 1812-1813
McBarron, Jr., H. Charles
23
24
0
USA
War of 1812, 1812-1815
Army
Infantry
uniform, winter, musician
Plate
6
U.S. Marine Corps, circa 1805-1818
McBarron, Jr., H. Charles
24
25
2
USA
Federalist Era, 1789-1811 & War of 1812, 1812-1815
Marine
uniform
Plate
6
Independent Corps of Cadets, Massachusetts Volunteer Militia, 1858-1864
Todd, Frederick P.
25
28
0
USA, Massachusetts
Westward Expansion, 1816-1859 & Civil War Era, 1860-1865
Volunteer
Cadet
uniform
Plate
6
An American Hussar
Brown, Anne S. K.
0
29
1
Maryland
War of 1812, 1812-1815
Militia
Cavalry
Note
6
Infantry Cartridge Box, 1834
McBarron, Jr., H. Charles
0
29
1
USA
Westward Expansion, 1816-1859
Army
Infantry
cartridge box; accouterments
Note
7
The American Cavalry Saber of the Revolution
Peterson, Harold L.
0
33
1
USA, Continental
Revolutionary War, 1775-1783
Army
Cavalry
saber, edged weapons
Main article
7
St. Louis Grays, 1832-1858
McBarron, Jr., H. Charles
26
36
1
Missouri
Westward Expansion, 1816-1859
Militia
Infantry
uniform
Plate
7
Regular Infantry of the Royal Danish West Indies Forces, 1830-1837
Kannik, Preben
27
38
0
Danish West Indies
Westward Expansion, 1816-1859
Army
Infantry
uniform
Plate
7
2d Continental Light Dragoons, Dismounted Service, 1780
McBarron, Jr., H. Charles
Todd, Frederick P.
28
39
0
USA, Continental
Revolutionary War, 1775-1783
Army
Dragoons
uniform
Plate
7
General Staff, Massachusetts Volunteer Militia, circa 1840-1850
McBarron, Jr., H. Charles
21
40
0
Massachusetts
Westward Expansion, 1816-1859
Militia
Staff
uniform
Plate
7
Light Dragoon Jacket, circa 1825-1830
McBarron, Jr., H. Charles
0
40
1
Westward Expansion, 1816-1859
Militia
Dragoons
clothing, uniform jacket
Note
7
Alonzo Chappel(l)
Barck, Dorothy C.
0
42
0
Artist
Note
7
Von Ditfurth Regiment
Brady, S. G.
0
42
0
Hessian
Revolutionary War, 1775-1783
Army
Infantry
Regiment von Bose
Note
7
Infantry Cartridge Box, 1834
Miller, Robert L.
0
42
1
USA
Westward Expansion, 1816-1859
Army
Infantry
accouterments, Cartridge Box, Sling
Note
7
Patent Knapsack, 1809
Todd, Frederick P.
0
43
1
USA
Federalist Era, 1789-1811
accouterments, Advertisement Lherbette knapsack
Note
7
Hessian Cartridge Box Plates
Peterson, Harold L.
0
43
2
Hessian
Revolutionary War, 1775-1783
Army
Infantry
Regiment Erbprinz; Regiment von Bose
Note
7
National Lancers, Boston, circa 1890
Craighead, Alexander M.
0
44
1
Massachusetts
Reconstruction and Indian Wars, 1866-1897
Militia
Cavalry
Painting Artist Scott Leighton
Note
8
Richard Knoetel and His Work
Todd, Frederick P.
0
49
5
art, Military Uniforms German Artist
Main article
8
Maryland Volunteer Militia Artillery
McBarron, Jr., H. Charles
30
54
0
Maryland
War of 1812, 1812-1815
Militia
Artillery
uniform
Plate
8
Independent Company of Cadets, Massachusetts Bay Colony, 1772-1776
McBarron, Jr., H. Charles
29
54
0
Massachusetts
Colonial Period, 1625-1774 & Revolutionary War, 1775-1783
Militia
Infantry
uniform
Plate
8
Corps of Artillery, 1814-1821
McBarron, Jr., H. Charles
31
55
0
USA
War of 1812, 1812-1815 & Westward Expansion, 1816-1859
Army
Artillery
uniform
Plate
8
Grenadier Company, British 38th Foot, 1775-1776
McBarron, Jr., H. Charles
32
56
1
Britain
Revolutionary War, 1775-1783
Army
Infantry
uniform
Plate
8
Remington Drawing of the First City Troop of Philadelphia, 1888
Craighead, Alexander M.
0
56
1
Pennsylvania
Reconstruction and Indian Wars, 1866-1897
Militia
Cavalry
art, undress uniform
Note
8
Confederate Canteen
Miller, Robert L.
0
58
1
CSA
Civil War Era, 1860-1865
Army
Infantry
accouterments, wooden canteen 4th Georgia Volunteers
Note
8
Light Infantry Cartridge Box, c. 1810-1820
McBarron, Jr., H. Charles
0
58
1
Federalist Era, 1789-1811, War of 1812, 1812-1815, & Westward Expansion, 1816-1859
Militia
leather; accouterments
Note
8
The Private Soldier's Ferguson Rifle
Peterson, Harold L.
0
60
2
Britain
Revolutionary War, 1775-1783
Army
firearms, weapons, Weapons breech-loading rifle
Note
8
Queries: Civil War Medical Uniforms
Unknown
0
62
0
CSA
Civil War Era, 1860-1865
Army
Medical
uniform
Note
9
American Army Epaulettes 1814-1872
Peterson, Mendel L.
0
1
0
USA
War of 1812, 1812-1815, Westward Expansion, 1816-1859, Civil War Era, 1860-1865, & Reconstruction and Indian Wars, 1866-1897
Army
insignia, rank, epaullete
Main article
9
First Troop Philadelphia Light Horse, 1809-1815
McBarron, Jr., H. Charles
33
14
0
Pennsylvania
Federalist Era, 1789-1811
Militia
Cavalry
flag, standard, uniform
Plate
9
2d Infantry Regiment Service Dress, 1822-1832
Todd, Frederick P.
34
16
0
USA
Westward Expansion, 1816-1859
Army
Infantry
uniform
Plate
9
Maryland Dragoons, circa 1695
McBarron, Jr., H. Charles
Peterson, Harold L.
35
17
0
Maryland
Colonial Period, 1625-1774
Militia
Dragoons
uniform
Plate
9
Troy Citizens Corps, 1836-1847
McBarron, Jr., H. Charles
36
19
0
New York
Westward Expansion, 1816-1859
Militia
uniform
Plate
9
Early U.S. Infantry Cartridge Box
McBarron, Jr., H. Charles
0
19
0
USA
Infantry
equipment, accouterment, cartridge box
Note
9
G.W.P. Custis Letters on Revolutionary War Uniforms
Nelligan, Murray H.
0
21
0
USA, Continental
Revolutionary War, 1775-1783
Army
Infantry, Rifle, Cavalry, Arti
uniform descriptions, color
Note
9
Independent Company of Cadets, 1772-1776 (Plate No. 29)
Editor,
0
23
0
Massachusetts
Colonial Period, 1625-1774
Militia
Infantry
uniform
Note
9
General Winfield Scott Reviewing Troops, 1847
Todd, Frederick P.
0
23
0
USA
Army
Dragoons, Infantry
uniforms
Note
9
Waist Belt for Sword Bayonet, U.S. Model 1855
Miller, Robert L.
0
24
0
USA
Westward Expansion, 1816-1859
Army
Rifle
accouterment
Note
10
Some Notes on Gun Flints
Woodward, Arthur
0
29
0
weapons, firearms
Main article
10
Unit Lineages of the U.S. Army
Markwood, Ruth
0
36
0
USA
Army
1st Infantry Regiment; 101st Infantry Regiment; 301st Infantry Regiment
Main article
10
U.S. Light Artillery Companies, Dress, 1857-1872
McBarron, Jr., H. Charles
Todd, Frederick P.
37
39
0
USA
Westward Expansion, 1816-1859, Civil War Era, 1860-1865, & Reconstruction and Indian Wars, 1866-1897
Army
Artillery
uniform
Plate
10
The Lauzun Legion, French Navy, 1780-1783
Larter, Jr., Harry C.
38
40
0
France
Revolutionary War, 1775-1783
Navy
Infantry, Cavalry
uniform
Plate
10
2d U.S. Infantry Regiment, 1841-1851
McBarron, Jr., H. Charles
39
42
0
USA
Westward Expansion, 1816-1859
Army
Infantry
winter dress uniform
Plate
10
Virginia Military Institute, 1864
McBarron, Jr., H. Charles
Todd, Frederick P.
40
44
0
Virginia, CSA
Civil War Era, 1860-1865
Infantry, Cadet
Cadet uniform at the Battle of Newmarket
Plate
10
Early British Grenade Launchers
Sherlock, Herbert A.
0
44
0
Britain
Colonial Period, 1625-1774
Army
weapons, Hand Grenade, Grenade Cups
Note
10
Military Coat, about 1790
McBarron, Jr., H. Charles
0
46
0
Federalist Era, 1789-1811
Militia
Infantry, Dragoons
uniform, clothing
Note
10
Information Requested on Jefferson and Ankle Boots
Unknown
0
48
0
USA
Civil War Era, 1860-1865
Army
Cavalry, Artillery, Infantry,
footwear, boots
Note
10
Answer: Civil War Medical Uniforms (Vol 2, p. 62)
Shaw III, Alban P.
0
48
0
CSA
Civil War Era, 1860-1865
Army
Medical
uniform
Note
10
A Question and Answer Section for MC&H
Peterson, Harold L.
0
48
0
Korean War Era, 1948-1954
Note
10
First Troop Philadelphia Light Horse, 1809-1815 (Plate No. 33)
Editor,
0
48
0
Pennsylvania
Federalist Era, 1789-1811
Militia
Cavalry
Text correction
Note
10
Newly Discovered Vermont Militia Button
Williams, Jr., Hermann Warner
0
48
0
Vermont
Westward Expansion, 1816-1859, Civil War Era, 1860-1865, & Reconstruction and Indian Wars, 1866-1897
Militia
insignia
Note
10
Information Desired on the Uniform of the Confederate States Marine Corps
Wallace, Jr., Lee A.
0
49
0
CSA
Civil War Era, 1860-1865
Marine
uniform
Note
11
Notes on the Organization and Uniforms of South Carolina Military Forces, 1860-1861
Todd, Frederick P.
0
53
0
South Carolina, CSA
Civil War Era, 1860-1865
Volunteer
Infantry, Artillery, Rifle, Dr
uniform
Main article
11
Fredericksburg Manufactory Muskets
Miller, Robert L.
0
63
0
Virginia
Revolutionary War, 1775-1783
repairs, manufacture, musket, rifle, carbine
Main article
11
Richmond Light Infantry Blues, 1794-1807
McBarron, Jr., H. Charles
Todd, Frederick P.
41
65
0
Virginia
Federalist Era, 1789-1811
Militia
Infantry
uniform
Plate
11
7th Dragoons, New York Volunteer Militia, circa 1809-1815
McBarron, Jr., H. Charles
Todd, Frederick P.
42
66
0
New York
Federalist Era, 1789-1811 & War of 1812, 1812-1815
Militia
Dragoons
uniform
Plate
11
Hampton Legion, South Carolina Volunteers, 1861
Todd, Frederick P.
43
68
0
South Carolina, CSA
Civil War Era, 1860-1865
Volunteer
Infantry, Cavalry, Artillery
uniform, color, guidon
Plate
11
United States Zouave Cadets, 1859-1860
McBarron, Jr., H. Charles
Todd, Frederick P.
44
71
0
Illinois
Westward Expansion, 1816-1859
Militia
Infantry
uniform
Plate
11
Shoulder Belts for Swords and Bayonets
McBarron, Jr., H. Charles
0
72
0
USA
Westward Expansion, 1816-1859 & Civil War Era, 1860-1865
Army
equipment, accouterment, belt, sword, bayonet
Note
11
Notes From the Standing Orders of the First Regiment of Infantry, 1802
Finke, Detmar H.
0
72
0
USA
Federalist Era, 1789-1811
Army
Infantry
uniform descriptions
Note
12
The British Infantry Musket, 1702-1783
Peterson, Harold L.
McBarron, Jr., H. Charles
0
77
0
Britain
Colonial Period, 1625-1774 & Revolutionary War, 1775-1783
Army
Infantry
weapons, firearms, Brown Bess, Musket
Main article
12
Associators of the City & Liberties of Philadelphia, 1775
McBarron, Jr., H. Charles
Todd, Frederick P.
45
80
0
Pennsylvania
Revolutionary War, 1775-1783
Militia
Infantry, Rifle
uniform
Plate
12
Corps of Engineers, Enlisted Men, 1803-1811
Finke, Detmar H.
McBarron, Jr., H. Charles
46
81
0
USA
Federalist Era, 1789-1811
Army
Engineer
uniform
Plate
12
Field Officers of Maryland Cavalry, circa 1812-1815
McBarron, Jr., H. Charles
Todd, Frederick P.
47
83
0
Maryland
War of 1812, 1812-1815
Militia
Cavalry
uniform
Plate
12
11th Indiana Volunteers (Wallace Zouaves), 1861
McBarron, Jr., H. Charles
Todd, Frederick P.
48
84
0
USA, Indiana
Civil War Era, 1860-1865
Volunteer
Infantry
uniform
Plate
12
Notes on Regular Army Clothing, Arms and Equipment, 1798
Finke, Detmar H.
0
87
0
USA
Federalist Era, 1789-1811
Army
Infantry, Artillery, Cavalry
uniform, accouterments, cartridge box, knapsack, blanket
Note
12
Major Patrick Campbell
Todd, Frederick P.
0
88
0
Britain
Colonial Period, 1625-1774
Army
Infantry
field uniform; Artist John Singleton Copley;
Note
12
Confederate Cap Box
Miller, Robert L.
0
90
0
CSA
Civil War Era, 1860-1865
Army
Infantry
accouterments
Note
12
Confederate Battle Honors of the 36th Virginia
Todd, Frederick P.
0
91
0
CSA, Virginia, West Virginia
Civil War Era, 1860-1865
Volunteer
Infantry
regimental color; 36th Volunterr Infantry Regiment; 2d Kanawha Regiment
Note
12
Military Coat about 1795
McBarron, Jr., H. Charles
0
92
0
Federalist Era, 1789-1811
Militia
Infantry
uniform, clothing
Note
12
Question: Contemporary Army Insignia
Unknown
0
94
0
USA
Korean War Era, 1948-1954
Army
insignia
Note
12
Question: VMM Belt Buckle
Unknown
0
94
0
Civil War Era, 1860-1865
belt buckle, insignia
Note
12
Answer: Confederate Marines (Vol. 3, p. 49)
Donnelly, Ralph W.
0
94
0
CSA
Civil War Era, 1860-1865
Marine
uniform
Note
12
Answer: Jefferson and Ankle Boots (Vol. 3, p. 48)
Finke, Detmar H.
0
94
0
USA
Civil War Era, 1860-1865
Army
Cavalry, Artillery, Infantry,
footwear, boots
Note
13
Some San Francisco Uniforms of 1870
Brown, Anne S. K.
0
1
0
California
Reconstruction and Indian Wars, 1866-1897
National Guard
organization, uniforms
Main article
13
Federal Army Identification Discs of the Civil War
Lord, Francis A.
0
7
0
USA
Civil War Era, 1860-1865
Army
ID tags; dog tags
Note
13
Cadets, U.S. Military Academy, 1802
McBarron, Jr., H. Charles
Finke, Detmar H.
49
9
0
USA
Federalist Era, 1789-1811
Army
Cadet
uniform
Plate
13
Cadets, U.S. Military Academy, 1816-1817
McBarron, Jr., H. Charles
Finke, Detmar H.
50
10
0
USA
Westward Expansion, 1816-1859
Army
Cadet
uniform
Plate
13
Company of Sappers, Miners and Pontoniers, 1846-1851
McBarron, Jr., H. Charles
52
13
0
USA
Westward Expansion, 1816-1859
Army
Engineer
uniform
Plate
13
U.S. Artillery Regiments, 1825-1832
McBarron, Jr., H. Charles
51
13
0
USA
Westward Expansion, 1816-1859
Army
Artillery
uniform
Plate
13
Artillery Fatigue Coats, 1785
Finke, Detmar H.
0
15
0
USA
Early Republic, 1784-1789
Army
Artillery
uniform
Note
13
Notes on Artillery Uniforms, 1801
Finke, Detmar H.
0
15
0
USA
Federalist Era, 1789-1811
Army
Artillery
uniform
Note
13
John Paul Jones' Corselet
Peterson, Harold L.
0
16
0
USA, Continental
Revolutionary War, 1775-1783
Navy
armor
Note
13
John Brown's Revolvers
Smith, Samuel E.
0
17
0
Westward Expansion, 1816-1859
weapons, firearms, Harper's Ferry
Note
13
Powder Horn from the Constellation
Miller, Robert L.
0
18
0
USA
Federalist Era, 1789-1811
Navy
accouterment
Note
13
Militia Knapsack and Valise, 1830-1840
McBarron, Jr., H. Charles
0
21
0
New York
Westward Expansion, 1816-1859
Militia
accouterments
Note
13
Answer: Civil War Medical Department Uniforms (Vol. 2, p. 62)
Reed, Irving R.
0
21
0
USA
Civil War Era, 1860-1865
Army
Medical
medical cadets
Note
13
Answer: Jefferson and Ankle Boots (Vol. 3, p. 48)
Lewis, Grace
0
22
0
USA
Civil War Era, 1860-1865
Army
Cavalry, Artillery, Infantry,
footwear boots
Note
14
Body Armor in the American Civil War
Peterson, Harold L.
0
29
0
USA, CSA
Civil War Era, 1860-1865
Army
Infantry, Cavalry
armor, breastplates, bullet proof vest
Main article
14
The Officer's Straight Sword, 1820-1830
Stryker, Jr., Russell F.
0
33
0
USA
Westward Expansion, 1816-1859
Army
edged weapons
Main article
14
The Wearing of Army Corps and Division Insignia in the Union Army, 1862-1865
Wike, John W.
0
35
0
USA
Civil War Era, 1860-1865
Army
Infantry
insignia
Main article
14
General Staff, New York, circa 1810
McBarron, Jr., H. Charles
53
38
0
New York
Federalist Era, 1789-1811
Militia
Staff
uniform
Plate
14
U.S. Military Academy Band, 1822-1831
McBarron, Jr., H. Charles
Finke, Detmar H.
54
39
0
USA
Westward Expansion, 1816-1859
Army
Engineer
uniform, band
Plate
14
2d U.S. Dragoons, 1853-1854
McBarron, Jr., H. Charles
Todd, Frederick P.
55
41
0
USA
Westward Expansion, 1816-1859
Army
Dragoons
uniform
Plate
14
114th Pennsylvania Volunteer Infantry (Collis Zouaves), 1862-1865
Todd, Frederick P.
56
42
0
USA, Pennsylvania
Civil War Era, 1860-1865
Volunteer
Infantry
Zouaves D'Afrique
Plate
14
The Curious Case of the Voltigeur Uniform
Todd, Frederick P.
0
44
0
USA
Westward Expansion, 1816-1859
Army
The Regiment of Voltiguers and Foot Riflemen; uniform
Note
14
Major Patrick Campbell (Vol 3, No. 4)
Carman, William Young
0
45
0
Britain
Colonial Period, 1625-1774
Army
Infantry
Note
14
Militia Knapsack about 1790-1812
McBarron, Jr., H. Charles
0
46
0
Federalist Era, 1789-1811
Militia
Infantry
accouterments, knapsack
Note
14
Spanish Archer's Salade Found in New Mexico
Peterson, Harold L.
0
46
0
Spain
Pre-Colonial Era, 1492-1625
headgear
Note
14
Air Force NCO Rank and Insignia
Reprint
0
48
0
USA
Korean War Era, 1948-1954
Air Force
Airman; insignia
Note
14
Uniforms in Crook's Command
Wike, John W.
0
49
0
USA
Reconstruction and Indian Wars, 1866-1897
Army
Cavalry
uniform
Note
14
Origin of the Model 1913 Cavalry Saber
Peterson, Harold L.
0
50
0
USA
Progressive Era, 1901-1913
Army
Cavalry
edged weapons, General George Patton
Note
14
Correction
Todd, Frederick P.
0
50
0
USA, New York
Civil War Era, 1860-1865
Volunteer
Infantry
Soldiers of the American Army, 1775-1941; 7th New York 1861
Note
14
Answer: Contemporary Army Insignia (Vol. 3, p. 49)
Todd, Frederick P.
0
50
0
USA
World War I, 1914-1919, Inter-War Years, 1920-1938, World War II Period, 1939-1947, & Korean Era, 1948-1954
Army
Insignia
Note
14
Question: 3d Infantry Insignia
Unknown
0
51
0
USA
Korean War Era, 1948-1954
Army
Infantry
insignia, buff stick leather strap
Note
14
Question: Cavalry Sabers
Todd, Frederick P.
0
51
0
USA
Army
Cavalry
edged weapons, Saber from waist to saddle
Note
14
Question: Army Subsistence Insignia
Unknown
0
51
0
USA
Army
insignia, crescent moon symbol
Note
15
Materiel of the First American Light Artillery, 1808-1809
Larter, Jr., Harry C.
0
53
0
USA
Federalist Era, 1789-1811
Army
Artillery
horse harness
Main article
15
A Schematic Presentation of Harness Details
Larter, Jr., Harry C.
0
60
0
USA
Federalist Era, 1789-1811
Army
Artillery
horse harness
Note
15
Infantry of the Legion, 1794
McBarron, Jr., H. Charles
Todd, Frederick P.
57
65
0
USA
Federalist Era, 1789-1811
Army
Infantry
uniform
Plate
15
Captain Peter's Company, Regiment of Light Artillery, 1808-1809
Larter, Jr., Harry C.
58
66
0
USA
Federalist Era, 1789-1811
Army
Artillery
uniform
Plate
15
Officers of the Royal Militia, Danish West Indies, 1816
Kannik, Preben
McBarron, Jr., H. Charles
59
67
0
Danish West Indies
Westward Expansion, 1816-1859
Militia
Infantry
uniform
Plate
15
2d U.S. Cavalry Regiment, 1861-1865
McBarron, Jr., H. Charles
Todd, Frederick P.
60
69
0
USA
Civil War Era, 1860-1865
Army
Cavalry
uniform
Plate
15
An Early Marine Corps Cap Plate
Campbell, J. Duncan
0
71
0
USA
Federalist Era, 1789-1811 & War of 1812, 1812-1815
Marine
cap plate, insignia
Note
15
Republic of Texas Sword
Peterson, Harold L.
0
71
0
Texas
Westward Expansion, 1816-1859
edged weapons, Diplomat? Army? Navy?
Note
15
Old Abe, " War Eagle of the 8th Wisconsin"
Todd, Maria P.
0
72
0
USA, Wisconsin
Civil War Era, 1860-1865
Volunteer
Infantry
mascot
Note
15
Leather Cap, War of 1812
McBarron, Jr., H. Charles
0
73
0
USA
War of 1812, 1812-1815
Army
Artillery
US Light Artillery? Militia? Headgear
Note
15
Question: Volunteer Companies
Shaw III, Alban P.
0
74
0
Maryland
Maryland Guard; American Grays; 53d Regiment
Note
15
Officer's Zouave Dress, 1862-1865
Todd, Frederick P.
0
74
0
USA, New York
Civil War Era, 1860-1865
Volunteer
Infantry
165th New York Volunteers (2d Duryee Zouaves); uniform
Note
16
Rappahannock Forge: Its History and Products
Miller, Robert L.
Peterson, Harold L.
0
81
0
Virginia
Revolutionary War, 1775-1783
weapons, musket, wall rifle
Main article
16
British and Canadian Battle Dress
Bird, Jr., Harrison Kerr
0
86
0
Canada, Britain
Inter-War Years, 1920-1938 & World War II Period, 1939-1947
Army
battle dress
Main article
16
Colors, Colors, Who's Got the Colors: An Episode in the History of the Seventh Infantry
Wike, John W.
McBarron, Jr., H. Charles
0
91
0
USA
Civil War Era, 1860-1865
Army
Infantry
surrender of the 7th at San Augustine Springs, Texas 27 July 1861
Note
16
The North Regiment, Massachusetts Bay Colony, 1636
McBarron, Jr., H. Charles
Peterson, Harold L.
61
93
0
Massachusetts
Colonial Period, 1625-1774
Militia
Infantry
uniform
Plate
16
Light Infantry Company, 2d Connecticut Regiment, 1817-1826
McBarron, Jr., H. Charles
Todd, Frederick P.
62
95
0
Connecticut
Westward Expansion, 1816-1859
Militia
Infantry
New Haven Grays, Iron Grays uniform
Plate
16
1st U.S. Dragoon Regiment, Undress Uniform, 1845-1851
McBarron, Jr., H. Charles
63
97
0
USA
Westward Expansion, 1816-1859
Army
Dragoons
undress uniform
Plate
16
12th Regiment, New York State Militia, 1861-1869
McBarron, Jr., H. Charles
Todd, Frederick P.
64
98
0
New York
Civil War Era, 1860-1865
State Militia
Infantry
Independence Guard uniform
Plate
16
Two Union Haversacks
Miller, Robert L.
0
99
0
USA
Civil War Era, 1860-1865
Army
accouterments, US Depot New York painted canvas
Note
16
Collis Zouaves, 1865
Todd, Frederick P.
0
99
0
USA, New York, Pennsylvania
Civil War Era, 1860-1865
Volunteer
Infantry
art, Painting - Review of the Twelth New York
Note
16
Brands for Public Horses, 1853
Larter, Jr., Harry C.
0
100
0
USA
Westward Expansion, 1816-1859
Army
Cavalry
horses
Note
16
Question: UAG Belt Buckle
Gavin, William G.
0
101
0
Civil War Era, 1860-1865
Belt Buckle, insignia
Note
16
Answer: VMM Belt Buckle (Vol. 3, p. 94)
Davis, Robert Walker
0
101
0
Civil War Era, 1860-1865
insignia, Belt Buckle, Vermont?
Note
17
Forming and Equipping the First Six Regiments of Indiana in 1861
Editor,
0
1
0
USA, Indiana
Civil War Era, 1860-1865
Volunteer
Infantry
uniforms, equipment
Main article
17
The Military Rifle Flasks of 1832 and 1837
Grube, Harry T.
0
7
0
USA
Westward Expansion, 1816-1859
Army
Ordnance
accouterments for the states and territiories
Main article
17
Glover's Marblehead or Marine Regiment (14th Continental Infantry), 1775-1776
Patterson, C. Meade
65
13
0
USA, Continental, Massachusetts
Revolutionary War, 1775-1783
Army
Infantry
uniform
Plate
17
Colonel Richard M. Johnson's Regiment, Kentucky Mounted Volunteers, 1813
McBarron, Jr., H. Charles
Todd, Frederick P.
66
15
0
Kentucky
War of 1812, 1812-1815
Militia
Rifle
uniform, Kentucky Mounted Riflemen uniform
Plate
17
2d Regiment, New Hampshire Volunteer Militia, 1861
Rixon, Joseph S.
Todd, Frederick P.
67
17
0
USA, New Hampshire
Civil War Era, 1860-1865
Volunteer
Infantry
uniform
Plate
17
Duncan's Light Battery," Company A 2d U.S. Artillery, 1847"
Larter, Jr., Harry C.
68
18
0
USA
Westward Expansion, 1816-1859
Army
Artillery
uniform
Plate
17
Ellsworth's Campaign Uniform
Todd, Frederick P.
0
19
0
USA
Civil War Era, 1860-1865
New York
Note
17
Marine Artillery Belt Plate
Campbell, J. Duncan
0
19
0
USA
War of 1812, 1812-1815
Marine
Artillery
insignia, First Marine Artillery of the Union
Note
17
A Military Antiquarian Looks at the Inaugural Parade
Unknown
0
22
0
Korean War Era, 1948-1954
a commentary on military uniforms in the parade
Note
17
Color Party, 2d Cavalry
Larter, Jr., Harry C.
0
22
0
USA
Korean War Era, 1948-1954
Army
Cavalry
dressed in uniform of period 1836-1851
Note
17
Question: Regulars
Todd, Frederick P.
0
24
0
USA
Revolutionary War, 1775-1783, Early Republic, 1784-1789, & Federalist Era, 1789-1811
Army
Note
17
Answer: 3d Infantry Insignia (Vol 3, p. 51)
Gluckman, Arcadi
Powers, Kenneth
0
24
0
USA
Korean War Era, 1948-1954
Army
Infantry
Buff Strap Buff Stick
Note
17
Question: Military Drums
Powers, Kenneth
0
24
0
drums
Note
18
The Field Artillery of the Civil War, Part I
West, Charles
0
29
0
USA, CSA
Civil War Era, 1860-1865
Army
Artillery
weapons, smooth-bore, rifle, cannon
Main article
18
Dress and Accoutrements of the British Foot and Artillery in America, 1755-1783
Weller, Jac
0
35
0
Britain
Colonial Period, 1625-1774 & Revolutionary War, 1775-1783
Army
Infantry, Artillery
uniform, headgear, accouterments
Main article
18
Confederate Belt Buckles and Cartridge Box Plates
Lawson, Cecil C. P.
0
41
0
CSA
Civil War Era, 1860-1865
Army
insignia, accouterments, Sword belt Plates, Cartridge Box Plate, Belt Plate
Main article
18
2d U.S. Light Dragoons, 1812-1814
Gavin, William G.
69
45
0
USA
War of 1812, 1812-1815
Army
Dragoons
uniform
Plate
18
U.S. Navy, Service Dress, 1862-1863
McBarron, Jr., H. Charles
Todd, Frederick P.
70
47
0
USA
Civil War Era, 1860-1865
Navy
service dress
Plate
18
U.S. Marine Corps, Field Service, 1859-1868
McBarron, Jr., H. Charles
71
47
0
USA
Westward Expansion, 1816-1859, Civil War Era, 1860-1865, & Reconstruction and Indian Wars, 1866-1897
Marine
uniform
Plate
18
7th Regiment, National Guard of New York, 1880-1900
Parker, Jr., Thomas L.
Todd, Frederick P.
72
49
0
New York
Reconstruction and Indian Wars, 1866-1897 & Spanish-American War, 1898-1900
National Guard
Infantry
uniform
Plate
18
Continental Light Infantry Officer
Editor,
0
50
0
USA, Continental
Revolutionary War, 1775-1783
Army
Infantry
art, miniature of John Laurens; uniform
Note
18
A Sapper of the 71st New York, 1861
Bird, Jr., Harrison Kerr
0
51
0
USA, New York
Civil War Era, 1860-1865
Volunteer
Engineer
Note
18
Civil War Veteran's Dress Canteen
Linton, Paul M.
0
51
0
Ohio
Civil War Era, 1860-1865
Militia
Infantry
accouterments, porcelain; 98th Ohio Volunteer Infantry
Note
18
Drum Major's Baldric, 1st Virginia Regiment, C.S.A.
Wallace, Jr., Lee A.
0
52
0
Virginia, CSA
Civil War Era, 1860-1865
Volunteer
Infantry
Drum Major uniform
Note
18
Answer: Military Drums (Vol. 5, p. 24)
Bird, Jr., Harrison Kerr
0
53
0
drums
Note
18
Cavalry Officers' Saber by Starr, 1814
McBarron, Jr., H. Charles
0
53
0
USA
War of 1812, 1812-1815
Army
Cavalry
edged weapons, saber and scabbard
Note
19
Individual Decorations of the Civil War and Earlier
Wike, John W.
0
57
0
USA
Revolutionary War, 1775-1783, Early Republic, 1784-1789, Federalist Era, 1789-1811, & War of 1812, 1812-1815
Army
insignia, Badge of Military Merit, Certificate of Merit, Medal of Honor
Main article
19
The Field Artillery of the Civil War, Part II
Weller, Jac
0
65
0
USA, CSA
Civil War Era, 1860-1865
Army
Artillery
weapons, cannon, rifle, quick-firing, gatling guns, volley guns
Main article
19
Soldiers of the Onate Expedition, 1597-1598
McBarron, Jr., H. Charles
Peterson, Harold L.
73
71
0
Spain
Pre-Colonial Era, 1492-1625
Army
Exploration of New Mexico; uniform
Plate
19
United States Naval Officers and Seamen, Dress Uniforms, 1812-1815
McBarron, Jr., H. Charles
75
73
0
USA
War of 1812, 1812-1815
Navy
uniform
Plate
19
60th British Foot (Royal American Regiment), 1756-1760
Ray, Jr., Frederick E.
Todd, Frederick P.
74
73
0
Britain
Colonial Period, 1625-1774
Army
Infantry
uniform
Plate
19
Standards of the 10th U.S. Cavalry, 1888-1890
Larter, Jr., Harry C.
76
75
0
USA
Reconstruction and Indian Wars, 1866-1897
Army
Cavalry
uniform, standards
Plate
19
Memoirs of Cuba, 1898
Post, Charles Johnson
0
77
0
New York
Spanish American War, 1898-1900
Militia
Infantry
71st New York
Note
19
Note on Provenance
Unknown
0
78
0
USA
Army
uniforms
Note
19
The Two Types
Chapman, Frederick Trench
0
78
0
World War II Period, 1939-1947
American Field Service
Note
19
Answer: Cavalry Sabers (Vol. 4 p 51)
Larter, Jr., Harry C.
0
79
0
USA
Reconstruction and Indian Wars, 1866-1897 & Spanish-American War, 1898-1900
Army
Cavalry
edged weapons
Note
20
Luck of the Enterprise
Downey, Fairfax
0
85
0
USA
Federalist Era, 1789-1811 & War of 1812, 1812-1815
Navy
Note
20
Uniforms and Equipment of the British Light Cavalry in America, 1775-1783
Lawson, Cecil C. P.
0
87
0
Britain
Revolutionary War, 1775-1783
Army
Cavalry
16th Light Dragoons; 17th Light Dragoons
Note
20
Shell and Flame: The Story of the Ordnance Corps Insignia
Wike, John W.
Todd, Frederick P.
0
91
0
USA
Army
Ordnance
insignia
Main article
20
The Field Artillery of the Civil War, Part III
Weller, Jac
McBarron, Jr., H. Charles
0
95
0
USA, CSA
Civil War Era, 1860-1865
Army
Artillery
weapons, projectiles, ammunition
Main article
20
The New Jersey Regiment (Jersey Blues), 1755-1764
McBarron, Jr., H. Charles
Todd, Frederick P.
77
98
0
New Jersey
Colonial Period, 1625-1774
Army
Infantry
French & Indian War; Provincial, uniform
Plate
20
Webb's Continental Regiment, 1777-1781
McBarron, Jr., H. Charles
Todd, Frederick P.
78
100
0
USA, Continental, Connecticut, Rhode Island
Revolutionary War, 1775-1783
Army
Infantry
uniform
Plate
20
5th Company, Washington Artillery of New Orleans, C.S.A., 1862
Larter, Jr., Harry C.
80
101
0
Louisiana, CSA
Civil War Era, 1860-1865
Volunteer
Artillery
uniform
Plate
20
8th Regiment, New York State Militia (Washington Grays) circa 1850-1870
Todd, Frederick P.
79
101
0
New York
Westward Expansion, 1816-1859, Civil War Era, 1860-1865, & Reconstruction and Indian Wars, 1866-1897
State Militia
Infantry
uniform
Plate
20
A" of the Tenth Bucks for Orderly""
Larter, Jr., Harry C.
0
104
0
USA
Reconstruction and Indian Wars, 1866-1897, Spanish American War, 1898-1900, Progressive Era, 1901-1913, & World War I, 1941-1919
Army
Cavalry
Note
20
Lee's Appomattox Sash
Perry, Milton F.
0
105
0
CSA
Civil War Era, 1860-1865
Army
General Officer
Note
20
Lherbette's Patent Knapsack, 1808
Finke, Detmar H.
0
106
0
USA
Federalist Era, 1789-1811
Army
knapsack, accouterments
Note
20
A Confederate Ammunition Chest
Naisawald, Louis Van L.
0
108
0
CSA
Civil War Era, 1860-1865
Army
accouterment
Note
20
Question: Cavalry Sabers
Stryker, Jr., Russell F.
0
108
0
USA
Progressive Era, 1901-1913
Army
Cavalry
edged weapons
Note
20
Answer: Regulars, Vol. 5 p. 24
Egan, John J.
0
108
0
USA
Federalist Era, 1789-1811
Army
Note
21
Bland's Virginia Horse: The Story of the First Continental Light Dragoons
Loescher, Burt Garfield
0
1
0
USA, Continental, Virginia
Revolutionary War, 1775-1783
Army
Dragoons
history
Main article
21
Development of Designs for Shoulder Sleeve Insignia
Goodman, Jr., William E.
0
7
0
USA
World War I, 1914-1919, Inter-War Years, 1920-1938, World War II Period, 1939-1947, & Korean Era, 1948-1954
Army
Insignia
Note
21
Development of the Looped Cartridge Belt
Olsen, Stanley J.
0
9
0
USA
Reconstruction and Indian Wars, 1866-1897
Army
accouterments
Note
21
New York Rifle Corps, 1809-1815
McBarron, Jr., H. Charles
Todd, Frederick P.
81
12
0
New York
Federalist Era, 1789-1811 & War of 1812, 1812-1815
Militia
Rifle
uniform
Plate
21
3rd U.S. Infantry Regiment, Winter Undress Uniform, 1846-1851
McBarron, Jr., H. Charles
Todd, Frederick P.
82
14
0
USA
Westward Expansion, 1816-1859
Army
Infantry
undress uniform
Plate
21
Terry's Texas Rangers (8th Texas Cavalry) C.S.A., 1864
Larter, Jr., Harry C.
83
15
0
Texas, CSA
Civil War Era, 1860-1865
Volunteer
Cavalry
uniform
Plate
21
7th Regiment, National Guard State of New York, 1900-1905
Todd, Frederick P.
84
16
0
New York
Progressive Era, 1901-1913
National Guard
Infantry
uniform
Plate
21
A Militia Button Identified
Williams, Jr., Hermann Warner
0
18
0
Massachusetts
Westward Expansion, 1816-1859
Militia
Infantry
insignia, Salem Mechanic Light Infantry, insignia
Note
21
The Renegade
Downey, Fairfax
0
19
0
Westward Expansion, 1816-1859
Thomas S. Twiss, USMA 1822
Note
21
Confederate Belt Buckles
Gavin, William G.
0
19
0
CSA
Civil War Era, 1860-1865
Army
belt buckles
Note
21
Three Bell-Crowned Caps
Todd, Frederick P.
0
20
0
USA
Westward Expansion, 1816-1859
Militia
headgear, shako
Note
21
Sword and Pistol Patterns of 1799
Finke, Detmar H.
Peterson, Harold L.
0
21
0
USA
Federalist Era, 1789-1811
Army
edged weapons
Note
21
Correction: National Colors, Cavalry (Vol 5, p. 76)
Larter, Jr., Harry C.
0
22
0
USA
Reconstruction and Indian Wars, 1866-1897
Army
Cavalry
National Flag
Note
21
Answers: VMM and UAG Belt Buckles (Vol 3 p. 94)
Gavin, William G.
0
0
0
CSA
Army
Note
22
State Belt Buckles and Cartridge Box Plates of the Confederacy
Gavin, William G.
0
29
0
CSA, Virginia, North Carolina, South Carolina, Texas, Alabama, Georgia, Mis
Civil War Era, 1860-1865
Army
insignia
Main article
22
The Green Coats of the Enlisted Light Dragoons, 1799-1801
Finke, Detmar H.
McBarron, Jr., H. Charles
0
36
0
USA
Federalist Era, 1789-1811
Army
Dragoons
clothing, Quasi-War with France
Note
22
The Leather Forage Cap at West Point
Todd, Frederick P.
0
38
0
USA
Westward Expansion, 1816-1859
Army
Cadet
forage cap, headgear
Note
22
The French Regiment of Carignan-Sallires, Canada, 1665-1668
Larter, Jr., Harry C.
85
41
0
France
Colonial Period, 1625-1774
Army
Infantry
uniform
Plate
22
Independent Boston Fusiliers, 1787 - circa 1810
McBarron, Jr., H. Charles
Todd, Frederick P.
86
43
0
Massachusetts
Early Republic, 1784-1789 & Federalist Era, 1789-1811
Militia
Infantry
uniform
Plate
22
2nd U.S. Cavalry, 1855-1861
Todd, Frederick P.
87
45
0
USA
Westward Expansion, 1816-1859 & Civil War Era, 1860-1865
Army
Cavalry
uniform
Plate
22
The First City Troop of Cleveland, Ohio, 1877-1881
McBarron, Jr., H. Charles
Thoburn, D. Lyle
88
46
0
Ohio
Reconstruction and Indian Wars, 1866-1897
Militia
Cavalry
uniform
Plate
22
U.S. Military Academy Cap Plate, 1815-1816
Lewis, Waverly P.
0
47
0
USA
War of 1812, 1812-1815 & Westward Expansion, 1816-1859
Army
Cadet
headgear, cap plate, insignia
Note
22
An Unpublished Remington Drawing
Keester, George B.
0
48
0
USA
Spanish American War, 1898-1900
Army
art, US Naval Acdemy
Note
22
California Presentation Sword, 1871
Spalding, Wyman
0
49
0
California
Reconstruction and Indian Wars, 1866-1897
National Guard
Infantry
edged weapons, Major Oscar Woodhams; Sumner Light Guard
Note
22
Sword Find in New Mexico
Peterson, Harold L.
0
51
0
Spain
Colonial Period, 1625-1774
sword, edged weapons
Note
22
Correction: Sliding Belt Loops (Vol 6, No. 1)
Miller, Robert L.
0
51
0
USA
Reconstruction and Indian Wars, 1866-1897
Army
accouterments, Looped Cartridge belt
Note
23
The United States Sharpshooters
Elting, John R.
0
57
0
USA
Civil War Era, 1860-1865
Army
Sharpshooters
history, uniform, equipment
Main article
23
Camp Washington, Trenton, N.J., 1839
Crimmins, Martin L.
0
62
0
USA
Westward Expansion, 1816-1859
Army
History
Main article
23
On Horses of the U.S. Artillery, Early 1800's
Larter, Jr., Harry C.
0
65
0
USA
Federalist Era, 1789-1811
Army
Artillery
horses
Main article
23
Hesse-Cassel Field Artillery, 1776-1782
Knotel, Herbert
Todd, Frederick P.
89
68
0
Hessian
Revolutionary War, 1775-1783
Hesse-Cassel
Infantry
uniform
Plate
23
4th U.S. Infantry in the Seminole War, 1835-1842
McBarron, Jr., H. Charles
90
70
0
USA
Westward Expansion, 1816-1859
Army
Infantry
uniform
Plate
23
The Citadel, South Carolina, 1843
West, Charles
McBarron, Jr., H. Charles
91
71
0
South Carolina
Westward Expansion, 1816-1859
Infantry, Cadet
uniform
Plate
23
71st Regiment (The American Guard) N.Y.S.M., 1857-1861
Rixon, Joseph S.
Todd, Frederick P.
92
72
0
New York
Westward Expansion, 1816-1859 & Civil War Era, 1860-1865
Militia
Infantry
uniform
Plate
23
Jefferson Davis and His Generals, 1861
Craighead, Alexander M.
Thiele, Thomas F.
0
74
0
CSA
Civil War Era, 1860-1865
Army
General Officer
art
Note
23
An Indian Uniform "Coat"
Olsen, Stanley J.
0
75
0
native
Coat
Note
23
Anson Mills' First Cartridge Belt
Perry, Milton F.
0
76
0
USA
Reconstruction and Indian Wars, 1866-1897
accouterments, Cartridge belt
Note
23
Question: Flashes
Fowler, J. R.
0
77
0
Britain
Westward Expansion, 1816-1859, Civil War Era, 1860-1865, Reconstruction and Indian Wars, 1866-1897, & Spanish American War, 1898-1900
Army
Infantry
Royal Welsh Fusilliers, 23rd Regiment of Foot
Note
23
Question: Grenadiers
Fowler, J. R.
0
77
0
USA, Continental
Revolutionary War, 1775-1783
Army
Did the Americans have grenadiers?
Note
23
Answer: Cavalry Sabers (Vol. 5, p. 108)
Hutchins, James S.
0
77
0
USA
Progressive Era, 1901-1913
Army
Cavalry
edged weapons, McClellan Saddle, Carbine, Saber
Note
23
Lieutenant Francis Hawkes Cameron, Confederate States Marine Corps
Wallace, Jr., Lee A.
0
79
0
CSA
Civil War Era, 1860-1865
Marine
biography, uniform
Note
24
Military Dress in Maryland, Part I
Brown, Anne S. K.
0
85
0
Maryland
Colonial Period, 1625-1774 & Revolutionary War, 1775-1783
Infantry, Dragoons
uniforms, Continental Army, Smallwood's Maryland Regiment, 2d Maryland Regiment, 3d Continental Light Dragoons
Main article
24
Individual Decorations of the Confederacy
Wike, John W.
0
93
0
CSA
Civil War Era, 1860-1865
Army
awards, honor, distinguished service
Note
24
Captain Peter Marks His Gun Line, Fall 1808
Larter, Jr., Harry C.
0
94
0
USA
Federalist Era, 1789-1811
Army
Artillery
operations
Note
24
Notes on the Royal Americans
Bird, Jr., Harrison Kerr
0
96
0
Britain
Colonial Period, 1625-1774
Army
Rifle
60th Regiment of Foot; colonial; King's Royal Rifle Regiment
Note
24
18th Continental Regiment, 1776
Todd, Frederick P.
93
97
0
USA, Continental, Massachusetts
Revolutionary War, 1775-1783
Army
Infantry
uniform
Plate
24
U.S. Staff Officers 1813
McBarron, Jr., H. Charles
Davis, Robert Walker
94
98
0
USA
War of 1812, 1812-1815
Army
Staff
uniform
Plate
24
Regiment of Riflemen, Winter Uniform, 1812-1815
McBarron, Jr., H. Charles
95
100
0
USA
War of 1812, 1812-1815
Army
Rifle
uniform
Plate
24
6th Pennsylvania Cavalry (Rush's Lancers), 1862
Todd, Frederick P.
Larter, Jr., Harry C.
96
102
0
USA, Pennsylvania
Civil War Era, 1860-1865
Volunteer
Cavalry
uniform
Plate
24
The Sword of Ashbel Smith Surgeon-General, Republic of Texas
Spalding, Wyman
0
103
0
Texas
Westward Expansion, 1816-1859
Army
Medical
edged weapons, Republic of Texas
Note
24
Two Army Portraits
Todd, Frederick P.
0
104
0
USA
Westward Expansion, 1816-1859
Army
Artillery, Infantry
art, portraits, uniforms
Note
24
Lee's Appomattox Sash
Spalding, Wyman
0
104
0
CSA
Civil War Era, 1860-1865
Army
General Officer
art
Note
24
Two Militia Belt Plates
Campbell, J. Duncan
0
106
0
New York
Early Republic, 1784-1789, Federalist Era, 1789-1811, & Westward Expansion, 1816-1859
Militia
Belt plates; insignia
Note
24
Bucking and Gagging
Miller, Robert L.
0
106
0
USA
Westward Expansion, 1816-1859
Army
Artillery
Mexican War
Note
25
The Development of the U.S. Army Saddle
Olsen, Stanley J.
0
1
0
USA
Army
Cavalry
saddles
Main article
25
Military Dress in Maryland, Part II
Brown, Anne S. K.
0
8
0
Maryland
War of 1812, 1812-1815
Maryland in the War of 1812
Main article
25
The Orders of Battle, 8 July 1758, at Fort Ticonderoga
Bird, Jr., Harrison Kerr
0
15
0
France, Britain
Colonial Period, 1625-1774
Army
French & Indian War
Main article
25
Rogers' Rangers, 1756-1760
Bird, Jr., Harrison Kerr
Chapman, Frederick Trench
97
18
0
Britain
Colonial Period, 1625-1774
Army
Infantry
uniform
Plate
25
British 85th (Bucks Volunteers Light Infantry) Regiment, 1814
McBarron, Jr., H. Charles
Todd, Frederick P.
98
20
0
Britain
War of 1812, 1812-1815
Army
Infantry
uniform
Plate
25
Sussex Light Dragoons, Virginia State Cavalry, 1861
Wallace, Jr., Lee A.
Parker, Jr., Thomas L.
99
22
0
Virginia, CSA
Civil War Era, 1860-1865
Volunteer
Cavalry
uniform
Plate
25
Colors and Drums, 18th U.S. Infantry 1949-1953
Caniff, Milton
Larter, Jr., Harry C.
100
24
0
USA
Korean War Era, 1948-1954
Army
Infantry
uniform
Plate
25
Revolutionary War Iron Cartridge Box
Perry, Milton F.
0
25
0
USA, Continental
Revolutionary War, 1775-1783
Army
Infantry
cartridge box, accouterments
Note
25
Answer: Flashes (Vol. 6, p. 77)
Editor,
0
26
0
Britain
Westward Expansion, 1816-1859, Civil War Era, 1860-1865, Reconstruction and Indian Wars, 1866-1897, & Spanish American War, 1898-1900
Army
Infantry
Royal Welch Fusiliers, 23rd Regiment of Foot, black ribbon
Note
25
Diamond Shaped Militia Cap Plate
Campbell, J. Duncan
0
26
0
War of 1812, 1812-1815 & Westward Expansion, 1816-1859
Militia
insignia
Note
26
Some Notes on the Lance and Lancers in the United States Cavalry
Thiele, Thomas F.
0
31
0
USA
Westward Expansion, 1816-1859 & Civil War Era, 1860-1865
Army
Cavalry
edged weapons
Main article
26
The Rumor of the Wolfhound's Colors
Wike, John W.
0
38
0
USA
World War I, 1941-1919, & Inter-War Years, 1920-1938
Army
Infantry
27th Infantry Regiment, flag
Note
26
Military Dress in Maryland, Part III
Brown, Anne S. K.
0
40
0
Maryland
War of 1812, 1812-1815
uniform
Main article
26
Hesse-Cassel Field Jaeger Corps, 1776-1783
Knotel, Herbert
Todd, Frederick P.
101
46
0
Hessian
Revolutionary War, 1775-1783
Hesse-Cassel
Rifle
uniform
Plate
26
18th U.S. Infantry Regiment, 1814-1815
McBarron, Jr., H. Charles
Severin, John P.
102
48
0
USA
War of 1812, 1812-1815
Army
Infantry
uniform
Plate
26
1st Regiment of Rhode Island Detached Militia, 1861
Rixon, Joseph S.
Todd, Frederick P.
103
49
0
USA, Rhode Island
Civil War Era, 1860-1865
Volunteer
Infantry
uniform
Plate
26
Battery K, 1st U.S. Artillery, 1845-1898
Todd, Frederick P.
104
50
0
USA
Westward Expansion, 1816-1859, Civil War Era, 1860-1865, Reconstruction and Indian Wars, 1866-1897, & Spanish American War, 1898-1900
Army
Artillery
uniform
Plate
26
Another Militia Cap Plate
Campbell, J. Duncan
0
53
0
Militia
cap plate, insignia
Note
26
View on the Road to Manassas
Craighead, Alexander M.
0
53
0
Virginia, CSA
Civil War Era, 1860-1865
Army
Dragoons
Drawing Artist Thompson, 14th Virginia Dragoons, 14th Virginia Cavalry
Note
27
Birth of the Continental Artillery
Downey, Fairfax
0
61
0
USA, Continental
Revolutionary War, 1775-1783
Army
Artillery
history, Bunker Hill, Richard Gridley, Henry Knox
Main article
27
Common Infantry Small Arms Projectiles of the Civil War
Kerksis, Sydney C.
0
70
0
USA, CSA
Civil War Era, 1860-1865
Army
Minie Balls
Main article
27
Military Dress in Maryland, Part IV
Brown, Anne S. K.
0
74
0
Maryland
Westward Expansion, 1816-1859
uniform
Main article
27
U.S. Marine Corps, 1834-1841
Magruder III, John H.
105
77
0
USA
Westward Expansion, 1816-1859
Marine
uniform
Plate
27
Mexican Army, circa 1835
Finke, Detmar H.
McBarron, Jr., H. Charles
106
78
0
Mexico
Westward Expansion, 1816-1859
Army
Cavalry, Infantry
uniform
Plate
27
The City Guard, Petersburg, Virginia, 1860
Chapman, Frederick Trench
Wallace, Jr., Lee A.
107
81
0
Virginia, CSA
Civil War Era, 1860-1865
Militia
Infantry
The City Light Guard; uniform
Plate
27
8th U.S. Tank Destroyer Group, 1945
Larter, Jr., Harry C.
108
82
0
USA
World War II Period, 1939-1947
Army
Armor
uniform
Plate
27
Virginia Presentation Sword
Hopkins, Jr., Charles T.
0
85
0
Virginia
Westward Expansion, 1816-1859
edged weapons, Mexican War
Note
27
Question: HRI on Insignia
Todd, Frederick P.
0
86
0
New York
uniform, kepi, insignia
Note
27
Answer: Grenadiers (Vol. 6, p. 77)
Elting, John R.
0
86
0
USA, Continental
Revolutionary War, 1775-1783
Army
Grenadier
Note
27
Answer: Regulars (Vol. 5, 24)
Wade, Arthur P.
0
86
0
USA
Early Republic, 1784-1789
Army
Infantry
Letter Josiah Harmar
Note
27
Errata: Some Notes on the Lance, etc. (Vol. 7, p. 35)
Editor,
0
86
0
USA
Westward Expansion, 1816-1859 & Civil War Era, 1860-1865
Army
Cavalry
edged weapons
Note
27
Errata: Sussex Light Dragoons (Vol. 7, p. 22)
Editor,
0
86
0
Virginia, CSA
Civil War Era, 1860-1865
Volunteer
Cavalry
Add Tom Parker as artist
Note
28
The Cavalry Campaign Outfit at the Little Big Horn
Hutchins, James S.
0
91
0
USA
Reconstruction and Indian Wars, 1866-1897
Army
Cavalry
uniform, accouterments
Main article
28
A War of 1812 Military Trash Pit
Campbell, J. Duncan
0
102
0
New York
War of 1812, 1812-1815
Sacket's Harbor
Main article
28
Virginia Colonial Militia, 1611-1615
McBarron, Jr., H. Charles
Peterson, Harold L.
109
105
0
Virginia
Pre-Colonial Era, 1492-1625
Militia
Infantry
armor, uniform
Plate
28
Alexandria Dragoons, 1810-c.1813
McBarron, Jr., H. Charles
Todd, Frederick P.
110
107
0
Virginia
Federalist Era, 1789-1811 & War of 1812, 1812-1815
Militia
Dragoons
uniform
Plate
28
Feigl Battery, 7th Field Artillery Regiment, 1925-1926
Larter, Jr., Harry C.
112
109
0
USA
Inter-War Years, 1920-1938
Army
Artillery
uniform
Plate
28
U.S. Corps of Cadets, 1853-1861
Chapman, Frederick Trench
Todd, Frederick P.
111
109
0
USA
Westward Expansion, 1816-1859 & Civil War Era, 1860-1865
Army
Cadet
uniform
Plate
28
A British View of American Uniforms
Shaw, Jr., Henry I.
0
111
0
USA
Westward Expansion, 1816-1859
Army
uniform
Note
28
Plate No. 100 (18th U.S. Infantry)
Gill, Rowland P.
0
111
0
USA
Korean War Era, 1948-1954
Army
Infantry
uniform; 18th Infantry
Note
28
Confederate Prisoners
Olsen, Stanley J.
0
113
0
CSA
Civil War Era, 1860-1865
Army
Infantry
uniform, blanket roll
Note
28
Two Militia Dragoon Cap Plates, 1833-1850
Campbell, J. Duncan
0
113
0
Westward Expansion, 1816-1859
Militia
Dragoons
cap plate, insignia
Note
28
Infantry Officer, circa 1780
Todd, Frederick P.
0
113
0
USA, Continental, USA
Revolutionary War, 1775-1783 & Early Republic, 1784-1789
Army
Infantry
art, miniature
Note
28
Leather Cap, New York Artillery, 1836-1840
Campbell, J. Duncan
0
114
0
New York
Westward Expansion, 1816-1859
Militia
Artillery
cap, headgear
Note
28
Errata (Plate 105)
Editor,
0
114
0
USA
Westward Expansion, 1816-1859
Marine
corrects dates
Note
28
Blakeslee Quick Loading Cartridge Box
Lewis, Waverly P.
0
115
0
USA
Civil War Era, 1860-1865
Army
Infantry
accouterments, Spencer Cartridge Box, Spencer Carbine
Note
29
Branch Insignia of Regular Cavalry, 1833-1872
Townsend, Frank C.
Todd, Frederick P.
0
1
0
USA
Westward Expansion, 1816-1859, Civil War Era, 1860-1865, & Reconstruction and Indian Wars, 1866-1897
Army
Cavalry, Dragoons
insignia
Main article
29
Army Field Presses in the 1860's and 70's
Carpenter, Jr., Edwin H.
0
6
0
USA, CSA
Civil War Era, 1860-1865
Army
printing press
Main article
29
Military Dress in Maryland, Part V
Brown, Anne S. K.
0
10
0
Maryland
Westward Expansion, 1816-1859
Militia
uniform; Independent Greys of Baltimore; 1st Baltimore Invincibles, Baltimore City Guard
Main article
29
U.S. Marine Corps, 1797-1804
Magruder III, John H.
113
15
0
USA
Federalist Era, 1789-1811
Marine
uniform
Plate
29
U.S. Army Officers in Social Full Dress, c. 1808-1812
McBarron, Jr., H. Charles
114
17
0
USA
Federalist Era, 1789-1811 & War of 1812, 1812-1815
Army
Infantry, Artillery, General
uniform
Plate
29
New York City Guard, circa 1857-1861
Chapman, Frederick Trench
Todd, Frederick P.
115
18
0
New York
Westward Expansion, 1816-1859 & Civil War Era, 1860-1865
Militia, Volunteer
Infantry
uniform
Plate
29
79th Regiment, New York State Militia, 1860-1861
Rixon, Joseph S.
Todd, Frederick P.
116
20
0
New York
Civil War Era, 1860-1865
Militia, Volunteer
Infantry
Highlanders, Cameron Highlanders, Highland Guard, Bannockburn Battalion
Plate
29
Mementoes of the Donaldsonville Artillery
Kay, William K.
0
21
0
Louisiana, CSA
Westward Expansion, 1816-1859 & Civil War Era, 1860-1865
Militia, Volunteer
Artillery
Le Canonniers de Donaldsville; Donaldsville Cannoneers, button, photo
Note
29
Gilbert Gaul Paintings
Walker, Carroll H.
0
22
0
Civil War Era, 1860-1865
Artist Gilbert Gaul
Note
29
Answer: HRI Insignia ( Vol. 7 p 86)
Crego, Arthur V.
Tozeski, Stanley P.
0
23
0
New York
Reconstruction and Indian Wars, 1866-1897
Hudson River Institute, Claverack, New York, photo, insignia
Note
29
Three Leather Cockades
Todd, Frederick P.
0
24
0
USA
Early Republic, 1784-1789 & Federalist Era, 1789-1811
Army, Marine
insignia, headgear
Note
29
Question: U.S. Issue Carbine Cartridge Boxes of the Civil War
Miller, Robert L.
0
25
0
USA
Civil War Era, 1860-1865
Army
accouterments, Smith''s and Merrill''s carbines; Sharps'' and Warner''s carbines
Note
30
Naval Dirks in the Collection of the United States Naval Academy Museum
Keester, George B.
0
31
0
USA
Federalist Era, 1789-1811 & War of 1812, 1812-1815
Navy
edged weapons, knives
Main article
30
Branch Insignia of Cavalry and Armor, 1872-1956
Townsend, Frank C.
Todd, Frederick P.
0
35
0
USA
Reconstruction and Indian Wars, 1866-1897, Spanish American War, 1898-1900, Progressive Era, 1901-1913, & World War I, 1941-1919
Army
Cavalry, Armor
insignia
Main article
30
Caps for the 2nd Pennsylvania
Browning, Irving
0
40
0
USA, Continental, Pennsylvania
Revolutionary War, 1775-1783
Army
Infantry
headgear
Note
30
British 42nd (Royal Highland) Regiment of Foot, 1759-1760
Ray, Jr., Frederick E.
Todd, Frederick P.
117
42
0
Britain
Colonial Period, 1625-1774
Army
Infantry
French & Indian War, uniform
Plate
30
Dover Light Infantry Company, Delaware Militia, 1776-1777
Risley, Clyde A.
Todd, Frederick P.
118
44
0
Delaware
Revolutionary War, 1775-1783
Militia
Infantry
uniform
Plate
30
3rd Regiment, New York State Artillery, 1807-1812
McBarron, Jr., H. Charles
Todd, Frederick P.
119
45
0
New York
Federalist Era, 1789-1811 & War of 1812, 1812-1815
Militia
Artillery
uniform
Plate
30
Medical Department, U.S. Army, 1861-1865
Rixon, Joseph S.
Todd, Frederick P.
120
46
0
USA
Civil War Era, 1860-1865
Army
Medical
uniform
Plate
30
Variations in the M-1858 McClellan Saddle
Olsen, Stanley J.
0
48
0
USA
Westward Expansion, 1816-1859 & Civil War Era, 1860-1865
Army
Cavalry
saddle
Note
30
A Schreyvogel Bronze
Hutchins, James S.
0
50
0
USA
Reconstruction and Indian Wars, 1866-1897
Army
Cavalry
Artist Charles Schreyvogel; 1885 regulation
Note
30
A Portrait of Captain Swords U.S. Dragoons, 1838 to 1846
Todd, Frederick P.
Davis, Robert Walker
0
51
0
USA
Westward Expansion, 1816-1859
Army
Dragoons
Captain Thomas Swords, USMA 1825, uniform
Note
30
Who Wore This Shako?
Todd, Frederick P.
0
52
0
USA
Civil War Era, 1860-1865
headgear
Note
31
The Artillery of the American Revolution, Part I
Weller, Jac
0
61
0
USA, Continental
Revolutionary War, 1775-1783
Army
Artillery
weapons; guns, howitzer, mortar
Main article
31
Military Dress in Maryland, Part VI
Brown, Anne S. K.
0
66
0
Maryland
Civil War Era, 1860-1865
uniform
Main article
31
Insignia of Rank in the Continental Army, 1775-1783
Finke, Detmar H.
0
71
0
USA, Continental
Revolutionary War, 1775-1783
Army
insignia, rank, epaullette, feathers
Main article
31
Commander-in-Chief's Guard, 1777-1783
McBarron, Jr., H. Charles
Todd, Frederick P.
121
74
0
USA, Continental
Revolutionary War, 1775-1783
Army
Infantry
The Life Guard, uniform
Plate
31
9th New York Volunteer Infantry Regiment (Hawkins' Zouaves), 1861-1863
Rixon, Joseph S.
Todd, Frederick P.
122
76
0
USA, New York
Civil War Era, 1860-1865
Volunteer
Infantry
uniform
Plate
31
69th Regiment, National Guard State of New York, c. 1869-1884
McBarron, Jr., H. Charles
Powers, Kenneth
123
77
0
New York
Reconstruction and Indian Wars, 1866-1897
National Guard
Infantry
uniform
Plate
31
U.S. Marine Corps, 1955
Magruder III, John H.
124
78
0
USA
Korean War Era, 1948-1954
Marine
uniform
Plate
31
A Confederate Marine Corps Button?
Williams, Jr., Hermann Warner
0
81
0
CSA
Civil War Era, 1860-1865
Marine
button, insignia
Note
31
The Soldiers' Bullet Proof Vest
Lewis, Waverly P.
0
81
0
USA
Civil War Era, 1860-1865
Army
Smith''s Patent Bullet Proof Vest, armor
Note
31
Troy Citizens Corps, 1886
Demers, John Joseph
0
82
0
New York
Reconstruction and Indian Wars, 1866-1897
National Guard
Infantry
photo
Note
31
Rifle Practice, 1887
Miller, Robert L.
0
82
0
USA
Reconstruction and Indian Wars, 1866-1897
Army
Infantry
headgear
Note
31
Leather Canteen
Lewis, Waverly P.
0
84
0
Colonial Period, 1625-1774, Revolutionary War, 1775-1783, & Civil War Era, 1860-1865
accouterments
Note
32
The Winchester in Warfare
Serven, James E.
0
91
0
Reconstruction and Indian Wars, 1866-1897 & Spanish-American War, 1898-1900
weapons, firearms, muskets, rifle, breech-loader, muzzle-loader
Main article
32
The American Military of 1825 Through European Eyes
Perry, Milton F.
0
95
0
USA
Westward Expansion, 1816-1859
Army
Diary of Karl Bernhard
Main article
32
The Artillery of the American Revolution, Part II
Weller, Jac
0
97
0
USA, Continental
Revolutionary War, 1775-1783
Army
Artillery
Field Artillery, organization and training
Main article
32
Delaware Troops of Horse, circa 1808-1810
McBarron, Jr., H. Charles
Shaw III, Alban P.
125
102
0
Delaware
Federalist Era, 1789-1811
Militia
Cavalry
uniform
Plate
32
Midshipmen, U.S. Navy, 1852-1869
McBarron, Jr., H. Charles
Keester, George B.
126
104
0
USA
Westward Expansion, 1816-1859 & Civil War Era, 1860-1865
Navy
uniform
Plate
32
Guilford Grays, North Carolina Militia, 1860
Rixon, Joseph S.
Perry, Milton F.
127
106
0
North Carolina, CSA
Civil War Era, 1860-1865
Militia
Infantry
uniform
Plate
32
Lafayette Escadrille, French Aviation Service, 1916-1917
Chapman, Frederick Trench
Bird, Jr., Harrison Kerr
128
108
0
France
World War I, 1914-1919
Air Force
124th Scout Squadron; uniform
Plate
32
Regimental Numbers on Helmet Plates
Bird, Jr., Harrison Kerr
Hutchins, James S.
0
110
0
USA
Reconstruction and Indian Wars, 1866-1897
Army
Cavalry
photo, insignia
Note
32
Recruiting for the Confederate Army at Woodstock, Virginia, 1861
Craighead, Alexander M.
0
112
0
Virginia, CSA
Civil War Era, 1860-1865
Volunteer
Artist A. P. Thompson
Note
32
Cartridge Box Plate
Campbell, J. Duncan
0
112
0
Westward Expansion, 1816-1859
Militia
insignia
Note
32
Question: Russian Troops in Alaska
Ryan, Edward
0
114
0
Soviet, Alaska
Reconstruction and Indian Wars, 1866-1897
Army
at turn over to US
Note
32
Mexican Army Shakos
Hefter, Joseph
0
114
0
Mexico
Westward Expansion, 1816-1859, Civil War Era, 1860-1865, Reconstruction and Indian Wars, 1866-1897, & Spanish American War, 1898-1900
Army
headgear
Note
32
Review - Arms and Men: A Military History of the United States by Walter Millis
Nihart, F. Brooke
0
118
0
USA
Revolutionary War, 1775-1783, Early Republic, 1784-1789, Federalist Era, 1789-1811, & War of 1812, 1812-1815
history; military policy
Review
32
Review - Small Arms and Ammunition in the United States by Col. Berkeley Lewis
Peterson, Harold L.
0
118
0
USA
Early Republic, 1784-1789, Federalist Era, 1789-1811, War of 1812, 1812-1815, & Westward Expansion, 1816-1859
firearms, accouterments, ammunition, holsters, cartridge boxes
Review
33
Uniforms and Equipment of Confederate Marines
Donnelly, Ralph W.
0
1
0
CSA
Civil War Era, 1860-1865
Marine
uniform
Main article
33
Stamps of French Regiments, World War I
Downey, Fairfax
0
8
0
France
World War I, 1914-1919
Note
33
Pioneers, 25th U.S. Infantry, Summer 1814
Todd, Frederick P.
129
11
0
USA
War of 1812, 1812-1815
Army
Infantry
uniform
Plate
33
U.S. Marine Corps, 1826
Magruder III, John H.
130
12
0
USA
Westward Expansion, 1816-1859
Marine
uniform
Plate
33
Captain Crawford''s Battalion of Apache Scouts, 1885-1886
Lewis, Edwin S.
Magruder III, John H.
131
14
0
USA
Reconstruction and Indian Wars, 1866-1897
Army
Scouts
uniform
Plate
33
1st U.S. Dragoons, 1858-1861
McBarron, Jr., H. Charles
Parker, Jr., Thomas L.
132
16
0
USA
Westward Expansion, 1816-1859 & Civil War Era, 1860-1865
Army
Dragoons
uniform
Plate
33
Soldiers' Uniforms in Six Countries -- 1956
Bird, Jr., Harrison Kerr
0
18
0
Korean War Era, 1948-1954
France, England, Italy, Yugoslavia, Greece, Turkey
Note
33
Christmas Cards
West, Charles
0
21
0
USA
Marine, Artillery uniforms
Note
33
Correction: Artillery of Siege Dimensions Plate (Vol. 8, p. 63)
Miller, Robert L.
0
20
0
Britain
Revolutionary War, 1775-1783
Army
Ordnance
howitzer, mortar, 18 Pdr. Gun
Note
33
9th Pennsylvania [New York] Regiment, Hawkins Zouaves
Todd, Frederick P.
0
21
0
New York
Civil War Era, 1860-1865
Militia
Infantry
uniform
Note
33
Three Compartment Tin Canteen
Lewis, Waverly P.
0
22
0
Connecticut
Civil War Era, 1860-1865
Militia
Infantry
canteen, accouterments
Note
33
Review - Arms and Armor in Colonial America, 1526-1783 by Harold L. Peterson
Todd, Frederick P.
0
27
0
Pre-Colonial Era, 1492-1625, Colonial Period, 1625-1774, & Revolutionary War, 1775-1783
weapons, armor
Review
33
Review - Sound of the Guns by Fairfax Downey
Peterson, Harold L.
0
28
0
USA
Colonial Period, 1625-1774, Revolutionary War, 1775-1783, Early Republic, 1784-1789, & Federalist Era, 1789-1811
Army
Artillery
Review
34
James Walker--Combat Artist of Two American Wars
McNaughton, Marian R.
0
31
0
Westward Expansion, 1816-1859 & Civil War Era, 1860-1865
Artist Jame S. Walker; Mexican War, Civil War
Main article
34
The Organization and Uniforms of the San Patricio Units of the Mexican Army, 1846-1848
Finke, Detmar H.
0
36
0
Mexico
Westward Expansion, 1816-1859
Artillery, Infantry
Mexican War deserters
Main article
34
36th Illinois Infantry Regiment, 1863
McBarron, Jr., H. Charles
133
39
0
USA, Illinois
Civil War Era, 1860-1865
Volunteer
Infantry
uniform
Plate
34
Colonel Brisbane's Regiment, South Carolina Militia, 1836
McBarron, Jr., H. Charles
Todd, Frederick P.
134
40
0
South Carolina
Westward Expansion, 1816-1859
Militia
Infantry
Seminole War, uniform
Plate
34
The Cleveland Grays, 1890-1900
Gringhuis, Dirk
Thoburn, D. Lyle
135
43
0
Ohio
Reconstruction and Indian Wars, 1866-1897 & Spanish-American War, 1898-1900
Independent
uniform
Plate
34
3rd New Jersey Cavalry Regiment, 1864-1865 (1st Regiment, U.S. Hussars)
Risley, Clyde A.
Todd, Frederick P.
136
44
0
New Jersey
Civil War Era, 1860-1865
Militia
Cavalry
Trenton Hussars
Plate
34
Walker's Battle of Gettysburg--An Analysis
Nihart, F. Brooke
0
47
0
Pennsylvania
Civil War Era, 1860-1865
Artist - James Walker
Note
34
Lieutenant Henry Metcalfe's Experimental Cartridge Box
McCracken, Warren T.
0
49
0
USA
Reconstruction and Indian Wars, 1866-1897
Army
Infantry
accouterments, cartridge box, Springfield Rifle, caliber .45
Note
34
ERRATA: Hawkin's Zouaves (Vol. 9, p. 21)
Editor,
0
50
0
New York
Civil War Era, 1860-1865
Militia
Infantry
correction
Note
34
Militia Belt Plate: A Battlefield Recovery
Miller, Robert L.
0
50
0
Civil War Era, 1860-1865
Militia
Infantry
insignia
Note
34
ERRATA: British Seige Artillery (Vol. 9, p. 20)
Editor,
0
51
0
Britain
Revolutionary War, 1775-1783
Army
Ordnance
correction howitzer
Note
34
Lt. William E. Shipp, U.S.A. (Vol. 9, p. 15)
Magruder III, John H.
0
51
0
USA
Reconstruction and Indian Wars, 1866-1897
Army
Cavalry
10th Cavalry, BLK
Note
34
Early American Leather Cartridge Pouch
Lewis, Waverly P.
Miller, Robert L.
0
52
0
Revolutionary War, 1775-1783, Early Republic, 1784-1789, Federalist Era, 1789-1811, & War of 1812, 1812-1815
Infantry
cartridge box, accouterments
Note
34
Review - Guns on the Early Frontiers by Carl P. Russell
Peterson, Harold L.
0
57
0
Colonial Period, 1625-1774, Revolutionary War, 1775-1783, Early Republic, 1784-1789, & Federalist Era, 1789-1811
weapons, firearms
Review
34
Review - Handbuch der Uniformkunde by Herbert Knoetel and Herbert Sieg
Finke, Detmar H.
0
57
0
Europe
Colonial Period, 1625-1774, Revolutionary War, 1775-1783, Early Republic, 1784-1789, & Federalist Era, 1789-1811
Army, Navy, Air Force
German states, European countries, Argentina, Brazil, Chile, China, India, Japan, Mexico, Turkey, US
Review
35
Army and Navy Textbooks and Manuals Used by the North During the Civil War--Part I
Lord, Francis A.
0
61
0
USA
Civil War Era, 1860-1865
Army, Navy
tactics
Main article
35
Secretary Floyd's Presentation Colts
duMont, John S.
0
68
0
Westward Expansion, 1816-1859
weapons, firearms,1855 Sidehammer revolving cylinder carbine; 1851 Navy Pistol with detachable shoulder stock; weapons
Main article
35
The Spar Torpedo in the War Between the States
Rawls, John L.
0
70
0
USA, CSA
Civil War Era, 1860-1865
Navy
weapons, torpedo, mine
Main article
35
The Lake Superior Regiment (Motor), Canadian Army, 1945
Chapman, Frederick Trench
Bird, Jr., Harrison Kerr
137
73
0
Canada
World War II Period, 1939-1947
Army
Infantry
uniform, weapons
Plate
35
Citadel Cadet Battery, Morris Island, 1861
McBarron, Jr., H. Charles
West, Charles
138
74
0
South Carolina, CSA
Civil War Era, 1860-1865
Army
Cadet
uniform
Plate
35
De Meuron's Swiss Regiment, 1814-1816
Lawson, Cecil C. P.
Severin, John P.
139
77
0
Britain
War of 1812, 1812-1815 & Westward Expansion, 1816-1859
Army
Infantry
uniform
Plate
35
Boston Troop of Light Dragoons, 1802- c. 1810
McBarron, Jr., H. Charles
Todd, Frederick P.
140
78
0
Massachusetts
Federalist Era, 1789-1811
Militia
Dragoons
uniform
Plate
35
The Anatomy of Military Collecting: Frederick P. Todd Collection
Todd, Frederick P.
0
80
0
collecting
Main article
35
Entrenching Tools of the Continental Army
Peterson, Harold L.
0
82
0
USA, Continental
Revolutionary War, 1775-1783
Army
equipment, Tools, spade, shovel, pick, mattock
Note
35
A Possible Example of War of 1812 Naval Headgear
Peterson, Harold L.
0
83
0
USA
Federalist Era, 1789-1811 & War of 1812, 1812-1815
Navy
headgear, helmet
Note
35
Torchlight Shako
Lewis, Waverly P.
0
84
0
Reconstruction and Indian Wars, 1866-1897
Militia
lamp, oil, headgear
Note
35
A Non-Regulation Use of the Civil War Cartridge Box
Olsen, Stanley J.
0
84
0
native
Reconstruction and Indian Wars, 1866-1897
accouterments
Note
35
Question: For What Cartridge Was This Box Designed?
Miller, Robert L.
0
85
0
Civil War Era, 1860-1865, & Reconstruction and Indian Wars, 1866-1897
accouterments, unusual size tubes
Note
35
Review - Patton and His Pistols by Milton F. Perry and Barbara W. Parke
Gill, Rowland P.
0
89
0
World War II Period, 1939-1947
biography; firearms, weapons,pistol photos
Review
36
A Description of the U.S. Infantry Equipments Pattern of 1872
Riling, Ray
0
91
0
USA
Reconstruction and Indian Wars, 1866-1897
Army
Infantry
accouterments, knapsack, haversack, canteen, cartridge-box, waist-belt, bayonet-scabbard
Main article
36
Army and Navy Textbooks and Manuals Used by the North During the Civil War--Part II
Lord, Francis A.
0
95
0
USA
Civil War Era, 1860-1865
Army, Navy
list of books
Main article
36
Anhalt-Zerbst Infantry Regiment, 1778-1783
Knotel, Herbert
Finke, Detmar H.
141
103
0
Hessian
Revolutionary War, 1775-1783
Anhalt-Zerbst
Infantry
uniform
Plate
36
United States Corps of Artificers, 1812-1815
McBarron, Jr., H. Charles
Todd, Frederick P.
142
104
0
USA
War of 1812, 1812-1815
Army
Artificers
uniform
Plate
36
U.S. Navy Sea Officers in Full Dress, 1852-1862
McBarron, Jr., H. Charles
143
106
0
USA
Westward Expansion, 1816-1859 & Civil War Era, 1860-1865
Navy
uniform
Plate
36
Porto Rico Provisional Regiment of Infantry, 1901-1907
Todd, Frederick P.
144
108
0
Puerto Rico
Progressive Era, 1901-1913
Volunteer
Infantry
uniform
Plate
36
Four Walker Paintings
Perry, Milton F.
0
109
0
USA
Westward Expansion, 1816-1859
Army
art, James Walker, Artist, Mexican War
Note
36
Remington-Riling Advertisement
Editor,
0
111
0
Explanation
Note
36
Lieutenant Colonel Benoit Bender, Potowatomie Chief
Conway, O. Patrick M.
Shaw, Jr., Henry I.
0
111
0
Britain
War of 1812, 1812-1815
Army
Infantry
41st Regiment of Foot; Canadian Indian
Note
36
Royal Canadian Army Beret Retires
Graves, William F.
0
111
0
Canada
Korean War Era, 1948-1954
Army
headgear; replaced by a dark bluecap
Note
36
Review - British Military Uniforms from Contemporary Pictures by W.Y. Carman
Magruder III, John H.
0
117
0
Britain
Army
Infantry, Cavalry
1480-1957
Review
36
Review - Making and Collecting Military Miniatures by Bob Bard
Ryan, Edward
0
117
0
Korean War Era, 1948-1954
miniatures, American collectors
Review
37
Rhode Island Uniforms in the Revolution
Brown, Anne S. K.
0
1
0
USA, Continental, Rhode Island
Revolutionary War, 1775-1783
Army, Navy
uniform
Main article
37
A Humorous Account of a Militia Muster circa 1807
Nihart, F. Brooke
0
11
0
Georgia
Federalist Era, 1789-1811
Militia
Main article
37
State of Connecticut Uniforms 1856
Todd, Frederick P.
0
15
0
Connecticut
Westward Expansion, 1816-1859
Militia
Infantry
uniform
Note
37
Official Drawings for the U.S. Army Uniform Regulations of 1851
Wischnowski, Edgar A.
0
16
0
USA
Westward Expansion, 1816-1859
Army
uniforms, branch insignia, rank insignia
Note
37
Crossbelt Plate of Captain James W. Farr
Lewis, Waverly P.
0
20
0
New York
Westward Expansion, 1816-1859
Militia
Artillery
accouterments, Governor''s Guard, 2d Regiment, insignia
Note
37
Civilian Pattern Straw Hats Used as Army Fatigue Wear in the 1880's
Parker, Henry S.
Gill, Rowland P.
0
21
0
USA
Reconstruction and Indian Wars, 1866-1897
Army
headgear, Fort Leavenworth, Kansas, firing range
Note
37
Percussion Cap Box ? Rebel
Albaugh III, William A.
0
22
0
CSA
Civil War Era, 1860-1865
Army
accouterments
Note
37
Air Force Longevity Ribbon
Graves, William F.
0
22
0
USA
Korean War Era, 1948-1954
Air Force
Decoration, insignia
Note
38
The Civil Engineer Corps, U.S. Navy and the Corps Device
Tily, James C.
0
31
0
USA
Reconstruction and Indian Wars, 1866-1897, Spanish American War, 1898-1900, Progressive Era, 1901-1913, & World War I, 1941-1919
Navy
Civil Engineer Corps
history, insignia
Main article
38
The Early Columbiads
Tucker, Cary S.
0
40
0
USA
Army, Navy
Ordnance
weapons, cannon
Main article
38
Official Drawings for the U.S. Army Uniform Regulations of 1851
Wischnowski, Edgar A.
0
43
0
USA
Westward Expansion, 1816-1859
Army
uniform, branch insignia, rank insignia, horse furniture, sword and scabbard, chevrons
Note
38
Wearing of the Saber
Graham, John F.
0
46
0
USA
Progressive Era, 1901-1913, & World War I, 1941-1919
Army
Cavalry
edged weapons
Note
38
Confederate Shoes
Todd, Frederick P.
0
47
0
CSA
Civil War Era, 1860-1865
footwear
Note
38
First Sergeant Charles S. Powell, North Carolina Volunteers, 1861
Wallace, Jr., Lee A.
0
48
0
North Carolina, CSA
Civil War Era, 1860-1865
Volunteer
Infantry
uniform
Note
38
Unidentified U.S. Waist Belt Plate, Civil War Period
Kerksis, Sydney C.
0
49
0
USA
Civil War Era, 1860-1865
insignia
Note
38
Home Made Confederate Belt Plate
Kerksis, Sydney C.
0
50
0
CSA
Civil War Era, 1860-1865
insignia
Note
38
ERRATA (Vol. 9, p. 104)
Editor,
0
50
0
USA
War of 1812, 1812-1815
Army
Artificers
uniform
Note
38
A "Rebelized" Yankee Cap Box
Wallace, Jr., Lee A.
0
50
0
CSA
Civil War Era, 1860-1865
Army
Union Cap Box, acoutterments, reused
Note
38
Review - The Guns at Gettysburg by Fairfax Downey
Peterson, Harold L.
0
57
0
CSA, USA
Civil War Era, 1860-1865
Army
Artillery
Battle of Gettysburg; both sides discussed, but emphasis on Union
Review
38
Review - American Knives by Harold L. Peterson
Abels, Robert
0
58
0
edged weapons, knives
Review
39
Virginia Military Forces, 1858-1861: The Volunteers of the Second Brigade, Fourth Division, Part I
Wallace, Jr., Lee A.
Finke, Detmar H.
0
61
0
Virginia, CSA
Westward Expansion, 1816-1859 & Civil War Era, 1860-1865
Volunteer
Infantry
1st Regiment Virginia Volunteers, uniform
Main article
39
Battalion of Washington Artillery of New Orleans, 1861
Rixon, Joseph S.
Wallace, Jr., Lee A.
146
71
0
Louisiana, CSA
Civil War Era, 1860-1865
Volunteer
Artillery
uniform
Plate
39
U.S. Infantry, Summer Fatigue Dress, 1814-1815
Finke, Detmar H.
McBarron, Jr., H. Charles
145
71
0
USA
War of 1812, 1812-1815
Army
Infantry
uniform
Plate
39
Light Battery F, 5th U.S. Artillery, Full Dress, 1894-1896
Larter, Jr., Harry C.
147
72
0
USA
Reconstruction and Indian Wars, 1866-1897
Army
Artillery
uniform, full dress
Plate
39
10th Pennsylvania Volunteer Infantry Regiment, 1898-1899
Chapman, Frederick Trench
Gregg, Jr., James
148
74
0
USA, Pennsylvania
Spanish American War, 1898-1900
Volunteer
Infantry
uniform
Plate
39
Viking Warriors, circa 1000
McBarron, Jr., H. Charles
Peterson, Harold L.
149
77
0
Sweden
Pre-Columbian Era, To 1491
uniform
Plate
39
Texas Rangers, 1839
Steffen, Randy
150
79
0
Texas
Westward Expansion, 1816-1859
Police
Rangers
Constabulary force; no uniform
Plate
39
Republican Blues, Savannah, Georgia, (1st Regiment, Georgia Volunteers), 1860
McBarron, Jr., H. Charles
Todd, Frederick P.
151
80
0
Georgia, CSA
Civil War Era, 1860-1865
Volunteer
Infantry
uniform
Plate
39
14th Regiment New York State Militia, 1861-1864
Grube, Harry T.
Woodbridge, George C.
152
80
0
New York
Civil War Era, 1860-1865
State Militia
Infantry
84th New York Volunteer Regiment
Plate
39
Lieutenant Metcalfe's Experimental Equipment
Landry, Jr., Walter J.
0
83
0
USA
Reconstruction and Indian Wars, 1866-1897
Army
accouterments, magazine, cartridge box, Springfield Rifle, Cal. .45
Note
39
A Zogbaum Article?
Editor,
0
84
0
USA
Artist Rufus Fairchild Zogbaum
Note
39
CSA Belt Buckle, 1st Regiment Virginia Vols
Miller, Robert L.
0
84
0
Virginia, CSA
Civil War Era, 1860-1865
Volunteer
Infantry
insignia, reproductions
Note
40
The New George Washington Equestrian Statue
Petit, Joe F.
0
91
0
Korean War Era, 1948-1954
Artist Herbert Haseltine
Main article
40
Virginia Military Forces, 1858-1861: The Volunteers of the Second Brigade, Fourth Division, Part II
Wallace, Jr., Lee A.
Finke, Detmar H.
0
95
0
Virginia, CSA
Civil War Era, 1860-1865
Volunteer
Infantry
history, uniform
Main article
40
The O'Bannon Sword
Magruder III, John H.
Nihart, F. Brooke
0
102
0
USA
Federalist Era, 1789-1811
Marine
edged weapons, Presentation sword from the State of Virginia
Note
40
The Virginia Regiment, 1754-1762
Chapman, Frederick Trench
Parker, Jr., Thomas L.
153
105
0
Virginia
Colonial Period, 1625-1774
Militia
Infantry
uniform
Plate
40
3rd Regiment, New York State Militia (Hussars), 1850-1860
Todd, Frederick P.
Hutchins, James S.
154
106
0
New York
Westward Expansion, 1816-1859 & Civil War Era, 1860-1865
Militia
Cavalry
uniform
Plate
40
7th U.S. Cavalry, 1876
Hutchins, James S.
155
108
0
USA
Reconstruction and Indian Wars, 1866-1897
Army
Cavalry
uniform
Plate
40
16th U.S. Infantry, 1930
Rixon, Joseph S.
Todd, Frederick P.
156
110
0
USA
Inter-War Years, 1920-1938
Army
Infantry
uniform
Plate
40
Early 19th Century Cartridge Pouch
Ferris, Richard N.
0
111
0
Westward Expansion, 1816-1859
Militia
accouterments
Note
40
U.S. and Confederate Artillery Drivers' Saddles
Olsen, Stanley J.
0
112
0
USA, CSA
Civil War Era, 1860-1865
Army
Artillery
saddles
Note
40
Byline of Virginia Military Forces
Editor,
0
114
0
correction
Note
40
A Question: American Vivandieres
Sargent, Ronald W.
0
114
0
USA
Civil War Era, 1860-1865
Note
40
Comments: CEC Article (Vol. 10, p. 31)
Butt, Marshall W.
0
114
0
USA
Federalist Era, 1789-1811
Navy
Civil Engineer Corps
correction
Note
41
The Citadel Gun
Carpenter, R. G.
0
1
0
Canada
Citadel of Quebec; debunks label captured at Bunker Hill, 1775\\"\"
Main article
41
The Woodis Rifles -- 1858-1861
Walker, Carroll H.
0
5
0
Virginia
Westward Expansion, 1816-1859
Militia
Rifle
54th R
Note
41
The Courtenay Coal Torpedo
Shutt, James A.
Thatcher, Joseph M.
0
7
CSA
Civil War Era, 1860-1865
Navy
Note
41
Chatham Light Horse, Savannah, Georgia, c1811-1817
McBarron, Jr., H. Charles
Todd, Frederick P.
157
9
Georgia
War of 1812, 1812-1815
Militia
uniform
Plate
41
1st Special Battalion, Louisiana Infantry (Wheat's Tigers), 1861-1862
Steffen, Randy
Youngquist, Ronald
159
10
0
Louisiana, CSA
Civil War Era, 1860-1865
Volunteer
Infantry
uniform
Plate
41
44th New York Volunteer Infantry Regiment (People's Ellsworth Regiment), 1861-1864
Todd, Frederick P.
Woodbridge, George C.
158
10
0
USA, New York
Civil War Era, 1860-1865
Volunteer
Infantry
uniform
Plate
41
Canadian North West Mounted Police, 1874
Steele, Russell V.
160
14
0
Canada
Reconstruction and Indian Wars, 1866-1897
Police
uniform
Plate
41
A Reproduction of the 1841 Naval Uniform Regulations
Wischnowski, Edgar A.
0
15
0
USA
Westward Expansion, 1816-1859
Navy
regulations
Note
41
Powder Horn of the 77th Highlanders
Lewis, Berkeley R.
0
19
0
Britain
Colonial Period, 1625-1774
Army
Infantry
powder horn, accouterment
Main article
41
Captain Edwin F. Chappell, CSA
Williams, Jr., Hermann Warner
0
22
0
CSA
Civil War Era, 1860-1865
Army
Artillery
art, portrait, uniform
Note
41
Review - El Soldado Mexicano, 1837-1847 (The Mexican Soldier), by A. Nieto, A.S.K. Brown, and J. Hefter
Finke, Detmar H.
0
27
0
Mexico
Westward Expansion, 1816-1859
Army
organization, dress, and equipment
Review
42
Military Organization in Maine's First Indian War
Southard, Jr., Frank E.
0
33
0
Maine
Colonial Period, 1625-1774
King Philip's War
Main article
42
Lieutenant Metcalfe's Detachable Magazine
Perry, Milton F.
0
40
0
USA
Reconstruction and Indian Wars, 1866-1897
Army
Infantry
Experimental; not adopted; photo
Main article
42
A Reproduction of the 1830 Naval Uniform Regulations
Tily, James C.
0
45
0
USA
Westward Expansion, 1816-1859
Navy
regulations
Note
42
The Milford (Connecticut) Grenadiers
Lewis, Waverly P.
0
51
0
Connecticut
Federalist Era, 1789-1811, War of 1812, 1812-1815, & Westward Expansion, 1816-1859
Militia
Infantry
32d Regiment, 2d Militia Brigade
Note
42
Newly Discovered Belt Plate
Kerksis, Sydney C.
0
52
0
Missouri
Militia
insignia Belt Plate bears letters SMM, cap the letters AZC; photo; insignia
Note
42
Huddy and Duval Form Letter
Riling, Ray
0
53
0
Pennsylvania
Westward Expansion, 1816-1859
history of Huddy & Duval and their magazine: U.S. Military Magazine
Note
42
Confederate Stationery
Kerksis, Sydney C.
0
53
0
CSA
Civil War Era, 1860-1865
reused cartridge packet wrapper
Note
42
Review - Robert Rogers of the Rangersby John R. Cuneo
Shaw, Jr., Henry I.
0
59
0
Colonial Period, 1625-1774
biography; French & Indian War
Review
43
The Types Militaires of Draner
Comparato, Frank E.
0
65
0
caricature; artist Jules Renard (aka Draner)
Main article
43
Virginia Military Forces, 1858-1861: The Volunteers of the Second Brigade, Fourth Division, Part III
Wallace, Jr., Lee A.
Finke, Detmar H.
0
70
0
Virginia, CSA
Civil War Era, 1860-1865
Volunteer
Infantry, Dragoons
uniform
Main article
43
Kentucky Militia at the River Rasin, January 1813
Elting, John R.
McBarron, Jr., H. Charles
162
80
0
Kentucky
War of 1812, 1812-1815
Militia
Infantry
uniform, 1st & 5th Kentucky Regiments, Kentucky Rifle regiment
Plate
43
Provost Company of Light Dragoons, 1778-1783
Chapman, Frederick Trench
Elting, John R.
161
80
0
USA, Continental
Revolutionary War, 1775-1783
Army
Military Police
uniform
Plate
43
17th Regiment of Virginia Volunteers, 1861
Rixon, Joseph S.
Wallace, Jr., Lee A.
163
82
0
Virginia, CSA
Civil War Era, 1860-1865
Volunteer
Infantry
uniform
Plate
43
39th New York Volunteer Infantry Regiment (Garibaldi Guard), 1861-1862
Todd, Frederick P.
Woodbridge, George C.
164
85
0
USA, New York
Civil War Era, 1860-1865
Volunteer
Infantry
uniform
Plate
43
The Continental Provost, 1778-1783
Haarmann, Albert W.
0
86
0
USA, Continental
Revolutionary War, 1775-1783
Army
Military Police
history
Note
43
Unusual Confederate Canteen
Kerksis, Sydney C.
0
87
0
Arkansas, CSA
Civil War Era, 1860-1865
Volunteer
Infantry
accouterments, 1st Arkansas; tinned copper; neck lead
Note
43
Virginia Zouave Uniform
Wallace, Jr., Lee A.
0
88
0
Virginia, CSA
Civil War Era, 1860-1865
Volunteer
uniform
Note
43
Merrill Carbine Cartridge Box
Schornak, Joseph L.
0
89
0
USA
Civil War Era, 1860-1865
Army
accouterments
Note
43
Who Bent Them?
Wandrus, Harry
0
90
0
USA, CSA
Westward Expansion, 1816-1859, Civil War Era, 1860-1865, & Reconstruction and Indian Wars, 1866-1897
Army
Cavalry
Quillions bent; has straightened, but now thinks that might be an error
Note
44
Factors Behind the Raising of the 80th Foot in America
Cuneo, John R.
0
97
0
Britain
Colonial Period, 1625-1774
Army
Infantry
history
Main article
44
American Soldiers on Cigarette Cards: The Kinney Military Series -- An Evaluation and a Checklist
Nihart, F. Brooke
0
104
0
uniforms
Main article
44
British 84th Regiment of Foot (Royal Highland Emigrants), 1775-1783
McBarron, Jr., H. Charles
Todd, Frederick P.
165
109
0
Britain
Revolutionary War, 1775-1783
Provincial
Infantry
uniform
Plate
44
French Soissonnais Infantry, 1780-1783
Lelipvre, Eugene
166
109
0
France
Revolutionary War, 1775-1783
Army
Infantry
uniform
Plate
44
Hays' Regiment, Texas Mounted Volunteers (Texas Rangers), 1847-1848
Steffen, Randy
167
112
0
USA, Texas
Westward Expansion, 1816-1859
Volunteer
Cavalry
uniform, Mexican War
Plate
44
11th New York Volunteer Cavalry Regiment (Scott's 900), 1862-1865
Woodbridge, George C.
168
114
0
USA, New York
Civil War Era, 1860-1865
Volunteer
Cavalry
uniform
Plate
44
Notes on the British 9 Pounder Field Piece S.B.M.L.
Riling, Ray
0
115
0
Britain
Federalist Era, 1789-1811, War of 1812, 1812-1815, Westward Expansion, 1816-1859, & Civil War Era, 1860-1865
Army
Ordnance
Note
44
Alexandria Boys Corps
Quandt, Eleanor S.
0
116
0
Virginia
Federalist Era, 1789-1811
portrait; uniform
Note
44
AZC Picture in Summer Issue is Properly Identified
Todd, Frederick P.
0
117
0
USA, New York
Civil War Era, 1860-1865
Volunteer
Infantry
Albany Zouave Cadets
Note
44
Unidentified Hat Device
Kerksis, Sydney C.
0
117
0
CSA
Civil War Era, 1860-1865
insignia
Note
44
Confederate Angular Bayonet Scabbards
Miller, Robert L.
0
118
0
CSA
Civil War Era, 1860-1865
accouterments
Note
44
Memorandum Respecting the Fixing of a Flint
Kerksis, Sydney C.
0
118
0
USA
Westward Expansion, 1816-1859
Infantry
instructions, firearms, weapons
Note
44
Review - Clash of Cavalry: The Battle of Brandy Station, June 9, 1863, by Fairfax Downey
Wallace, Jr., Lee A.
0
123
0
Civil War Era, 1860-1865
Cavalry
history
Review
44
Review - Model Soldiers, A Collector's Guide, by John G. Garratt
Ryan, Edward
0
123
0
Korean War Era, 1948-1954
types, history of manufacturers, basic reference work
Review
44
Review - The Civil War Dictionary, by Mark M. Boatner III
Peterson, Harold L.
0
124
0
Civil War Era, 1860-1865
campaigns, battles, biographies, maps, unit histories
Review
44
Review - Naval Customs, Tradition and Usage, by Vice Admiral L. P. Lovette
Tily, James C.
0
126
0
USA
Korean War Era, 1948-1954
Navy
Review
45
The Thompson Westcott Descriptions of Military Dress During the American Revolution
Elting, John R.
0
1
0
USA, Continental
Revolutionary War, 1775-1783
Army
deserter descriptions, uniform
Main article
45
U.S. Troops in Alaska, 1867-77
Stubbs, Valerie K.
0
6
0
USA
Reconstruction and Indian Wars, 1866-1897
Army
history
Main article
45
The Military Rifle Pouch
Berkebile, Don H.
0
9
0
USA, Continental, USA
Colonial Period, 1625-1774, Revolutionary War, 1775-1783, Early Republic, 1784-1789, & Federalist Era, 1789-1811
Army
history, accouterment
Main article
45
Texas Rangers, 1884
Steffen, Randy
169
13
0
Texas
Reconstruction and Indian Wars, 1866-1897
Police
Rangers
uniform
Plate
45
Gorham's Rangers
Ray, Jr., Frederick E.
Elting, John R.
170
14
0
Britain
Colonial Period, 1625-1774
Army
Ranger
Nova Scotia Ranging Company, The Corps of Rangers
Plate
45
The Brunswick Regiment of Dragoons, 1776-1783
Chapman, Frederick Trench
Elting, John R.
171
17
0
Hessian
Revolutionary War, 1775-1783
Brunswick
Dragoons
uniform
Plate
45
Continental Infantry, 1778-1783
McBarron, Jr., H. Charles
Elting, John R.
172
18
0
USA, Continental
Revolutionary War, 1775-1783
Army
Infantry
uniform
Plate
45
Civil War Pup Tents
Miller, Robert L.
0
20
0
USA
Civil War Era, 1860-1865
Army
shelter tent
Note
45
Unidentified Military Artifact
Kerksis, Sydney C.
0
21
0
USA
Note
45
A Saber of General Israel Putnam
Browning, Irving
0
22
0
Colonial Period, 1625-1774 & Revolutionary War, 1775-1783
General Officer
saber, edged weapons
Note
45
Unidentified Military Button
Kerksis, Sydney C.
0
23
0
insignia, Letters H M A above a school building, insignia
Note
46
Badges for Early Birdmen
Campbell, J. Duncan
0
33
0
USA
Progressive Era, 1901-1913, & World War I, 1941-1919
Army
Air
Insignia
Main article
46
Colonel Walter H. Taylor, C.S.A.
Walker, Carroll H.
0
39
0
CSA
Westward Expansion, 1816-1859 & Civil War Era, 1860-1865
Army
biography, photos
Note
46
Hessen-Kassel Fusilier Regt. (1780 Musketeer Regt.) Erbprinz
Knotel, Herbert
Elting, John R.
174
42
0
Hessian
Revolutionary War, 1775-1783
Hesse-Cassel
Infantry
uniform
Plate
46
The Chicago Black Horse Troop, 1929-1940
Chapman, Frederick Trench
Elting, John R.
173
42
0
Illinois
Inter-War Years, 1920-1938
National Guard
Cavalry
uniform
Plate
46
The Portland Federal Volunteers, 1798-1803
McBarron, Jr., H. Charles
Southard, Jr., Frank E.
175
44
0
Maine
Federalist Era, 1789-1811
Volunteer
Infantry
uniform
Plate
46
Fourth Battalion of Virginia Volunteers, Petersburg, Va. 1861
Rixon, Joseph S.
Wallace, Jr., Lee A.
176
46
0
Virginia, CSA
Civil War Era, 1860-1865
Volunteer
Infantry
uniform
Plate
46
None But Sober Men With Dry Sponges
Campbell, J. Duncan
Miller, Robert L.
0
48
0
USA
Civil War Era, 1860-1865
Army
Note
46
Civil War Armor: A Campsite Recovery
Cohen, Jr., Roger S.
0
48
0
USA
Civil War Era, 1860-1865
Army
body armor
Note
46
Silver Mounted Sword by the Kentucky Rifle Maker John Noll
White, Wes A.
0
49
0
Revolutionary War, 1775-1783
edged weapons
Note
46
Sylvanus Thayer Library, Dartmouth
Downey, Fairfax
0
51
0
New Hampshire
Korean War Era, 1948-1954
Library
Note
46
Sackcloth, Ashes and A New Development (Vol. 7, p. 70)
Kerksis, Sydney C.
0
51
0
USA, CSA
Civil War Era, 1860-1865
Army
Minie Balls
Note
46
Sussex Light Dragoons, Virginia State Cavalry, 1861
Wallace, Jr., Lee A.
0
52
0
Virginia, CSA
Civil War Era, 1860-1865
Volunteer
Dragoons
photo, history, uniform
Note
46
Review - Medicine and the Navy, 1200-1900 by J.J. Keevil, Vol. I 1200-1649. Vol. 2. 1649-1714.
Tily, James C.
0
61
0
Britain
Pre-Colonial Era, 1492-1625 & Colonial Period, 1625-1774
Navy
Review
47
Accoutrement Plates of the Federal Forces, 1861-1865
Gavin, William G.
0
65
0
USA, Maine, New Hampshire, New York, Pennsylvania, Ohio
Civil War Era, 1860-1865
Army, Volunteer
insignia
Main article
47
Old Bill: Symbol of the Cavalryman
Bell, William Gardner
0
72
0
USA
Army
Cavalry
Main article
47
Further Light on the Beginnings of Gorham's Rangers
Elting, John R.
0
74
0
Britain
Colonial Period, 1625-1774
Army
Ranger
Nova Scotia
Main article
47
Essex Troop (First Squadron Cavalry, National Guard of New Jersey) 1913-1914
Larter, Jr., Harry C.
177
78
0
New Jersey
Progressive Era, 1901-1913, & World War I, 1941-1919
National Guard
Cavalry
uniform
Plate
47
Villistas, 1913
Hefter, Joseph
178
80
0
Mexico
Progressive Era, 1901-1913
Misc
uniform
Plate
47
Land Mine--1865
Kerksis, Sydney C.
0
82
0
CSA
Civil War Era, 1860-1865
torpedo, sub-terra torpedoes, sensitive shells
Note
47
Notes on Early A.E.F. Dress
Lancaster, Southworth
0
83
0
USA
World War I, 1914-1919
Army
Infantry
uniform
Note
47
Comments on the British 9 Pdr. Model (Vol. 11, p. 115)
Tucker, Cary S.
0
84
0
Britain
Federalist Era, 1789-1811, War of 1812, 1812-1815, Westward Expansion, 1816-1859, & Civil War Era, 1860-1865
Army
Ordnance
Note
47
Query: Hay's Regiment, Texas Mounted Volunteers (Vol. 11, p. 112)
Nihart, F. Brooke
0
85
0
Texas
Westward Expansion, 1816-1859
Volunteer
Cavalry
Note
47
Pistol Cartridge Pouch M1874
Hutchins, James S.
0
85
0
USA
Reconstruction and Indian Wars, 1866-1897
Army
Cavalry
photo, accouterments
Note
48
General Armand and His Partisan Corps, 1777-1783
Haarmann, Albert W.
0
97
0
USA, Continental
Revolutionary War, 1775-1783
Army
Cavalry
history, uniform
Main article
48
Confederate States Buttons
Kerksis, Sydney C.
0
103
0
CSA
Civil War Era, 1860-1865
Cavalry, Infantry, Artillery,
insignia
Main article
48
Some Notes on James Potter and His Sabers
Peterson, Harold L.
0
107
0
Revolutionary War, 1775-1783
Cavalry
edged weapons, New York City, saber
Note
48
De Watteville's Swiss Regiment, 1814
Knotel, Herbert
Elting, John R.
179
109
0
Britain
War of 1812, 1812-1815
Army
Infantry
uniform
Plate
48
Staff Officers of Rochambeau, 1780-1783
Lelipvre, Eugene
Baldet, Marcel
180
112
0
France
Revolutionary War, 1775-1783
Army
Staff
uniform
Plate
48
First Pattern Cap Plate for U.S. Regiment of Riflemen
Campbell, J. Duncan
0
114
0
USA
War of 1812, 1812-1815
Army
Rifle
photo, insignia
Note
48
Snow Shoe Soldiers, 1743
Miller, Robert L.
0
115
0
Massachusetts
Colonial Period, 1625-1774
Provincial
footgear
Note
48
Boscawen Medal
White, Wes A.
0
115
0
Britain
Colonial Period, 1625-1774
insignia
Note
48
A 138th Regt. P.V.I. Civil War Drum
Riling, Ray
0
115
0
USA, Pennsylvania
Civil War Era, 1860-1865
Volunteer
Infantry
drum
Note
48
Civil War Prototypes of Mutt and Jeff
Pakula, Marvin H.
0
116
0
Civil War Era, 1860-1865
Artist George Herriman; Cartoonist Bud Fischer
Note
48
Answer: HMA Button (Vol. 12 p.23)
Woodlief, Jr., Horace L.
0
116
0
North Carolina
Westward Expansion, 1816-1859 & Civil War Era, 1860-1865
insignia, Henderson Male Academy
Note
48
Milwaukee Light Guards Music Cover, 1859
Riling, Ray
0
117
0
Wisconsin
Westward Expansion, 1816-1859
Militia
Infantry
uniform
Note
48
American Spontoon Head of Brass, 1789
Mazer, A. Lincoln
0
117
0
USA
Federalist Era, 1789-1811
edged weapon
Note
48
Review - Storming of the Gateway: Chattanooga, 1863, by Fairfax Downey
Sarles, Jr., Frank B.
0
121
0
USA, CSA
Civil War Era, 1860-1865
Army
Chickamauga-Chattanooga Campaign, history
Review
48
Review - Confederate Edged Weapons, by William A. Albaugh III
Peterson, Harold L.
0
122
0
CSA
Civil War Era, 1860-1865
edged weapons
Review
48
Review - They Fought For the Union, by Francis A. Lord
Wallace, Jr., Lee A.
0
122
0
USA
Army, Navy, Marine
How they were organized, equipped and employed; veterans organizations
Review
49
The 2-3/4 inch U.S. Howitzer, 1792-1793
Berkebile, Don H.
0
1
0
USA
Federalist Era, 1789-1811
Army
Ordnance
weapons, cannon
Main article
49
Battle Flags of Mounted Batteries U.S. Artillery, 1862-1865
Keester, George B.
0
8
0
USA
Civil War Era, 1860-1865
Army
Artillery
flags
Main article
49
Civil Officers, U.S. Navy, 1852-1862
McBarron, Jr., H. Charles
Tily, James C.
181
14
0
USA
Westward Expansion, 1816-1859 & Civil War Era, 1860-1865
Navy
Engineer, Medical
uniform
Plate
49
The King's American Regiment, 1783 (The 4th American Regiment)
Ray, Jr., Frederick E.
Elting, John R.
182
16
0
Britain
Revolutionary War, 1775-1783
Army
Infantry
uniform
Plate
49
Medical Officers, U.S. Navy, 1830-1841
McBarron, Jr., H. Charles
Tily, James C.
183
18
0
USA
Westward Expansion, 1816-1859
Navy
Medical
uniform
Plate
49
Loyal Queen's County Militia, 1780
Ray, Jr., Frederick E.
Elting, John R.
Shaw, Jr., Henry I.
184
20
0
Britain
Revolutionary War, 1775-1783
Militia
Infantry
uniform
Plate
49
Palisade Pistol?
Snook, George A.
0
22
0
weapon, firearm, gun, pistol
Note
49
Cycle Infantry Drill Regulations
Riling, Ray
0
24
0
Reconstruction and Indian Wars, 1866-1897
Infantry
Bicycle
Note
49
A.E.F. Sketch Authenticated (Vol 12, p. 83)
Lancaster, Southworth
0
24
0
USA
World War I, 1914-1919
Army
Infantry
Note
49
Rare Civil War Artillery Projectile
Peterson, Harold L.
0
24
0
Civil War Era, 1860-1865
Artillery
3 inch rifle; Archer type?
Note
49
Can Anyone Identify This Object?
McLaughlin, William F.
0
26
0
Note
49
Presentation Sword
Kerksis, Sydney C.
0
26
0
Pennsylvania
Civil War Era, 1860-1865
edged weapons, Major Charles E. West; Wyers Academy, West Chester, Pennsylvania 1850 model
Note
49
Civil War Service of Mutt and Jeff Questioned (Vol. 12, p. 116)
Lancaster, Southworth
0
26
0
Civil War Era, 1860-1865
Note
49
Errata: Confederate States Buttons (Vol. 12, p. 104 & 106)
Editor,
0
26
0
CSA
Civil War Era, 1860-1865
insignia
Note
49
Review - Centennial Album of the Civil War by Marvin H. Pakula
Miller, Robert L.
0
30
0
Civil War Era, 1860-1865
portraits of leaders; photos
Review
50
Notes on the Coehorn Mortar
Erwin, James Q.
0
35
0
USA, Continental, CSA
Revolutionary War, 1775-1783, Westward Expansion, 1816-1859, Civil War Era, 1860-1865 & Reconstruction and Indian Wars, 1866-1897
Army
Ordnance
Main article
50
Officer's Coat of the Revolution
Howell, Edgar M.
0
43
0
Revolutionary War, 1775-1783
uniform, clothing, BG Peter Gansevoort''s?
Note
50
2d Wisconsin Volunteer Infantry of the Iron Brigade, 1862-1863
Woodbridge, George C.
Nolan, Alan T.
185
46
0
USA, Wisconsin
Civil War Era, 1860-1865
Volunteer
Infantry
uniform
Plate
50
Officers, U.S. Navy, 1886
Gringhuis, Dirk
Tily, James C.
186
48
0
USA
Reconstruction and Indian Wars, 1866-1897
Navy
uniform
Plate
50
1st U.S. Sharpshooters (Berdan's), 1862
Woodbridge, George C.
Elting, John R.
187
50
0
USA
Civil War Era, 1860-1865
Army
Sharpshooters
uniform
Plate
50
French Troops in the West Indies, 1700-1750
D'Ambert, Guy B.
188
52
0
France
Colonial Period, 1625-1774
Army
Infantry
Regiment de Karrer; Regiment de Mailly
Plate
50
Custer's Rebel Sabre
Geer, Harold A.
0
53
0
USA
Civil War Era, 1860-1865
Army
Cavalry
history of Custer's capture of the weapon
Note
50
Ever Seen a Worst Dressed Soldier?
Bird, Jr., Harrison Kerr
0
54
0
Korean War Era, 1948-1954
uniforms
Note
50
Errata: Confederate States Buttons (Vol. 12, p. 104)
Kerksis, Sydney C.
0
55
0
CSA
Civil War Era, 1860-1865
insignia, delete button manufacturer
Note
50
American Silver Gorget
Williams, Jr., Hermann Warner
0
55
0
USA, Continental
Revolutionary War, 1775-1783
Army
insignia, Col. C. C. Pinckney
Note
50
Confederate Jacket and Shirt
Abbott, P. E.
0
56
0
Louisiana
Civil War Era, 1860-1865
Artillery
uniform
Note
50
How to Sponge (Artillery) in 1800
Lancaster, Southworth
0
57
0
Federalist Era, 1789-1811
Artillery
Smith's A Short Compendium of the Duty of Artillerists
Note
50
Review - The Anatomy of Glory, adopted from the French of Henry Lachouque by Anne S. K. Brown
Peterson, Harold L.
0
65
0
France
Federalist Era, 1789-1811 & War of 1812, 1812-1815
Emporer Napoleon and his Guard
Review
51
Ordnance Material Recovered From An Early Seventeenth Century Wreck Site
Peterson, Mendel L.
0
69
0
Spain
Pre-Colonial Era, 1492-1625
Navy
San Antonio
Main article
51
The Third Regiment of Waldeck, 1776-1783
Haarmann, Albert W.
0
82
0
Hessian
Revolutionary War, 1775-1783
Waldeck
Infantry
history, uniform
Main article
51
The Expedition of General Leclerc to San Domingo, 1801-1803
Lelipvre, Eugene
Brouillet, Jacques
189
85
0
France
Federalist Era, 1789-1811
Army
Infantry, Cavalry, Artillery,
uniform
Plate
51
The Cincinnati Rover Guards
Chapman, Frederick Trench
Elting, John R.
190
86
0
Ohio
Westward Expansion, 1816-1859
Militia
Infantry
uniform
Plate
51
Mexican 19th Infantry Battalion, in 1914
Hefter, Joseph
191
88
0
Mexico
World War I, 1914-1919
Army
Infantry
uniform
Plate
51
British Light Infantry, 1758-1759
Manders, Eric I.
Elting, John R.
192
89
0
Britain
Colonial Period, 1625-1774
Army
Infantry
uniform
Plate
51
84th Highland Emigrant Regiment (MUIA Plate No. 165)
Norman, A. V. B.
0
92
0
Britain
Revolutionary War, 1775-1783
Provincial
Infantry
Note
51
What Civil War Troops Wore This British Gear?
Dow, Donald P.
0
94
0
Civil War Era, 1860-1865
weapons, firearms Enfield Rifle, waist belt, cap pouch, bayonet scabbard, cartridge box
Note
51
Plates From A System of Tactics..., 1834
Riling, Ray
0
94
0
USA
Westward Expansion, 1816-1859
Army
Cavalry, Infantry, Rifle
Book
Note
51
Colonel Hawkin's Plume
Pakula, Marvin H.
0
96
0
USA, New York
Civil War Era, 1860-1865
Volunteer
Infantry
hat plume; Col. Rush C. Hawkins
Note
51
Review - The History of the United States Flag from the Revolution to the Present, Including a Guide to its Use and Display, by Milo M. Quaife, Melvin J. Weig and Roy E. Appleman
Todd, Frederick P.
0
99
0
USA
Revolutionary War, 1775-1783, Early Republic, 1784-1789, Federalist Era, 1789-1811, & War of 1812, 1812-1815
flags
Review
51
Review - A History of the Uniforms of the British Army, Volume III, by Cecil C.P. Lawson
Haarmann, Albert W.
0
100
0
Britain
Colonial Period, 1625-1774, Revolutionary War, 1775-1783, Early Republic, 1784-1789, & Federalist Era, 1789-1811
Army
Body Guards, Yeoman of the Guards, Infantry, militia, volunteers, American Colonies, German Mercenaries
Review
52
United States Naval Aviation Dress, 1917-1949, Part I
Tily, James C.
0
103
0
USA
World War I, 1914-1919, Inter-War Years, 1920-1938, World War II Period, 1939-1947, & Korean Era, 1948-1954
Navy
Naval Aviation
uniform
Main article
52
Virginia Military Institute Cadet Battery Guns
Tucker, Cary S.
0
110
0
Virginia
Westward Expansion, 1816-1859 & Civil War Era, 1860-1865
Cadet
weapons,similar guns made for Arkansas Military Institute, and State of Georgia
Main article
52
The Glengarry Light Infantry Fencible Regiment, 1812-1816
Pakula, Marvin H.
Graham, John F.
Elting, John R.
193
113
0
Britain
War of 1812, 1812-1815 & Westward Expansion, 1816-1859
Army
Infantry
uniform
Plate
52
Boarding Party, U.S. Navy, 1815 Naval War with Algiers
McBarron, Jr., H. Charles
Haarmann, Albert W.
Tily, James C.
194
114
0
USA
War of 1812, 1812-1815
Navy
uniform; Naval War with Algiers
Plate
52
The 113th and 114th Polish Demi-Brigades in San Domingo, 1802-1804
Wielhorski, Janusz
Emerson, William K.
195
116
0
France
Federalist Era, 1789-1811
Army
Infantry
uniform
Plate
52
Butler's Rangers, 1778-1784
Manders, Eric I.
Ray, Jr., Frederick E.
196
118
0
Britain
Revolutionary War, 1775-1783 & Early Republic, 1784-1789
Provincial
Ranger
uniform
Plate
52
Russian American Company -- Ship's Officers, 1851
Ray, Jr., Frederick E.
Zlatich, Marko
197
119
0
Soviet
Westward Expansion, 1816-1859
Misc
Plate
52
First Regiment of Virginia Volunteers, Richmond, Va. 1858-1859
Rixon, Joseph S.
Wallace, Jr., Lee A.
198
120
0
Virginia
Westward Expansion, 1816-1859
Militia
Infantry, Cavalry, Artillery
uniform
Plate
52
Uniform and Dress of the Army of Georgia
Kerksis, Sydney C.
0
122
0
Georgia, CSA
Civil War Era, 1860-1865
Volunteer
uniform regulations 15 Feb 1861
Note
52
An 1814 Cap with Crumpton Plate
Campbell, J. Duncan
0
125
0
USA
War of 1812, 1812-1815
Army
Infantry
cap plate; headgear
Note
52
The Marking of United States Army Blankets
Finke, Detmar H.
0
126
0
USA
Westward Expansion, 1816-1859
Army
equipment
Note
52
Hofman's Reversible Belt and Boxes
Hutchins, James S.
0
127
0
Reconstruction and Indian Wars, 1866-1897
accouterments, Lt. William E. Hofman; proposal
Note
52
Hawkins Zouaves; Uniform Addenda (Plate 122)
Lord, Francis A.
Miller, Robert L.
0
128
0
USA, New York
Civil War Era, 1860-1865
Volunteer
Infantry
9th New York Volunteer Infantry; uniform
Note
52
Unusual Confederate Sword Belt Plate
Kerksis, Sydney C.
0
129
0
CSA
insignia, Leech and Rigdon cavalry officers sabre
Note
52
Review - The Civil War: The Artists' Record, by Hermann Warner Williams, Jr.
Wallace, Jr., Lee A.
0
132
0
USA, CSA
Civil War Era, 1860-1865
art, Exhibit catalog, Corcoran Gallery of Art
Review
53
Parcels From Home to a Soldier, 1861-1865
Bird, Jr., Harrison Kerr
0
1
0
USA, New York
Civil War Era, 1860-1865
Volunteer
James Gillette, 71st New York Volunteers
Main article
53
United States Naval Aviation Dress, 1917-1949. Part II
Tily, James C.
0
6
0
USA
World War I, 1914-1919, Inter-War Years, 1920-1938, World War II Period, 1939-1947, & Korean Era, 1948-1954
Navy
Naval Aviation
uniform
Main article
53
Jeffrey's Regiment of Foot 1676-1682
McBarron, Jr., H. Charles
Elting, John R.
Nihart, F. Brooke
199
11
0
Britain
Colonial Period, 1625-1774
Army
Infantry
uniform
Plate
53
Hungarian Hussars in Mexico 1864-1867
Hefter, Joseph
200
12
0
Mexico, France
Civil War Era, 1860-1865, & Reconstruction and Indian Wars, 1866-1897
Army
Cavalry
Ausro-Belgian Volunteer Corps, The Austrian Volunteer brigade, The Austrian and Belgian Legion, The Imperial Mexican Corps of volunteers
Plate
53
Braddock's Troops, 1755: The 44th Regiment of Foot
Manders, Eric I.
201
16
0
Britain
Colonial Period, 1625-1774
Army
Infantry
uniform
Plate
53
Braddock's Troops, 1755: The 48th Regiment of Foot
Manders, Eric I.
202
16
0
Britain
Colonial Period, 1625-1774
Army
Infantry
uniform
Plate
53
23rd Regiment Pennsylvania Infantry (Birney Zouaves)
Ray, Jr., Frederick E.
Elting, John R.
203
17
0
USA, Pennsylvania
Civil War Era, 1860-1865
Volunteer
Infantry
uniform, Philadelphia City Guard
Plate
53
Imperial Japanese Forces, Aleutian Islands, 1942-1943
Burger, Gene Annette
204
18
0
Japan
World War II Period, 1939-1947
Navy, Marine, Army
uniform
Plate
53
Regulations for the Uniform and Dress of North Carolina Troops, 1861
Wallace, Jr., Lee A.
0
20
0
North Carolina, CSA
Civil War Era, 1860-1865
Volunteer
regulations
Note
53
My Collection of Miniature Military Figures: Its History and Anatomy. Part I
Bird, Jr., Harrison Kerr
0
23
0
Korean War Era, 1948-1954
miniature, collecting
Note
53
Unidentified Confederate Belt Plate
Kerksis, Sydney C.
0
24
0
CSA
V S
Note
53
Glengary Regiment
Mulligan, Robert E.
0
24
0
Britain
War of 1812, 1812-1815
Army
Infantry
Note
53
British Commando Knives
Eubanks, Jr., Ben H.
0
26
0
Britain
World War II Period, 1939-1947
Army
Special Ops
edged weapons, Sykes-Fairburn Commando Knife; sheath
Note
53
Confederate Improvisation
Kerksis, Sydney C.
0
27
0
CSA
Civil War Era, 1860-1865
belt plate modification
Note
53
Collis Zouave Accoutrement Plate
Miller, Robert L.
0
27
0
USA, Pennsylvania
Civil War Era, 1860-1865
Volunteer
Infantry
insignia, 114th Regiment - Collis'' Zouaves
Note
53
The Junior Artillerists: Document and a Plate
Riling, Ray
0
28
0
Pennsylvania
Westward Expansion, 1816-1859
Militia
Artillery
uniform
Note
53
Reply to Criticism (Vol. 13, p. 92) of 84th Highland Emigrant Plate (Vol. 11, p. 109)
McBarron, Jr., H. Charles
0
29
0
Britain
Revolutionary War, 1775-1783
Provincial
Infantry
Note
53
84th Highland Emigrant Regiment: A Reply
Todd, Frederick P.
0
30
0
Britain
Revolutionary War, 1775-1783
Provincial
Infantry
Note
53
Review - Indian Army Uniforms Under the British from the 18th Century to 1947: Cavalry, by W.Y. Carman
Shaw, Jr., Henry I.
0
31
0
Raj
Army
uniform
Review
54
Continental Army Uniform and Specifications, 1779-1781
Finke, Detmar H.
McBarron, Jr., H. Charles
0
35
0
USA, Continental
Revolutionary War, 1775-1783
Army
Clothing Department; The Board of War
Main article
54
Confederate Infantry Issue Belt Plates
Kerksis, Sydney C.
0
42
0
CSA
Civil War Era, 1860-1865
Army
Infantry
insignia, Waist belt plate, insignia
Main article
54
False Napoleons
Hazlett, James C.
0
48
0
Civil War Era, 1860-1865
Ordnance
Napoleons at gettysburg and Other parks are false\\" -- machined to look like Napoleons\""
Main article
54
23rd Regiment, N.G.S.N.Y., 1886-1896
Chapman, Frederick Trench
Todd, Frederick P.
205
50
0
New York
Reconstruction and Indian Wars, 1866-1897
National Guard
Infantry
uniform
Plate
54
11th Indiana Regiment (Wallace's Zouaves), Second Uniform
Todd, Frederick P.
Severin, John P.
206
52
0
USA, Indiana
Civil War Era, 1860-1865
Volunteer
Infantry
uniform
Plate
54
Valley Forge Military Academy, 1960
Chapman, Frederick Trench
Allen, C. Kennedy
Elting, John R.
207
53
0
Pennsylvania
Korean War Era, 1948-1954
Cadet
uniform
Plate
54
The French Navy, 1797-1798
Lelipvre, Eugene
Brouillet, Jacques
Zlatich, Marko
208
54
0
France
Federalist Era, 1789-1811
Navy
uniform
Plate
54
Bandsmen, U.S. Navy, 1897
McBarron, Jr., H. Charles
Tily, James C.
209
56
0
USA
Reconstruction and Indian Wars, 1866-1897
Navy
uniform, band
Plate
54
Squadron A, N.G.S.N.Y., 1896-1903
Chapman, Frederick Trench
Todd, Frederick P.
210
58
0
New York
Reconstruction and Indian Wars, 1866-1897, Spanish American War, 1898-1900, & Progressive Era, 1901-1913
National Guard
Cavalry
uniform
Plate
54
Assistant Engineer, C.S. Navy
Gilmer, John B.
0
59
0
CSA
Civil War Era, 1860-1865
Navy
Engineer
uniform
Note
54
Provincial Uniform Colors, 1783
Haarmann, Albert W.
0
60
0
Britain
Revolutionary War, 1775-1783
Provincial
Uniform coat and facing colors; button metal
Note
54
Pvt. William A. Hightower, Virginia Volunteer, 1861
Wallace, Jr., Lee A.
0
60
0
Virginia, CSA
Civil War Era, 1860-1865
Volunteer
Infantry
Brooklyn Grays
Note
54
Seal of the C.S. Navy Department
Wallace, Jr., Lee A.
0
60
0
CSA
Civil War Era, 1860-1865
Navy
Seal
Note
54
MC-1 Survival Knife
Eubanks, Jr., Ben H.
0
62
0
USA
Korean War Era, 1948-1954
Air Force
edged weapons
Note
54
ERRATA: Plate Text (Vol. 14, p. 16)
Editor,
0
62
0
Korean War Era, 1948-1954
Note
55
The Hessian Army and the Corps in North America, 1776-1783
Haarmann, Albert W.
0
69
0
Hessian
Revolutionary War, 1775-1783
Hesse-Cassel
Infantry, Artillery
Hesse-Cassel, Landgrave Frederick II
Main article
55
Mary Walker, Her Medal of Honor, and the Army Reorganization Bill of 1916
Stockton III, Jack P.
0
76
0
USA
Civil War Era, 1860-1865
Volunteer
cancelled by a board of general officers in 1917
Main article
55
Uniforms and Health: A Surgeon's Views, 1808
Langley, Harold D.
0
79
0
USA
Federalist Era, 1789-1811
Navy
Medical
uniform
Main article
55
The U.S. Battalion of Artillery, 1786-1794
McBarron, Jr., H. Charles
Wade, Arthur P.
211
81
0
USA
Early Republic, 1784-1789 & Federalist Era, 1789-1811
Army
Artillery
uniform
Plate
55
Independent Corps of Artificers, Virginia Manufactory of Arms, 1806-1815; Public Guard, Richmond, Va., 1801-1815
Parker, Henry S.
Nihart, F. Brooke
212
82
0
Virginia
Federalist Era, 1789-1811 & War of 1812, 1812-1815
Militia
Artificers, Infantry
uniform
Plate
55
U.S. Naval Aviation Uniform, 1917-1918
Dickson, Donald L.
Tily, James C.
213
84
0
USA
World War I, 1914-1919
Navy
Naval Aviation
uniform
Plate
55
United States Navy, 1830-1841
McBarron, Jr., H. Charles
Tily, James C.
214
86
0
USA
Westward Expansion, 1816-1859
Navy
uniform
Plate
55
Captain Hezekiah Dunn's Company of Rangers: The New Jersey Rangers Frontier Guard, 1756-1760
McBarron, Jr., H. Charles
Elting, John R.
215
87
0
New Jersey
Colonial Period, 1625-1774
Provincial
Ranger
uniform
Plate
55
42nd Regiment, Pennsylvania Volunteer Infantry (The Bucktails 1861-1865)
Woodbridge, George C.
Ray, Jr., Frederick E.
Elting, John R.
216
88
0
USA, Pennsylvania
Civil War Era, 1860-1865
Volunteer
Infantry
uniform
Plate
55
My Collection of Miniature Military Figures: Its History and Anatomy. Part II
Bird, Jr., Harrison Kerr
0
90
0
Korean War Era, 1948-1954
miniatures; collecting
Note
55
Redating the Quartermaster Civil War Uniform Photographs
Howell, Edgar M.
0
91
0
USA
Civil War Era, 1860-1865, & Reconstruction and Indian Wars, 1866-1897
Army
was 1861, now 1866
Note
55
U.S. Sharpshooters Hat Insignia
Pladeau, Marius B.
0
92
0
USA
Civil War Era, 1860-1865
Army
Sharpshooters
insignia, headgear
Note
55
ADDENDA: MUIA Plate No. 212
Nihart, F. Brooke
0
92
0
Virginia
Federalist Era, 1789-1811 & War of 1812, 1812-1815
Militia
Virginia Manufactuory of Arms
Note
55
Sackcloth and Ashes...And the First Pattern Infantry Cap Plate
Campbell, J. Duncan
0
94
0
USA
War of 1812, 1812-1815
Army
Infantry
photo, insignia
Note
55
ERRATA: Confederate Infantry Issue Belt Plates (Vol. 14, p. 45)
Editor,
0
95
0
CSA
Civil War Era, 1860-1865
Army
Infantry
reverses figures 4 & 5; insignia
Note
55
Unique Confederate Cartridge Box
Pritchard, Russ A.
0
95
0
CSA
Civil War Era, 1860-1865
Army
Ordnance
Houston, accouterments
Note
55
83rd Regiment Pennsylvania Infantry
Gavin, William G.
0
95
0
USA, Pennsylvania
Civil War Era, 1860-1865
Volunteer
Infantry
The Erie Regiment; Chasseur de Vincennes uniform
Note
55
Review - The Treasury of the Gun by Harold L. Peterson
Shaw, Jr., Henry I.
0
98
0
firearms, weapons, matchlock, wheel lock, flint lock, percussion, rifles, breech loaders, repeaters, revolvers, magazine weapons
Review
55
Review - Quartermaster Support of the Army: A History of the Corps, 1775-1939 by Erna Risch
Wallace, Jr., Lee A.
0
99
0
USA, Continental, USA
Revolutionary War, 1775-1783, Early Republic, 1784-1789, Federalist Era, 1789-1811, & War of 1812, 1812-1815
Army
Quartermaster
history
Review
56
Uniforms of the Army Prior and Subsequent to 1872. Part I
Kloster, Donald E.
0
103
0
USA
Reconstruction and Indian Wars, 1866-1897
Army
photos, uniform
Main article
56
British, German, and Provincial Uniforms in the Revolution: Some Notes From Rivington's North American List for 1783
Haarmann, Albert W.
0
113
0
Britain, Hessian
Revolutionary War, 1775-1783
Army, Provincial
uniform color, button metal
Main article
56
Artillery Cap Plates: Recent Discoveries
Campbell, J. Duncan
0
121
0
USA
War of 1812, 1812-1815
Army
Artillery
cap plates, insignia
Main article
56
Band, Governor's Guards Battalion, New York State Artillery, 1814
McBarron, Jr., H. Charles
Todd, Frederick P.
217
124
0
New York
War of 1812, 1812-1815
Militia
Infantry
uniform
Plate
56
12th New York Volunteer Infantry Regiment (12th Regiment, N.G.S.N.Y.), 1898
Chapman, Frederick Trench
Todd, Frederick P.
218
126
0
New York
Spanish American War, 1898-1900
National Guard
Infantry
uniform
Plate
56
First Regiment of Virginia Volunteers, Richmond, Va., 1860-1861
Rixon, Joseph S.
Wallace, Jr., Lee A.
219
127
0
Virginia, CSA
Civil War Era, 1860-1865
Volunteer
Infantry, Artillery
uniform
Plate
56
Norfolk Light Artillery Blues, 1838
Burgess, Donald A.
Walker, Carroll H.
220
128
0
Virginia
Westward Expansion, 1816-1859
Militia
Artillery
uniform
Plate
56
British Cap Pouch on U.S. Civil War Belt
Demchak, Albert H.
Ohr, Richard A.
0
130
0
USA
Civil War Era, 1860-1865
Army
accouterments, Federal Belt with British Cap Pouch
Note
56
Date of Young Southerners at Richmond..." Photograph (Photo. Hist. of the Civil War p. 45)
Hazlett, James C.
0
131
0
Virginia, CSA
Civil War Era, 1860-1865
Volunteer
Infantry, Rifle
1st Regiment of Virginia Volunteers
Note
56
Georgia Uniforms of 1861
Kloster, Donald E.
0
131
0
Georgia, CSA
Civil War Era, 1860-1865
Volunteer
3rd, 4th and 5th Regiments uniforms
Note
56
Union Soldier's Stencil
McBarron, Jr., H. Charles
0
132
0
USA, New Hampshire
Civil War Era, 1860-1865
Volunteer
Infantry
Note
57
The Napolean Gun: Its Origin and Introduction into American Service
Elting, John R.
0
1
0
USA, CSA
Civil War Era, 1860-1865
Army
Ordnance
weapons, evolution of the gun-howitzer
Main article
57
Uniforms of the Army Prior and Subsequent To 1872, Part II
Todd, Frederick P.
0
6
0
USA
Reconstruction and Indian Wars, 1866-1897
Army
uniforms, underwear, mosquito bar, bedsack
Main article
57
Staff Officers, United States Army, 1841-1851
McBarron, Jr., H. Charles
Elting, John R.
Todd, Frederick P.
221
15
0
USA
Westward Expansion, 1816-1859
Army
Staff
uniform, buttons
Plate
57
Staff Officers, United States Army, 1841-1851
McBarron, Jr., H. Charles
Elting, John R.
Todd, Frederick P.
222
15
0
USA
Westward Expansion, 1816-1859
Army
Staff
uniforms
Plate
57
Rockbridge Artillery, Army of Northern Virginia, C.S.A., 1862
Woodbridge, George C.
Wallace, Jr., Lee A.
223
16
0
Virginia, CSA
Civil War Era, 1860-1865
Volunteer
Artillery
uniform
Plate
57
The Pennsylvania Regiment, 1756-1758
Manders, Eric I.
224
20
0
Pennsylvania
Colonial Period, 1625-1774
Militia
Infantry
uniform
Plate
57
Civil War Artillery Officers in Full Dress
Pladeau, Marius B.
0
21
0
USA
Civil War Era, 1860-1865
Army
Artillery
uniform
Note
57
U.S. Treasury Guards
Miller, Robert L.
0
22
0
USA
Civil War Era, 1860-1865
Misc
flag and uniform
Note
57
The Blanket Bag
Schornak, Joseph L.
0
23
0
USA
Reconstruction and Indian Wars, 1866-1897
Army, Marine, Navy
accouterment
Note
57
A Variation of the Mark I Trench Knife
Eubanks, Jr., Ben H.
0
25
0
USA
World War I, 1914-1919
edged weapons
Note
57
Errata: Hessian Army & The Corps in North America (Vol. 14, p. 69)
Editor,
0
26
0
Hessian
Revolutionary War, 1775-1783
Hesse-Cassel
Infantry
Note
57
Three 18th Century Accoutrement Plates
Trowbridge, Harry N.
0
26
0
Britain
Colonial Period, 1625-1774 & Revolutionary War, 1775-1783
Army
Infantry
insignia, 4th, 58th Regiments
Note
57
Review - Uniforms of the Sea Services, A Pictorial History, by Colonel Robert H. Rankin
Shaw, Jr., Henry I.
0
29
0
USA
Revolutionary War, 1775-1783, Early Republic, 1784-1789, Federalist Era, 1789-1811, & War of 1812, 1812-1815
Navy, Marine
uniform
Review
58
Military Art in America, 1750-1914, Part I
Craighead, Alexander M.
0
35
0
Colonial Period, 1625-1774, Revolutionary War, 1775-1783, Early Republic, 1784-1789, & Federalist Era, 1789-1811
art
Main article
58
The Hesse-Hanau Free Corps of Light Infantry, 1781-1783
Haarmann, Albert W.
0
40
0
Hessian
Revolutionary War, 1775-1783
Hesse-Hanau
Infantry
history, uniform
Main article
58
Aggressor, The U.S. Army's Maneuver Enemy, 1960
Holst, Donald W.
Burgess, Donald A.
225
43
0
USA
Korean War Era, 1948-1954
Army
uniform
Plate
58
The 55th Regiment of Foot, 1758
Ray, Jr., Frederick E.
Elting, John R.
226
44
0
Britain
Colonial Period, 1625-1774
Army
Infantry
uniform
Plate
58
Viceroyal Bodyguard in New Spain, 1770
Hefter, Joseph
227
46
0
Spain
Colonial Period, 1625-1774
uniform
Plate
58
Imperial Palace Guard, Mexico, 1865-1868
Hefter, Joseph
228
48
0
Mexico
Civil War Era, 1860-1865, & Reconstruction and Indian Wars, 1866-1897
uniform
Plate
58
Some Virginia Militia Plates
Gavin, William G.
0
49
0
Virginia
Westward Expansion, 1816-1859
Militia
Shoulder belt and Waist belt plates, insignia
Note
58
Navy Pilot's Survival Knife
Eubanks, Jr., Ben H.
0
51
0
USA
Korean War Era, 1948-1954
Navy
Naval Aviation
edged weapons
Note
58
A Federal Belt Plate Adaptation
Pladeau, Marius B.
0
52
0
USA, Michigan
Civil War Era, 1860-1865
Volunteer
Infantry
insignia, 4th Michigan Infantry Band
Note
58
The West Point Museum
Heilmann, Jr., Norman C.
0
52
0
Korean War Era, 1948-1954
museum
Note
58
Staff Officer, Fourth Regiment, Virginia Volunteers, 1892
Walker, Carroll H.
0
54
0
Virginia
Reconstruction and Indian Wars, 1866-1897
Militia
photo, uniform
Note
58
Phoenix Buttons
Colwell, Wayne A.
0
56
0
insignia, Je Renais De Mes Cendres Haiti?
Note
58
13th Vermont Cap Insignia
Pladeau, Marius B.
0
56
0
USA, Vermont
Civil War Era, 1860-1865
Volunteer
Infantry
Cap Insignia
Note
59
United States Army Colors and Standards, 1784-1808
Finke, Detmar H.
0
69
0
USA
Early Republic, 1784-1789 & Federalist Era, 1789-1811
Army
flags
Main article
59
Military Art in America, 1750-1914, Part II
Craighead, Alexander M.
0
73
0
Westward Expansion, 1816-1859
art
Main article
59
United States Navy, 1797 Full Dress
McBarron, Jr., H. Charles
Tily, James C.
229
80
0
USA
Federalist Era, 1789-1811
Navy
uniform
Plate
59
The 80th Regiment of Light-Armed Foot, 1757-64
Foote, William A.
Steeple, W. Jacques
230
82
0
Britain
Colonial Period, 1625-1774
Army
Infantry
uniform
Plate
59
Shays' Regulator's, 1786-1787
Manders, Eric I.
Snook, George A.
231
83
0
Massachusetts
Early Republic, 1784-1789
uniform
Plate
59
Officers of the North West Mounted Police 1878
Whitelock, E. C.
232
84
0
Canada
Reconstruction and Indian Wars, 1866-1897
Police
uniform
Plate
59
Rifle Frock, or Shirt, of the Revolution
Klinger, Robert Lee
0
86
0
USA, Continental
Revolutionary War, 1775-1783
Army
clothing, pattern, linen
Note
59
Unidentified Harness Breast Plate
Kerksis, Sydney C.
0
89
0
USA
insignia
Note
59
Baltimore Independent Cadets
Zlatich, Marko
0
89
0
Maryland
Colonial Period, 1625-1774
Militia
uniform
Note
59
Additional Notes on Ordnance Materials Recovered from an Early Seventeenth Century Shipwreck Site (Vol. 13, p. 69)
Peterson, Mendel L.
0
89
0
Spain
Pre-Colonial Era, 1492-1625
Navy
Note
59
The McKeever Box in the Regular Army
Schornak, Joseph L.
0
90
0
USA
Reconstruction and Indian Wars, 1866-1897, Spanish American War, 1898-1900, & Progressive Era, 1901-1913
Army
Infantry
Cartridge Box
Note
59
Howitzer Company, First Regiment of Virginia Volunteers, 1859
Wallace, Jr., Lee A.
0
92
0
Virginia
Westward Expansion, 1816-1859
Militia
Note
59
Review - American Military Insignia, 1800-1851, by J. Duncan Campbell and Edgar M. Howell
Peterson, Harold L.
0
99
0
USA
Federalist Era, 1789-1811, War of 1812, 1812-1815, & Westward Expansion, 1816-1859
Army, Militia
cap and helmet devices, gorgets, plates from shoulder and waist belts; buttons, epaulettes and horse furniture omitted, insignia
Review
59
Review - Indian Wars of the U.S. Army (1776-1865), by Fairfax Downey
Russell, Carl P.
0
100
0
USA
Revolutionary War, 1775-1783, Early Republic, 1784-1789, Federalist Era, 1789-1811, & War of 1812, 1812-1815
Army
history
Review
60
The Federal Napolean Gun
Hazlett, James C.
0
103
0
USA
Westward Expansion, 1816-1859 & Civil War Era, 1860-1865
Army
Ordnance
weapons
Main article
60
Some New Notes on Old Abe -- "The Battle Eagle"
Miller, R. Russell
0
109
0
USA, Wisconsin
Civil War Era, 1860-1865
Volunteer
Infantry
8th Wisconsin Volunteer Infantry
Main article
60
The Surgeons and the Serpent
Tily, James C.
0
113
0
USA
Westward Expansion, 1816-1859
Navy
Medical
Main article
60
16th (Queens) Regiment of Light Dragoons, 1776-1778
Copeland, Peter F.
Holst, Donald W.
234
116
0
Britain
Revolutionary War, 1775-1783
Army
Dragoons
uniform
Plate
60
Garrison Prisoners, U.S. Army, 1812
McBarron, Jr., H. Charles
Mulligan, Robert E.
Elting, John R.
233
116
0
USA
War of 1812, 1812-1815
Army
uniform
Plate
60
Belgian Legion in Mexico, 1864-1867
Elting, John R.
Hefter, Joseph
235
119
0
Belgium
Civil War Era, 1860-1865, & Reconstruction and Indian Wars, 1866-1897
Army
Garde de l'Imperatrice Charlotte; Empress Battalion of Grenadiers; King of Belgium Battalion of Voltigeurs uniform
Plate
60
Sixth Battalion, Virginia Volunteers, Alexandria, Virginia, 1861
Rixon, Joseph S.
Wallace, Jr., Lee A.
236
120
0
Virginia, CSA
Civil War Era, 1860-1865
Volunteer
Infantry, Rifle, Artillery
uniform
Plate
60
Uniform for the Navy of the United States, 1797
Tily, James C.
0
122
0
USA
Federalist Era, 1789-1811
Navy, Marine
uniform regulations
Note
60
Clothing of the 5th Pennsylvania Battalion, 1776-1777
Copeland, Peter F.
0
124
0
USA, Continental, Pennsylvania
Revolutionary War, 1775-1783
Army
Infantry
uniform
Note
60
Military Funeral in the Philippines, 1909
Miller, Robert L.
0
125
0
USA
Progressive Era, 1901-1913
Army
Cavalry
uniform
Note
60
Notes Relating to the Uniform of the Washington Artillery of Boston
Williams, Jr., Hermann Warner
0
125
0
Massachusetts
Westward Expansion, 1816-1859
Militia
Artillery
uniform
Note
60
The Cleanliness of Troops, 1863
Miller, Robert L.
0
127
0
USA, Massachusetts
Civil War Era, 1860-1865
Volunteer
Infantry
Co. B, 3rd Massachusetts Infantry
Note
60
Identification of Uniform Wanted
Williams, Jr., Hermann Warner
0
128
0
Cavalry
uniform, Artist William T. Ranney
Note
61
The Friedrich von Germann Drawings of Troops in the American Revolution
Haarmann, Albert W.
Holst, Donald W.
0
1
0
Hessian, Britain, Continental
Revolutionary War, 1775-1783
Army
uniform
Main article
61
Military Art in America, 1750-1914. Part III
Craighead, Alexander M.
0
10
0
Civil War Era, 1860-1865
Main article
61
United States Navy, 1802 -- Full Dress
McBarron, Jr., H. Charles
Tily, James C.
237
14
0
USA
Federalist Era, 1789-1811
Navy
uniform
Plate
61
British 35th Regiment of Foot, 1777-1778
Manders, Eric I.
238
16
0
Britain
Revolutionary War, 1775-1783
Army
Infantry
uniform
Plate
61
French Contra-Guerrillas in Mexico, 1865-67
Lelipvre, Eugene
Hefter, Joseph
239
17
0
France
Civil War Era, 1860-1865, & Reconstruction and Indian Wars, 1866-1897
Army
uniform
Plate
61
Imperial Russian Navy, 1863-1864
Copeland, Peter F.
Zlatich, Marko
240
18
0
Soviet
Reconstruction and Indian Wars, 1866-1897
Navy
uniform
Plate
61
The Russian Naval Visit, 1863-1864
Zlatich, Marko
Frank, Benis M.
0
20
0
Soviet
Reconstruction and Indian Wars, 1866-1897
Navy
history, uniform
Note
61
Shays' Regulators, 1786-1787 (MUIA Plate No. 231)
Lancaster, Southworth
0
23
0
Massachusetts
Early Republic, 1784-1789
history
Note
61
Shoulder Belt Plate, 1st U.S. Artillery Regiment
Campbell, J. Duncan
0
24
0
USA
War of 1812, 1812-1815
Army
Artillery
shoulder belt plate
Note
61
Review - Accoutrement Plates, North and South, 1861-1865, by William G. Gavin
Kerksis, Sydney C.
0
27
0
USA, CSA
Civil War Era, 1860-1865
Army
insignia
Review
61
Review - Forty Miles a Day on Beans and Hay; The Enlisted Soldier Fighting the Indian Wars, by Don Rickey, Jr.
Hutchins, James S.
0
27
0
USA
Reconstruction and Indian Wars, 1866-1897
Army
Review
61
Review - Der bunte Rock, by Paul Martin
Todd, Frederick P.
0
28
0
Colonial Period, 1625-1774, Revolutionary War, 1775-1783, Early Republic, 1784-1789, & Federalist Era, 1789-1811
Eurpoean uniforms of the 18th and 19th Century; german, french and english
Review
61
Review - Buttons of the Confederacy, by A.H. Albert
Olsen, Stanley J.
0
28
0
CSA
Civil War Era, 1860-1865
Army, Navy, Marine
insignia, button back markings, manufacturers
Review
62
The 1912 Cavalry Saddle and Equipment
Graham, John F.
0
33
0
USA
Progressive Era, 1901-1913
Army
Cavalry
horse furniture
Main article
62
Military Art in America, 1750-1914. Part IV
Craighead, Alexander M.
0
42
0
Civil War Era, 1860-1865
art
Main article
62
United States Navy, 1913-1917: Non-Regular Components
Rixon, Joseph S.
Tily, James C.
241
46
0
USA
Progressive Era, 1901-1913, & World War I, 1941-1919
Navy
uniform
Plate
62
3rd Regiment, United States Artillery, 1812
McBarron, Jr., H. Charles
Elting, John R.
242
48
0
USA
War of 1812, 1812-1815
Army
Artillery
uniform
Plate
62
British Naval Uniforms, 1775-1783
Gammage, Russell
243
49
0
Britain
Revolutionary War, 1775-1783
Navy
uniform
Plate
62
New England Independent Companies, 1675-1676
Manders, Eric I.
Snook, George A.
244
50
0
Massachusetts, New Hampshire
Colonial Period, 1625-1774
Independent
uniform
Plate
62
Civil War Artillery Officers in Full Dress (Vol. 15, p. 21)
Hutchins, James S.
0
52
0
USA
Reconstruction and Indian Wars, 1866-1897
Army
Artillery
uniform
Note
62
Glengarry Light Infantry Regiment, 1812-1816 (MUIA Plate No. 193)
Stewart, Charles H.
0
53
0
Britain
War of 1812, 1812-1815
Army
Infantry
Note
62
ERRATA: The Federal Napoleon Gun (Vol. 15, p. 106)
Editor,
0
56
0
USA
Westward Expansion, 1816-1859 & Civil War Era, 1860-1865
Army
Ordnance
weapons
Note
62
Ornamented Leather Stocks
Campbell, J. Duncan
0
56
0
USA
War of 1812, 1812-1815
Army
insignia, clothing
Note
62
Review - The Uniforms of the United States Navy, by James C. Tily
Rankin, Robert H.
0
61
0
USA
Federalist Era, 1789-1811, War of 1812, 1812-1815, Westward Expansion, 1816-1859, & Civil War Era, 1860-1865
Navy
uniform
Review
63
The Army Campaign Hat of 1872
Hutchins, James S.
0
65
0
USA
Reconstruction and Indian Wars, 1866-1897
Army
headgear; fatigue hat
Main article
63
Notes Concerning the Independent Companies in King Philip's War, 1675-1676
Snook, George A.
0
74
0
Massachusetts, New Hampshire
Colonial Period, 1625-1774
Independent
Main article
63
The Army of Brunswick and the Corps in North America, 1776-1777
Haarmann, Albert W.
0
76
0
Hessian
Revolutionary War, 1775-1783
Brunswick
Infantry, Dragoons
organization, history
Note
63
The 278th Signal Pigeon Company, 1945
Manders, Eric I.
Colwell, Wayne A.
Goodrich, Bert
245
79
0
USA
World War II Period, 1939-1947
Army
Signal
uniform
Plate
63
The Spanish Louisiana Regiment in the Floridas 1779-1781
Llull, Francisco Ferrer
Hefter, Joseph
246
79
0
Spain
Revolutionary War, 1775-1783
Army
Infantry
uniform
Plate
63
The Cuera Dragoon, 1730-1830
Hefter, Joseph
247
80
0
Spain
Colonial Period, 1625-1774, Revolutionary War, 1775-1783, Early Republic, 1784-1789, & Federalist Era, 1789-1811
Dragoons
uniform
Plate
63
Canadian Voltigeur Regiment, 1812-1815
Chapman, Frederick Trench
Elting, John R.
248
84
0
Canada
War of 1812, 1812-1815
Provincial
Infantry
uniform
Plate
63
Colors of Ordnance Carriages, 1780
Zlatich, Marko
0
85
0
USA, Continental
Revolutionary War, 1775-1783
Army
Ordnance
Note
63
Spanish Lance Blade
Brinckerhoff, Sidney B.
0
85
0
Spain
Colonial Period, 1625-1774
edged weapon, Presdio of Tubac, Arizona
Note
63
The Spy: Surviving Americana
Marsh, John L.
0
86
0
USA
Reconstruction and Indian Wars, 1866-1897
Card game
Note
63
Staff-Colonel Charles Dupin, 1865-67 (MUIA Plate No. 239)
Hefter, Joseph
Zlatich, Marko
0
86
0
France
Reconstruction and Indian Wars, 1866-1897
Army
Note
63
ADDENDA: Confederate Infantry Issue Belt Plates (Vol. 14, p. 42)
Kerksis, Sydney C.
0
89
0
CSA
Civil War Era, 1860-1865
Army
Infantry
insignia
Note
63
U.S.M.A. Cadet Coat, 1829?
Todd, Frederick P.
0
90
0
USA
Westward Expansion, 1816-1859
Army
Cadet
clothing
Note
63
Breastplates in the Army
Hutchins, James S.
0
92
0
USA
Civil War Era, 1860-1865
Army
armor
Note
63
Bridle Rosettes of the Late 1850's
Brinckerhoff, Sidney B.
0
92
0
USA
Westward Expansion, 1816-1859
Army
Dragoons
horse furniture
Note
63
A Civil War Inspector's Die Stamp
Pladeau, Marius B.
0
93
0
USA
Civil War Era, 1860-1865
Army
Ordnance
Note
64
Dress and Equipment of Pulaski's Independent Legion
Holst, Donald W.
Zlatich, Marko
0
97
0
USA
Revolutionary War, 1775-1783
Army
C
Main article
64
The Confederate Napoleon Gun
Hazlett, James C.
0
104
0
CSA
Civil War Era, 1860-1865
Army
Ordnance
Main article
64
Some French Regiments at Savannah, September 1779
Lelipvre, Eugene
Baldet, Marcel
249
111
0
France
Revolutionary War, 1775-1783
Army
uniforms
Plate
64
The Spanish Corps of Engineers in Florida, 1802
Llull, Francisco Ferrer
Hefter, Joseph
250
112
0
Spain
Federalist Era, 1789-1811
Army
Engineer
uniform
Plate
64
The Hero Galley Virginia State Navy, 1776-1778
Copeland, Peter F.
Zlatich, Marko
251
114
0
Virginia
Revolutionary War, 1775-1783
Navy
uniform
Plate
64
Fourth Texas Volunteer Infantry Regiment, 1861
Copeland, Peter F.
Wallace, Jr., Lee A.
252
116
0
Texas, CSA
Civil War Era, 1860-1865
Volunteer
Infantry
uniform
Plate
64
U.S. Army Great Coat of the Seminole War Period
Olsen, Stanley J.
0
118
0
USA
Westward Expansion, 1816-1859
Army
Infantry
clothing
Note
64
Cap Plate, 21st Infantry Regiment
Campbell, J. Duncan
0
119
0
USA
War of 1812, 1812-1815
Army
Infantry
insignia
Note
64
Military Surgeon of the Revolution
Holst, Donald W.
0
120
0
USA, Continental
Revolutionary War, 1775-1783
Army
Medical
Dr. Barnabas Binney
Note
64
ERRATA: The 1912 Cavalry Saddle and Equipment (Vol. 16, p. 33)
Editor,
0
120
0
USA
Progressive Era, 1901-1913
Army
Cavalry
horse furniture
Note
64
Query: Sargeant Light Guard
Garland, John L.
0
120
0
Massachusetts
Civil War Era, 1860-1865, & Reconstruction and Indian Wars, 1866-1897
Militia
65th Unattached Company; Company H, 6th Regiment
Note
64
Review - Encyclopedia of Firearms, edited by Harold L. Peterson
Petit, Joe F.
0
124
0
weapons, firearms
Review
65
McClellan's System of Designating Flags, Spring-Fall, 1862
Madaus, Howard Michael
0
1
0
USA
Civil War Era, 1860-1865
Army
Army of the Potomoc
Main article
65
Fifth Regiment of Cavalry, 1874
Steffen, Randy
253
15
0
USA
Reconstruction and Indian Wars, 1866-1897
Army
Cavalry
uniform
Plate
65
War Dress and Weapons of the Plains Indians, 1874
Steffen, Randy
254
16
0
native
Reconstruction and Indian Wars, 1866-1897
dress
Plate
65
The United States 15th Infantry Regiment, 1925
Ray, Jr., Frederick E.
Elting, John R.
Jones, Edward S.
255
18
0
USA
Inter-War Years, 1920-1938
Army
Infantry
uniform
Plate
65
British Navy, 1704-1714
Manders, Eric I.
Snook, George A.
256
19
0
Britain
Colonial Period, 1625-1774
Navy
uniform
Plate
65
Regulations for the Uniform and Dress of the Marine Corps of the United States 1859, Part I
West, Charles
0
22
0
USA
Westward Expansion, 1816-1859
Marine
regulations
Note
65
Army Air Force Survival Knives, 1934-1947
Eubanks, Jr., Ben H.
0
25
0
USA
Inter-War Years, 1920-1938 & World War II Period, 1939-1947
Army
Air
edged weapons
Note
65
French Steel Helmet Insignia, 1915-1939
Davis, Jr., Rollin V.
0
26
0
France
World War I, 1914-1919, Inter-War Years, 1920-1938, & World War II Period, 1939-1947
Army
helmet insignia
Note
65
Mexican War Medal
Harding, Ursala
0
28
0
USA, South Carolina
Westward Expansion, 1816-1859
Volunteer
Infantry
insignia
Note
65
Review - A Military History and Atlas of the Napoleonic Wars, by BG Vincent J. Esposito and COL John R. Elting
Todd, Frederick P.
0
32
0
France
Federalist Era, 1789-1811 & War of 1812, 1812-1815
Review
65
Review - The Collecting of Guns, edited by James E. Serven
Petit, Joe F.
0
33
0
weapons, fire arms
Review
66
The 1st and 2nd Virginia State Legions, 1781-1783
Zlatich, Marko
0
35
0
Virginia
Revolutionary War, 1775-1783
State
Infantry, Cavalry
Main article
66
The Eagle Stamped Infantry Cartridge Box
Johnson, Richard A.
0
39
0
USA
Westward Expansion, 1816-1859
Army
Infantry
accouterments
Main article
66
Military Art in America, 1750-1914, Part V
Craighead, Alexander M.
0
42
0
Reconstruction and Indian Wars, 1866-1897
art
Main article
66
Colonel John Haslet's Delaware Regiment 1776 (Delaware Blues)
McBarron, Jr., H. Charles
Simpson, James P.
258
49
0
USA, Continental, Delaware
Revolutionary War, 1775-1783
Army
Infantry
uniform
Plate
66
The Brunswick Infantry Regiment von Rhetz
Ray, Jr., Frederick E.
Elting, John R.
257
49
0
Hessian
Revolutionary War, 1775-1783
Brunswick
Infantry
uniform
Plate
66
The Minute Battalion of Culpeper County, Virginia 1775-1776
Copeland, Peter F.
Zlatich, Marko
259
52
0
Virginia
Revolutionary War, 1775-1783
Militia
Infantry
uniform
Plate
66
Cuban Volunteer Battalions, 1892-1898
Bueno, Jose Maria
Hefter, Joseph
260
54
0
Spain
Reconstruction and Indian Wars, 1866-1897 & Spanish-American War, 1898-1900
Volunteer
Infantry, Cavalry, Artillery
uniform
Plate
66
Regulations for the Uniform and Dress of the Marine Corps of the United States 1859, Part II
West, Charles
0
55
0
USA
Westward Expansion, 1816-1859
Marine
uniform
Note
66
Greenbush Cantonment, 1812-1831
Demers, John Joseph
0
61
0
USA
War of 1812, 1812-1815 & Westward Expansion, 1816-1859
Note
66
Armand's Legion, 1781-1783 (Vol. 12, p. 97)
Haarmann, Albert W.
0
62
0
USA, Continental
Revolutionary War, 1775-1783
Army
Cavalry
uniform
Note
66
Captain Charles Drayton's Volunteer Company, Charleston, S.C. District, 1775
Copeland, Peter F.
0
62
0
South Carolina
Revolutionary War, 1775-1783
Volunteer
Infantry
uniform, history
Note
66
Query: American Ambulance Field Service Helmet Insignia?
Miller, Robert L.
0
63
0
USA
World War I, 1914-1919
Army
Medical?
insignia
Note
66
Lance and Attached Pennon - Rush's Lancers
Madaus, Howard Michael
0
64
0
USA, Pennsylvania
Civil War Era, 1860-1865
Volunteer
Cavalry
flags, edged weapons
Note
67
The Champlain Arsenal: A Brief History
Pladeau, Marius B.
0
69
0
USA
Westward Expansion, 1816-1859
Army
Ordnance
Vergennes, Vermont; history
Main article
67
Military Art in America, 1750-1914, Part VI
Craighead, Alexander M.
0
76
0
Spanish American War, 1898-1900
art
Main article
67
Louisbourg Garrison, 1745
Lelipvre, Eugene
Downey, Fairfax
261
81
0
France
Colonial Period, 1625-1774
Marine
uniform
Plate
67
Joseph Crockett's Western Battalion Virginia State Troops, 1780-1782
Copeland, Peter F.
Zlatich, Marko
262
82
0
Virginia
Revolutionary War, 1775-1783
State
Infantry
uniform
Plate
67
Egyptian Battalion in Mexico 1863-1867
Hefter, Joseph
263
84
0
Egypt
Civil War Era, 1860-1865, & Reconstruction and Indian Wars, 1866-1897
Army
Infantry
uniform
Plate
67
2nd Virginia Regiment of the Continental Line, 1779-1781
Copeland, Peter F.
Zlatich, Marko
264
86
0
USA, Continental, Virginia
Revolutionary War, 1775-1783
Army
Infantry
uniform
Plate
67
Non-Magnetic SCUBA Swimmer's Knife
Irvine, George J.
0
87
0
USA
Korean War Era, 1948-1954
Navy
edged weapons
Note
67
Further Comments Concerning Old Abe -- The Battle Eagle (Vol. 15)
McCauley, Jr., Robert H.
0
89
0
USA, Wisconsin
Civil War Era, 1860-1865
Volunteer
Infantry
8th Wisconsin
Note
67
Uniform Coat, Circa, 1810
Allen, Ardath
0
90
0
Federalist Era, 1789-1811
clothing, uniform, Possibly Trojan Greens of Troy, New York
Note
67
Addenda: Eagle Stamped Infantry Cartridge Box (Vol. 17, p.41)
Editor,
0
90
0
USA
Westward Expansion, 1816-1859
Army
Infantry
accouterments
Note
67
St. Helena Volunteers, South Carolina Militia
McMaster, Fitzhugh
0
92
0
South Carolina
Revolutionary War, 1775-1783
Militia
Infantry
history, uniform
Note
67
The Battle of Bennington, 1777
Haarmann, Albert W.
0
94
0
Vermont
Revolutionary War, 1775-1783
alerts to a fictional account of the battle
Note
68
Fort Ligonier: Its History, Archaeology, and Unique Collection
Grimm, Jacob Lloyd
0
103
0
Pennsylvania
Colonial Period, 1625-1774
history, museum, artifacts
Main article
68
Springfield, Massachusetts: Center of Early Ammunition Manufacture
Lewis, Berkeley R.
0
110
0
Massachusetts
Westward Expansion, 1816-1859, Civil War Era, 1860-1865, & Reconstruction and Indian Wars, 1866-1897
cartridges, rimfire, percussion, center-fire, pin-fire, shotshells
Main article
68
Military Uniforms in Spanish Louisiana, 1766-1804
Holmes, Jack D. L.
0
115
0
Spain
Colonial Period, 1625-1774, Revolutionary War, 1775-1783, Early Republic, 1784-1789, & Federalist Era, 1789-1811
Army, Militia
uniform; Louisian Infantry Regiment; Louisiana Dragoon Company; St. Louis Militia Cavalry Company; Militia Cavalry Company of Carbineers;
Main article
68
Spanish Texas Hussars ca. 1803
Hefter, Joseph
Llull, Francisco Ferrer
265
118
0
Spain
Federalist Era, 1789-1811
Army
Cavalry
uniform
Plate
68
Company Aid Men, European Theater of Operations, 1945
Manders, Eric I.
Snook, George A.
266
120
0
USA
World War II Period, 1939-1947
Army
Medical
uniform
Plate
68
Puerto Rico Trained Militias, 1789
Llull, Francisco Ferrer
267
121
0
Spain
Federalist Era, 1789-1811
Militia
uniform
Plate
68
U.S. Revenue Cutter Service (1834-1836)
Copeland, Peter F.
268
122
0
USA
Westward Expansion, 1816-1859
Misc
Revenue Cutter Service; uniform
Plate
68
A Note on King Howitzers (Vol. 13, p. 1)
Berkebile, Don H.
0
124
0
USA
War of 1812, 1812-1815
Army
Ordnance
weapons, grasshopper; carried on pack horses
Note
68
Czech Insignia on French World War I Helmet (Vol. 17, p. 26)
Editor,
0
124
0
Czechoslovakia
World War I, 1914-1919
Army
insignia, helmet
Note
68
The Memories of a Regular
Hennessy, Francis X.
O'Flaherty, Msgr. Patrick D.
0
125
0
USA
Reconstruction and Indian Wars, 1866-1897 & Spanish-American War, 1898-1900
Army
Infantry
uniform, service record; Hemran Buckow
Note
69
Uniforms and Insignia: Engineering and Construction Corps, United States Navy
Tily, James C.
0
1
0
USA
Westward Expansion, 1816-1859, Civil War Era, 1860-1865, Reconstruction and Indian Wars, 1866-1897, & Spanish American War, 1898-1900
Navy
Engineering Corps; Constructio
insignia, uniforms
Main article
69
The Provisional Chasseur Companies of Hesse-Cassel During the Revolutionary War
Copeland, Peter F.
Haarmann, Albert W.
0
11
0
Hessian
Revolutionary War, 1775-1783
Hesse-Cassel
Infantry
history; uniform
Main article
69
California Battalion of Mounted Riflemen, 1846
Manders, Eric I.
Colwell, Wayne A.
269
14
0
USA, California
Westward Expansion, 1816-1859
Volunteer
Rifle
uniform
Plate
69
The 12th and 100th Indiana Volunteer Infantry, 1863-1865
McAfee, Michael J.
Spears, James R. H.
270
16
0
USA, Indiana
Civil War Era, 1860-1865
Volunteer
Infantry
uniform
Plate
69
Captain de la Porte's French Company, Virginia State Forces, 1777-1778
Copeland, Peter F.
Zlatich, Marko
271
17
0
Virginia
Revolutionary War, 1775-1783
State
Infantry
uniform
Plate
69
Colonel Charles Dabney's Virginia State Legion, 1782-1783
Copeland, Peter F.
Zlatich, Marko
272
18
0
Virginia
Revolutionary War, 1775-1783
State
Infantry, Cavalry, Artillery
uniform
Plate
69
Bridgman's Bull Battery
McMaster, Richard Hugh
0
21
0
USA
Spanish American War, 1898-1900
Army
Artillery
6th US. Artillery; water buffalo
Note
69
Danish Troops in the West Indies, 1761
Haarmann, Albert W.
0
21
0
Danish West Indies
Colonial Period, 1625-1774
Army
Infantry
uniform
Note
69
Clothing for Pulaski's Legion, 1778
Londahl-Smidt, Donald M.
0
22
0
USA, Continental
Revolutionary War, 1775-1783
Army
uniform
Note
69
Portrait of General Jabez Huntington
Holst, Donald W.
0
22
0
Connecticut
Revolutionary War, 1775-1783
Militia
art, belted waistcoat
Note
69
Early 19th Century Cartridge Pouch?
Lewis, Waverly P.
0
24
0
Federalist Era, 1789-1811 & War of 1812, 1812-1815
accouterments
Note
69
SRU-16 Survival Knife
Eubanks, Jr., Ben H.
0
25
0
USA
Korean War Era, 1948-1954
Air Force
pocket knife, edged weapons
Note
69
Mexican War Medal (Vol. 17, p. 28)
Harding, Ursala
0
26
0
USA, South Carolina
Westward Expansion, 1816-1859
Volunteer
1st South Carolina Regiment of Volunteers (Palmetto Regiment)
Note
69
Troopers of the 4th Cavalry, 1886
Brinckerhoff, Sidney B.
0
26
0
USA
Reconstruction and Indian Wars, 1866-1897
Army
Cavalry
photo
Note
69
The Militia Infantry Regiment of Havana, 1769
Haarmann, Albert W.
0
28
0
Spain
Colonial Period, 1625-1774
Militia
Infantry
Regimento de Voluntarios de Infanteria de la Habana
Note
69
A Revised Conjecture: 1st Artillery Cap Plate, 1812
Campbell, J. Duncan
0
28
0
USA
War of 1812, 1812-1815
Army
Artillery
insignia
Note
69
2nd Army Corps Flag: Where is it Now?
Madaus, Howard Michael
0
29
0
USA
Civil War Era, 1860-1865
Army
flag
Note
69
U.S. Army Signal Corps Service Dress, 1902-1907
Copeland, Peter F.
0
30
0
USA
Progressive Era, 1901-1913
Army
Signal
uniform
Note
70
The United States 75 mm. Gun Model 1916
Schreier, Jr., Konrad F.
0
35
0
USA
World War I, 1914-1919
Army
Ordnance
weapons
Main article
70
18th Century Accoutrements of the Royal Artillery
Holst, Donald W.
0
43
0
Britain
Colonial Period, 1625-1774, Revolutionary War, 1775-1783, Early Republic, 1784-1789, & Federalist Era, 1789-1811
Army
Artillery
accouterments, cartridge pouch, shoulder belt, bayonet carraige
Main article
70
Colonel David Hall's Regiment, Delaware Line, 1777-1783
McBarron, Jr., H. Charles
Simpson, James P.
273
48
0
USA, Continental, Delaware
Revolutionary War, 1775-1783
Army
Infantry
uniform
Plate
70
Norfolk (Va.) City Guard -- 1886-1896
Simpson, James P.
Ray, Jr., Frederick E.
274
50
0
Virginia
Reconstruction and Indian Wars, 1866-1897
Militia
Infantry
uniform
Plate
70
North American Flying Horsemen, 1965
Hefter, Joseph
Hurd, Calvin
275
51
0
Korean War Era, 1948-1954
not military
Plate
70
Abraham Lincoln Battalion, 1937-1938
Manders, Eric I.
Colwell, Wayne A.
276
52
0
Spain
Inter-War Years, 1920-1938
XV International Brigade
Plate
70
The First Continental Drill Manual?
Snook, George A.
0
54
0
USA, Continental
Revolutionary War, 1775-1783
Army
Infantry
MG Charles Lee
Note
70
Notes on the Uniform of Berdan's Sharpshooters (Vol. 14, p. 92)
Madaus, Howard Michael
0
56
0
USA
Civil War Era, 1860-1865
Army
Sharpshooters
cap, insignia, chevrons
Note
70
Some Clarification on the 1833 Dragoon Cap Plate
Campbell, J. Duncan
Howell, Edgar M.
0
56
0
USA
Westward Expansion, 1816-1859
Army
Dragoons
insignia
Note
70
One Collector's Story
Lewis, Waverly P.
0
59
0
Korean War Era, 1948-1954
Waverly Lewis; headgear, longarms
Note
70
French Provincial Light Horse, 1759-1760
Holst, Donald W.
0
60
0
France
Colonial Period, 1625-1774
Provincial
Cavalry
French & Indian War
Note
70
An Early Indian Flag
Holst, Donald W.
0
61
0
Britain
Colonial Period, 1625-1774
Presentation flag to the Indians near Detroit
Note
70
Review - Civil War Projectiles, A Battlefield Collection, by W. Reid McKee and M.E. Mason, Jr.
Kerksis, Sydney C.
0
66
0
USA, CSA
Civil War Era, 1860-1865
small arms and artillery
Review
71
Clothing of the 4th Pennsylvania Battalion, 1776-1777
Copeland, Peter F.
0
69
0
USA, Continental, Pennsylvania
Revolutionary War, 1775-1783
Army
Infantry
uniform
Main article
71
Army Six-Mule Wagon Harness of 1875
Hutchins, James S.
0
75
0
USA
Reconstruction and Indian Wars, 1866-1897
Army
Quartermaster
harness
Main article
71
Wired Ball for Small Arms, 1594-1715
Peterson, Mendel L.
0
84
0
Spain
Pre-Colonial Era, 1492-1625 & Colonial Period, 1625-1774
ammunition, expanding shot
Main article
71
Illinois Militia, Black Hawk War
McBarron, Jr., H. Charles
Downey, Fairfax
277
87
0
Illinois
Westward Expansion, 1816-1859
Militia
Infantry
uniform, Abraham Lincoln
Plate
71
The Virginia State Garrison Regiment, 1777-1780
Copeland, Peter F.
Zlatich, Marko
278
88
0
Virginia
Revolutionary War, 1775-1783
State
Infantry
uniform
Plate
71
Light Company, 4th (King's Own) Regiment, 1774-1776
Manders, Eric I.
279
90
0
Britain
Colonial Period, 1625-1774 & Revolutionary War, 1775-1783
Army
Infantry
uniform
Plate
71
Santo Domingo Volunteer Infantry, 1785
Llull, Francisco Ferrer
Hefter, Joseph
280
92
0
Spain
Early Republic, 1784-1789
Volunteer
Infantry
uniform
Plate
71
A Confederate Soldier's Ditty Box
Pladeau, Marius B.
0
93
0
South Carolina, CSA
Civil War Era, 1860-1865
Note
71
ERRATA: Mexican War Medal (Vol. 18, p. 26)
Editor,
0
94
0
South Carolina
Westward Expansion, 1816-1859
Volunteer
1st South Carolina Regiment of Volunteers (Palmetto Regiment)
Note
71
Richmond Howitzers, 1903
Walker, Carroll H.
0
94
0
Virginia
Progressive Era, 1901-1913
Volunteer
Artillery
gatling gun
Note
71
Weight Carried by a Grenadier of the Royal American Regiment, 1762
McMaster, Fitzhugh
0
96
0
Britain
Colonial Period, 1625-1774
Army
Infantry
Royal American Regiment
Note
71
An Unidentified Plate
Campbell, J. Duncan
0
96
0
USA
Federalist Era, 1789-1811
Army
Infantry
insignia, cap plate
Note
71
Orderly, 47th Regiment of Infantry, National Guard of New York
Morris, Robert B.
0
97
0
New York
Reconstruction and Indian Wars, 1866-1897 & Spanish-American War, 1898-1900
National Guard
Infantry
Brooklyn Grays
Note
72
The U.S. Public Health Service Sword
McCauley, Jr., Robert H.
0
103
0
USA
Reconstruction and Indian Wars, 1866-1897, Spanish American War, 1898-1900, Progressive Era, 1901-1913, & World War I, 1941-1919
Misc
edged weapons
Main article
72
The Napoleon Gun: Markings, Bore Diameters, Weights, and Costs
Hazlett, James C.
0
109
0
USA, CSA
Westward Expansion, 1816-1859 & Civil War Era, 1860-1865
Army
Ordnance
weapons
Main article
72
13th / 9th Virginia Regiment at Fort Pitt -- 1777-1780
Copeland, Peter F.
Zlatich, Marko
282
120
0
USA, Continental, Virginia
Revolutionary War, 1775-1783
Army
Infantry
uniform
Plate
72
The Landing of Columbus
McBarron, Jr., H. Charles
Peterson, Harold L.
281
120
0
Spain
Pre-Colonial Era, 1492-1625
Plate
72
Rocket Section, Royal Marine Artillery--1814
Manders, Eric I.
Snook, George A.
283
122
0
Britain
War of 1812, 1812-1815
Marine
Artillery
uniform
Plate
72
The Camel Expedition to California--1857
Manders, Eric I.
Colwell, Wayne A.
284
124
0
USA
Westward Expansion, 1816-1859
Army
Plate
72
Portrait of Colonel Benjamin Flower
Holst, Donald W.
0
126
0
USA, Continental
Revolutionary War, 1775-1783
Army
art, uniform; portrait by James Peale
Note
72
Query on Blades by Anton Pries
Brumit, Philip D.
0
128
0
Westward Expansion, 1816-1859
edged weapons
Note
72
Sword Belt, U.S. Navy Uniform Regulations, 1830
Tily, James C.
0
129
0
USA
Westward Expansion, 1816-1859
Navy
accouterments
Note
72
MUIA Plate No. 282, Addenda
Zlatich, Marko
0
130
0
USA, Continental, Virginia
Revolutionary War, 1775-1783
Army
Infantry
Note
72
Review - American Military Thought by Walter Millis
Nihart, F. Brooke
0
132
0
Korean War Era, 1948-1954
Review
72
Review - Die Formations und Uniformierungsgeschichte des preussichen Heeres 1808-1914 by Paul Pietsch
Cavanaugh, Philip M.
0
134
0
Prussian
Federalist Era, 1789-1811, War of 1812, 1812-1815, Westward Expansion, 1816-1859, & Civil War Era, 1860-1865
Army
Volume one- Infantry, jaeger, pioneer; Volume two - cavalry, artillery, supply, reserves, general staff
Review
73
Ordnance Materials Recovered from a Late Sixteenth Century Wreck Site in Bermuda
Peterson, Mendel L.
0
1
0
Spain
Pre-Colonial Era, 1492-1625
cannon, shot, carcasses, hand grenades
Main article
73
Notes Concerning the Uniform of the Delaware Battalion in 1776
Londahl-Smidt, Donald M.
0
9
0
USA, Continental, Delaware
Revolutionary War, 1775-1783
Army
Infantry
headgear, uniform
Main article
73
Uniforms of the British Infantry in America, circa 1742
Haarmann, Albert W.
0
12
0
Britain
Colonial Period, 1625-1774
Army
Infantry
uniform
Main article
73
The Black Watch (Royal Highland Regiment) No. 1 Dress and Officer Cadets, Irish Army, Ceremonial Uniform, November 1963
Manser, Roy
285
15
0
Britain, Ireland
Korean War Era, 1948-1954
Army
Infantry
uniform, Kennedy Funeral 1963
Plate
73
The U.S. 3d Infantry (The Old Guard), November 1963
McBarron, Jr., H. Charles
Lee, Frederick S.
Elting, John R.
286
18
0
USA
Korean War Era, 1948-1954
Army
Infantry
uniform
Plate
73
United States Special Forces, November 1963
Chapman, Frederick Trench
Nye, Irwin
Frank, Benis M.
287
19
0
USA
Korean War Era, 1948-1954
Army
Special Ops
uniform
Plate
73
The United States Air Force Academy, November 1963
Neary, Donna J.
Frank, Benis M.
288
20
0
USA
Korean War Era, 1948-1954
Air Force
Cadet
uniform
Plate
73
Three Revolutionary Button Molds
Berkebile, Don H.
0
23
0
USA, Continental
Revolutionary War, 1775-1783
Army
insignia
Note
73
An Early Garrison Flag
Holst, Donald W.
0
24
0
USA
Federalist Era, 1789-1811 & War of 1812, 1812-1815
flag
Note
73
Langets on Two Marked American Swords
Stein, Kurt
0
26
0
edged weapons
Note
73
A 19th Century Southern Drum
DuBose, Jr., Beverly M.
0
26
0
drum
Note
73
ERRATA: MUIA Plates Nos. 258, 273, and 283
Editor,
0
27
0
Korean War Era, 1948-1954
Note
73
Brass Drum Ornament
Demchak, Albert H.
Ohr, Richard A.
0
27
0
drum
Note
73
Mansfield, Connecticut, Militia, 1775
Guthman, William H.
0
27
0
Connecticut
Revolutionary War, 1775-1783
Militia
uniform
Note
73
Mexican Revolutionist's Artillery Projectile, circa 1914
Thomlinson, M. H.
0
28
0
Mexico
World War I, 1914-1919
Ordnance
blasting cap, firing pin
Note
73
Review - Rank and File: The Common Soldier at Peace and War, 1642-1914, compiled by T.H. McGuffie
Nihart, F. Brooke
0
30
0
first person enlisted accounts of life as a soldier
Review
73
Review - Wings for the Fleet by Rear Admiral George van Deurs, USN,(Ret.)
Miller, Robert L.
0
30
0
USA
Progressive Era, 1901-1913
Navy
Naval Aviation
Review
74
Journal of John Graham, South Carolina Militia, 1779
Coker, C. F. W.
0
35
0
South Carolina
Revolutionary War, 1775-1783
Militia
first person account
Main article
74
The Anspach-Bayreuth Troops in North America, 1777-1783
Haarmann, Albert W.
0
48
0
Hessian
Revolutionary War, 1775-1783
Anspach-Bayreuth
Infantry
history
Main article
74
The United States 15th Infantry Regiment, 1916
Chapman, Frederick Trench
Jones, Edward S.
Elting, John R.
291
50
0
USA
World War I, 1914-1919
Army
Infantry
uniform
Plate
74
The United States 15th Infantry Regiment, 1916
Chapman, Frederick Trench
Jones, Edward S.
Elting, John R.
290
50
0
USA
World War I, 1914-1919
Army
Infantry
uniform
Plate
74
The United States 15th Infantry Regiment, 1916
Chapman, Frederick Trench
Jones, Edward S.
Elting, John R.
289
50
0
USA
World War I, 1914-1919
Army
Infantry
uniform
Plate
74
14 Rhode Island Militia Flags
Mowbray, E. Andrew
0
53
0
USA, Continental, Rhode Island
Revolutionary War, 1775-1783, Early Republic, 1784-1789, Federalist Era, 1789-1811, & War of 1812, 1812-1815
Army, Militia
flag
Note
74
Netherlands 21st Marine Regiment, Surinam, 1772-1779
McBarron, Jr., H. Charles
Elting, John R.
292
54
0
Netherlands
Colonial Period, 1625-1774 & Revolutionary War, 1775-1783
Marine
uniform
Plate
74
Mandeville de Marigny Portrait, 1833
Elting, John R.
0
55
0
Louisiana
Westward Expansion, 1816-1859
Militia
artist - Vaudechamps; aide-de-camp; New Orleans Militia
Note
74
ERRATA: MUIA Plate No. 276
Editor,
0
55
0
Spain
Inter-War Years, 1920-1938
Note
74
ERRATA: MUIA Plate No. 293
Editor,
0
55
0
USA
Korean War Era, 1948-1954
Army
Note
74
A Hospital Site of the Revolution
Biever, Dale E.
0
57
0
Pennsylvania
Revolutionary War, 1775-1783
Medical
Ephrata Cloister; spiked musket ball
Note
74
The American Soldier--A Delaware Version of 1777
Zlatich, Marko
0
58
0
Delaware
Revolutionary War, 1775-1783
Infantry
Great Seal of the Delaware State
Note
74
Additional Manufacturer of Navy Survival Knife (Vol. 15, p. 51)
Eubanks, Jr., Ben H.
0
59
0
USA
Korean War Era, 1948-1954
Navy
Naval Aviation
edged weapons
Note
74
The McElroy & Hunt Belt Buckle
Mitchell, James L.
0
60
0
CSA
Civil War Era, 1860-1865
Georgia frame buckle
Note
74
Contemporary Sketch of a Federal Fife and Drum Corps
Miller, Robert L.
0
61
0
USA, Missouri
Civil War Era, 1860-1865
Volunteer
Infantry
band, Benton Cadets/Fremont Body Guard
Note
75
The Skeleton Cannon
Harding, James F.
Harding, Ursala
0
69
0
Civil War Era, 1860-1865
Ordnance
J. A. de Brame
Main article
75
Army Recruiters and Recruits Between the World Wars
Mitchell, John B.
0
76
0
USA
Inter-War Years, 1920-1938
Army
Main article
75
The United States Army Band (Pershing's Own), 1965-1967
Jones, Edward S.
Spicer, Ronald E.
Elting, John R.
293
82
0
USA
Korean War Era, 1948-1954
Army
uniform, band
Plate
75
Royal Flying Corps, Texas, 1917-1918
Manser, Roy
294
84
0
Canada
World War I, 1914-1919
Air Force
uniform
Plate
75
The Corps of Rurales, Mexico, 1890
Cisneros, Jose
Hefter, Joseph
Elting, John R.
295
85
0
Mexico
Reconstruction and Indian Wars, 1866-1897
Police
uniform
Plate
75
United States Navy, Evening and Dinner Dress, 1967
McBarron, Jr., H. Charles
Maveety, Patrick J.
296
86
0
USA
Korean War Era, 1948-1954
Navy
uniform
Plate
75
The Band of Musick, Second Virginia Regiment, 1779-1783
Carroll, George P.
0
89
0
USA, Continental, Virginia
Revolutionary War, 1775-1783
Army
Infantry
Band
Note
75
Cartridge Box and Belt from the Baton Rouge Arsenal, LA., C.S.A.
Pugliese, Carl J.
0
90
0
CSA
Civil War Era, 1860-1865
accouterments
Note
75
Colors of the 14th U.S. Infantry
Cooling III, Benjamin Franklin
0
92
0
USA
Spanish American War, 1898-1900
Army
Infantry
flags
Note
75
Confederate Cartridge Box for Austrian Arms
Miller, Robert L.
0
92
0
CSA
Civil War Era, 1860-1865
accouterments
Note
75
An Unidentified Flag of the American Revolution
Holst, Donald W.
0
94
0
Britain, Continental
Revolutionary War, 1775-1783
flag
Note
75
Chapel of the Centurion, Fort Monroe, VA.
Kay, William K.
0
95
0
Korean War Era, 1948-1954
Note
76
Notes Concerning Wiard's System of Field Artillery
Evans, Ronald D.
0
103
0
Civil War Era, 1860-1865
Ordnance
Norman Wiard
Main article
76
A Return of Some Continental Army Regimental Colors of 1778
Holst, Donald W.
Zlatich, Marko
0
109
0
USA, Continental
Revolutionary War, 1775-1783
Army
flags
Main article
76
42nd Royal Highland Regiment, (The Black Watch) 1784
Manders, Eric I.
Snook, George A.
297
116
0
Britain
Early Republic, 1784-1789
Army
Infantry
uniform
Plate
76
The Wayne Artillery, 1842-1845
Riling, Joseph R.
298
118
0
Pennsylvania
Westward Expansion, 1816-1859
Militia
Artillery
uniform
Plate
76
Philippines Constabulary, 1901-1906
Chapman, Frederick Trench
Elting, John R.
300
119
0
Philippines
Progressive Era, 1901-1913
Police
uniform
Plate
76
Imperial Mexican Army, 1864-1867
Hefter, Joseph
Elting, John R.
299
119
0
Mexico
Civil War Era, 1860-1865, & Reconstruction and Indian Wars, 1866-1897
Army
uniform
Plate
76
Bayonet Manufacture at the Point of Fork Arsenal, VA.
Crouch, Richard
0
123
0
Virginia
Revolutionary War, 1775-1783
edged weapons
Note
76
A Rare Lithograph--The Wayne Artillery of Philadelphia
Riling, Joseph R.
0
124
0
Pennsylvania
Westward Expansion, 1816-1859
Militia
Artillery
art
Note
76
Sashes and Swordknots: An Aid to Portrait Identification
Haarmann, Albert W.
0
125
0
Revolutionary War, 1775-1783
Army
art, insignia
Note
76
Is This Ager's Union Repeating Rifle, The Coffee Mill Gun?
Madaus, Howard Michael
0
126
0
USA, Pennsylvania
Civil War Era, 1860-1865
Volunteer
Infantry
firearms, weapons
Note
76
Query: 18th Century Scrimshaw
Marshall, Ronald
0
126
0
Note
76
Non-Regulation Service Medals, 1916
Brinckerhoff, Sidney B.
0
128
0
USA
World War I, 1914-1919
insignia, Camp Stephen D. Little, Arizona
Note
76
An Officer of the Fifth Virginia Regiment, Continental Army
Holst, Donald W.
0
130
0
USA, Continental, Virginia
Revolutionary War, 1775-1783
Army
Infantry
Josiah Parker
Note
76
Souvenir Cuban Flag
Ritz, William
0
130
0
USA, Minnesota, Cuba
Spanish American War, 1898-1900
Volunteer
Infantry
Flag post dates unit; 13th Minnesota
Note
76
Review - Incredible Victory, by Walter Lord
Frank, Benis M.
0
133
0
USA
World War II Period, 1939-1947
Navy
Battle of Midway
Review
77
The Personal and Designating Flags of General George A. Custer, 1863-1865
Madaus, Howard Michael
0
1
0
USA
Civil War Era, 1860-1865
Army
flags, Army of the Potomoc
Main article
77
United States Scouts, Enlisted Men, Full Dress, 1890-1902
Chappell, Gordon S.
301
15
0
USA
Reconstruction and Indian Wars, 1866-1897, Spanish American War, 1898-1900, & Progressive Era, 1901-1913
Army
Scouts
uniform
Plate
77
Regular Colonial Dragoon Regiments of New Spain, 1795
McBarron, Jr., H. Charles
Finke, Detmar H.
302
16
0
Spain
Federalist Era, 1789-1811
Provincial
Dragoons
uniform
Plate
77
United States Air Force Pipe Band, 1965-1966
Spicer, Ronald E.
Elting, John R.
303
18
0
USA
Korean War Era, 1948-1954
Air Force
uniform, band
Plate
77
Royal Navy, Officers' Undress Uniform, 1812
Manser, Roy
304
19
0
Britain
War of 1812, 1812-1815
Navy
uniform
Plate
77
Memorabilia of the Branch Brothers, Oglethorpe Light Infantry, Georgia
DuBose, Jr., Beverly M.
0
22
0
Georgia, CSA
Civil War Era, 1860-1865
Volunteer
Infantry
Main article
77
Old Color Belts of the Royal 22e Regiment
Owen, Ernest J.
0
26
0
Canada
Inter-War Years, 1920-1938, World War II Period, 1939-1947, & Korean Era, 1948-1954
flags
Note
77
Review - Weapons of the American Revolution and Accoutrements, by Warren Moore
Peterson, Harold L.
0
30
0
Revolutionary War, 1775-1783
accouterments, weapons, firearms, edged weapons
Review
77
Review - The History of Weapons of the American Revolution, by George C. Neumann
Holst, Donald W.
0
30
0
Revolutionary War, 1775-1783
weapons, firearms, edged weapons
Review
77
Review - History of Modern U.S. Military Small Arms Ammunition, Volume I, 1880-1939, by F. W. Hackley, W.H. Woodin, and E.L. Scranton
Kerksis, Sydney C.
0
31
0
USA
Reconstruction and Indian Wars, 1866-1897, Spanish American War, 1898-1900, Progressive Era, 1901-1913, & World War I, 1941-1919
ammunition
Review
78
Uniforming the 1st Regiment of Continental Light Dragoons, 1776-1779
Zlatich, Marko
0
35
0
USA, Continental
Revolutionary War, 1775-1783
Army
Dragoons
uniform
Main article
78
U.S. Army Field Artillery Weapons, 1866-1918
Schreier, Jr., Konrad F.
0
40
0
USA
Reconstruction and Indian Wars, 1866-1897, Spanish American War, 1898-1900, Progressive Era, 1901-1913, & World War I, 1941-1919
Army
Ordnance
weapons
Main article
78
Franco-Mexican Army, 1863-1864
Hefter, Joseph
Elting, John R.
305
46
0
France
Civil War Era, 1860-1865
Provincial
uniform
Plate
78
British Artillery in North America, 1711-1715
Thompson, Barry E.
Foote, William A.
Elting, John R.
306
46
0
Britain
Colonial Period, 1625-1774
Army
Artillery
uniform
Plate
78
165th New York Volunteer Infantry Regiment (2nd Duryea Zouaves), 1862-1863
Spicer, Ronald E.
Sturcke, Roger David
307
49
0
USA, New York
Civil War Era, 1860-1865
Volunteer
Infantry
uniform
Plate
78
The Virginia State Navy, 1776-1780
Zlatich, Marko
Copeland, Peter F.
308
50
0
Virginia
Revolutionary War, 1775-1783
Navy
uniform
Plate
78
The Quartermaster Badge of 1863
Kloster, Donald E.
0
53
0
USA
Civil War Era, 1860-1865
Army
Quartermaster
insignia
Note
78
Spanish Army Uniform Colors, circa 1779
Haarmann, Albert W.
0
54
0
Spain
Revolutionary War, 1775-1783
Army
uniform
Note
78
Early Military Cap
Winey, Michael J.
0
54
0
Federalist Era, 1789-1811
headgear
Note
78
Two Early Cavalry Cartridge Boxes
Huntington, R. T.
0
55
0
USA
Westward Expansion, 1816-1859
Army
Cavalry
accouterments
Main article
78
The Meaning of the Mark U*S*A
Hardin, Jr., Albert N.
0
59
0
USA
Civil War Era, 1860-1865
Army
bayonets"
Note
78
The 1868 Marine Corps Emblem
Driscoll, John A.
0
60
0
USA
Reconstruction and Indian Wars, 1866-1897
Marine
insignia
Note
78
Review - American Polearms 1526-1865, by Rodney Hilton Brown
Wallace, Jr., Lee A.
0
65
0
Pre-Colonial Era, 1492-1625, Colonial Period, 1625-1774, Revolutionary War, 1775-1783, & Early Republic, 1784-1789
weapons, edged weapons
Review
79
Regimental Colors of the Continental Army
Holst, Donald W.
0
69
0
USA, Continental
Revolutionary War, 1775-1783
Army
flags
Main article
79
The 1912 Cavalry Equipment
Halsted, Bruce
0
74
0
USA
Progressive Era, 1901-1913
Army
Cavalry
saddle
Main article
79
Independent Companies, 1760-1761; Burton's (95th) Regiment of Foot, 1761-1763
Copeland, Peter F.
Foote, William A.
Elting, John R.
309
85
0
Britain
Colonial Period, 1625-1774
Army
Infantry
uniform
Plate
79
Spanish Militia in Cuba, 1770
Bueno, Jose Maria
Hefter, Joseph
310
86
0
Spain
Colonial Period, 1625-1774
Militia
uniform
Plate
79
95th Pennsylvania Volunteer Infantry Regiment, 1861-1865 (Gosline's Zouaves)
Thompson, Barry E.
311
88
0
USA, Pennsylvania
Civil War Era, 1860-1865
Volunteer
Infantry
uniform
Plate
79
United States Scouts, 1890 (Enlisted Men, Campaign Uniforms)
Hoseney, Don P.
312
89
0
USA
Reconstruction and Indian Wars, 1866-1897
Army
Scouts
uniform
Plate
79
The Dodge Blanket Roll Support
Hutchins, James S.
0
92
0
USA
Reconstruction and Indian Wars, 1866-1897
Army
Infantry
blanket roll yoke
Note
79
The Quartermaster Badge of 1863 and the 1868 Marine Corps Emblem Footnotes: Errata (Vol. 20, p. 54)
Editor,
0
96
0
Civil War Era, 1860-1865, & Reconstruction and Indian Wars, 1866-1897
Quartermaster
insignia
Note
79
ERRATA: MUIA Plates Nos. 306 and 308
Editor,
0
96
0
Korean War Era, 1948-1954
Note
79
Noncommissioned Officer's Bayonet Scabbard?
Huntington, R. T.
0
96
0
USA
Westward Expansion, 1816-1859
Army
accouterments, model 1855 with brass stud
Note
79
Unidentified Eagle Belt Buckles
Brinckerhoff, Sidney B.
0
97
0
Westward Expansion, 1816-1859
insignia, Fort Buchanan, Arizona
Note
79
Review - Field Artillery Projectiles of the Civil War, 1861-1865, by Sydney C. Kerksis and Thomas S. Dickey
Peterson, Harold L.
0
99
0
USA, CSA
Civil War Era, 1860-1865
Ordnance
fuze
Review
79
Review - The Book of the Continental Soldier, by Harold L. Peterson
Shaw, Jr., Henry I.
0
99
0
USA, Continental
Revolutionary War, 1775-1783
Army
uniform, weapons, equipment
Review
80
The Laidley Cavalry Forge
Heckaman, Donald A.
Schuhle, Jr., Frank F.
0
103
0
USA
Reconstruction and Indian Wars, 1866-1897
Army
Ordnance
Main article
80
West India Regiments, 1800-1810
Lawson, Cecil C. P.
McBarron, Jr., H. Charles
Elting, John R.
313
119
0
Britain
Federalist Era, 1789-1811
Army
Infantry
uniform
Plate
80
7th Regiment of Foot (The Royal Fusiliers), 1815
Marrion, Robert J.
Hyman, Irvin S.
314
120
0
Britain
War of 1812, 1812-1815
Army
Infantry
uniform
Plate
80
Philippine Constabulary, 1912-1914
Spicer, Ronald E.
Elting, John R.
315
122
0
Philippines
Progressive Era, 1901-1913
Police
uniform
Plate
80
38th Regiment of Foot, 1707-1740
Manders, Eric I.
McBarron, Jr., H. Charles
Foote, William A. & Elting, John R.
316
123
0
Britain
Colonial Period, 1625-1774
Army
Infantry
uniform
Plate
80
John W. Comfort: Portrait of a U.S. Regular, 1865-1892
Olmsted, Merle C.
0
126
0
USA
Reconstruction and Indian Wars, 1866-1897
Army
Cavalry, Artillery
art
Note
80
Grimes Battery, Portsmouth, VA., c. 1894
Walker, Carroll H.
0
128
0
Virginia
Reconstruction and Indian Wars, 1866-1897
Militia
Artillery
history, uniform
Note
80
The First U.S. M1905 Bayonet Scabbard?
Miller, Robert L.
0
128
0
USA
Progressive Era, 1901-1913
Army
accouterments, M1905 knife bayonet scabbard
Note
80
U.S. Cavalry's Last Horse
Unknown
0
128
0
USA
Korean War Era, 1948-1954
Army
Cavalry
horse
Note
80
Review - Cups of Valor, by N.E. Beveridge
Kay, William K.
0
130
0
USA
Army
recipes for soldier's libations
Review
81
A New York Regiment in California, 1846-1848
Nihart, F. Brooke
0
1
0
USA, New York
Westward Expansion, 1816-1859
Volunteer
Infantry
Mexican War; Stevenson''s Regiment of New York Volunteers; California Guard, California Regiment, California Volunteers, 7th Regiment New York Volunte
Main article
81
Colonel Aspinwall and His Revolver
Lederer, Paul S.
0
12
0
New York
Westward Expansion, 1816-1859, Civil War Era, 1860-1865, & Reconstruction and Indian Wars, 1866-1897
National Guard
Infantry
firearms, weapons, Colonel Lloyd Aspinwall; Adams five-shot revolver; 22d New York
Main article
81
11th New-Hampshire Provincial Regiment, 1774-1775
Copeland, Peter F.
Simpson, James P.
317
16
0
New Hampshire
Colonial Period, 1625-1774
Militia
Infantry
uniform
Plate
81
83d Pennsylvania Volunteer Infantry Regiment, 1861-1862
Woodbridge, George C.
Todd, Frederick P.
Elting, John R.
318
18
0
USA, Pennsylvania
Civil War Era, 1860-1865
Volunteer
Infantry
uniform
Plate
81
Royal Navy, 1814
Manser, Roy
319
19
0
Britain
War of 1812, 1812-1815
Navy
uniform
Plate
81
U.S. 3d Infantry Regiment (The Old Guard), 1966
McBarron, Jr., H. Charles
Elting, John R.
320
22
0
USA
Korean War Era, 1948-1954
Army
Infantry
uniform
Plate
81
Troopers, 14th U.S. Cavalry, 1902
Brinckerhoff, Sidney B.
0
23
0
USA
Progressive Era, 1901-1913
Army
Cavalry
Fort Grant, Arizona; photo
Note
81
1907 Artillery Insignia Revived
Wallace, Jr., Lee A.
0
24
0
USA
Korean War Era, 1948-1954
Army
Artillery
insignia
Note
81
Battleflags of Mounted Batteries, U.S. Artillery, 1864-1865
Madaus, Howard Michael
0
25
0
USA
Civil War Era, 1860-1865
Army
Artillery
flags
Note
81
Tredegar Columbiad Recovered from Mississippi Sound
Wallace, Jr., Lee A.
0
27
0
CSA
Civil War Era, 1860-1865
Army
Ordnance
Fort Powell, Alabama
Note
81
ERRATA: MUIA Plate No. 307
Editor,
0
27
0
USA, New York
Civil War Era, 1860-1865
Volunteer
Infantry
uniform
Note
81
Review - Round Shot and Rammers, an Introduction to Muzzle-loading Land Artillery in the United States, by Harold L. Peterson
Wallace, Jr., Lee A.
0
32
0
USA
Army
Ordnance
weapons, cannon, ammunition, implements
Review
82
The Development of U.S. Army Infantry Field Equipments, 1903-1956
Rila, Carter
0
35
0
USA
Progressive Era, 1901-1913, World War I, 1914-1919, Inter-War Years, 1920-1938, & World War II Period, 1939-1947
Army
Infantry
accouterments, haversack, canteen, blanket roll, waist belt, bayonet and scabbard, cartridge box, knapsack, clothing bags
Main article
82
Wilbur F. Hinman: A Novelist's View of the Civil War
Marsh, John L.
0
44
0
Civil War Era, 1860-1865
Main article
82
Mexican Spy Company, 1846-1848
Hefter, Joseph
Elting, John R.
321
48
0
USA
Westward Expansion, 1816-1859
Army
Mexican War; uniform
Plate
82
Danish West Indies, 1816
Kannik, Preben
Rasmussen, I. Flemming
Elting, John R.
322
50
0
Denmark
Westward Expansion, 1816-1859
Army, Militia
Cavalry
uniform
Plate
82
French Navy in Mexico, 1838
Lelipvre, Eugene
Brouillet, Jacques
323
51
0
France
Westward Expansion, 1816-1859
Navy
uniform
Plate
82
43rd (Monmouthshire) Light Infantry, 1814-1815
Marrion, Robert J.
Hyman, Irvin S.
324
52
0
Britain
War of 1812, 1812-1815
Army
Infantry
uniform
Plate
82
A R&C Stamped Cavalry Sabre
Strach, Stephen G.
0
55
0
Civil War Era, 1860-1865
Riggins & Cook, edged weapons, saber
Note
82
A New York Uniform Tailored for Lafayette's Visit, 1824
Winey, Michael J.
0
56
0
New York
Westward Expansion, 1816-1859
Militia
uniform
Note
82
ERRATA: Texts for MUIA Plates Nos. 326, 327-328
Editor,
0
56
0
Korean War Era, 1948-1954
Note
82
Review - A Collection of U.S. Military Knives, 1861-1968, by M.H. Cole
Hardin, Jr., Albert N.
0
63
0
USA
Civil War Era, 1860-1865, Spanish American War, 1898-1900, & Progressive Era, 1901-1913
Army, Navy, Marine
edged weapons, bayonet, machette, trench knife, bolo
Review
82
Review - Record of American Uniform and Historical Buttons, by Alphaeus H. Albert
Wallace, Jr., Lee A.
0
63
0
USA, CSA, Texas
Revolutionary War, 1775-1783, Early Republic, 1784-1789, Federalist Era, 1789-1811, & War of 1812, 1812-1815
insignia
Review
83
Newspaper Extracts Describing Military and Naval Dress of the American Revolutionary War, 1775-1783, Part I
Zlatich, Marko
0
69
0
USA, Continental, British, Hessian, French
Revolutionary War, 1775-1783
Army, Navy, Provincial
uniform descriptions
Main article
83
The Roma--First and Last Army Dirigible
Mitchell, John B.
0
80
0
USA
Inter-War Years, 1920-1938
Army
Air
hydrogen, semi-rigid dirigible
Main article
83
The American Regiment, 1740-1746 (The 61st Regiment of Foot, or Gooch's Regiment)
McBarron, Jr., H. Charles
Foote, William A.
Elting, John R.
325
84
0
Britain
Colonial Period, 1625-1774
Army
Infantry
uniform
Plate
83
Panama Canal Zone Police, 1916
Chapman, Frederick Trench
Elting, John R.
326
86
0
Canal Zone
World War I, 1914-1919
Police
uniform
Plate
83
State Fencibles of Philadelphia
Thompson, Barry E.
327
88
0
Pennsylvania
War of 1812, 1812-1815 & Westward Expansion, 1816-1859
Militia
Infantry
uniform
Plate
83
State Fencibles of Philadelphia
Thompson, Barry E.
328
88
0
Pennsylvania
Westward Expansion, 1816-1859, Civil War Era, 1860-1865, & Reconstruction and Indian Wars, 1866-1897
Militia
Infantry
uniform
Plate
83
Pack Saddles for the Humpbacks
Reedstrom, Ernest L.
0
92
0
USA
Westward Expansion, 1816-1859
Army
Camel
Note
83
The German Military Historical Museum
Heilmann, Jr., Norman C.
0
93
0
Korean War Era, 1948-1954
Military Historical Museum, Rastatt Germany
Note
83
Unidentified Militia Coatee circa 1805-1817
McBarron, Jr., H. Charles
0
95
0
Federalist Era, 1789-1811 & War of 1812, 1812-1815
clothing, uniform
Note
83
Emerson Steel Bayonet Scabbard 1862
Phillips, William G.
0
97
0
USA
Civil War Era, 1860-1865, & Reconstruction and Indian Wars, 1866-1897
Army
accouterments, patented Hoffman swivel
Note
84
The Ohio Flag Preservation Project
Needham, Robert D.
0
103
0
Ohio
Westward Expansion, 1816-1859, Civil War Era, 1860-1865, Spanish American War, 1898-1900, & World War I, 1914-1919
flags, national colors and regimental flags with battle honors
Main article
84
Newspaper Extracts Describing Military and Naval Dress of the American Revolutionary War, 1775-1783. Part II
Zlatich, Marko
0
116
0
USA, Britain, France, Germany
Revolutionary War, 1775-1783
Army, Navy, Marine
Main article
84
First Special Service Force, 1942-1943
Manders, Eric I.
Nihart, F. Brooke
Andrews, John Craig
329
121
0
USA, Canada
World War II Period, 1939-1947
Army
Special Ops
Plate
84
Georgia Hussars, 1816-1967
Jones, James T.
Henderson, Jr., Lindsey P.
Elting, John R.
330
122
0
Georgia
Westward Expansion, 1816-1859, Civil War Era, 1860-1865, Reconstruction and Indian Wars, 1866-1897, & Spanish American War, 1898-1900
Militia
Cavalry
uniform
Plate
84
5th Pennsylvania Regiment, 1777-1783
McBarron, Jr., H. Charles
Katcher, Philip R. N.
331
125
0
USA, Continental, Pennsylvania
Revolutionary War, 1775-1783
Army
Infantry
uniform
Plate
84
93rd Highland Regiment, 1814-1815
Marrion, Robert J.
332
126
0
Britain
War of 1812, 1812-1815
Army
Infantry
uniform
Plate
84
Point of Fork Revisited: An Exercise in Armchair Salvage Archeology (Vol. 19, p. 123)
Sanchez-Saavedra, Eugene M.
0
129
0
Virginia
Revolutionary War, 1775-1783
Note
84
Notes on Charles Willson Peale's Portrait of Washington
Williams, Jr., Hermann Warner
0
130
0
Britain
Colonial Period, 1625-1774
Provincial
Infantry
art, painting cleaned; reports details, colors
Note
84
A 20th Corps Badge?
Righton, Ralph V.
0
131
0
USA
Civil War Era, 1860-1865
insignia, Topographical Engineer
Note
84
Reply: The R&C Cavalry Sabre (MC&H vol 21 p. 55)
Albaugh III, William A.
0
131
0
Civil War Era, 1860-1865
disputes attribution as Riggins and Cook, edged weapons, saber
Note
85
The Evolution of the Pocket-Type Rifle Cartridge Belt in the United States Service
Phillips, William G.
0
1
0
USA
Progressive Era, 1901-1913, World War I, 1914-1919, Inter-War Years, 1920-1938, & World War II Period, 1939-1947
Army
Infantry, Cavalry
accouterments
Main article
85
The Point of Fork Arsenal
Hollowell, Jr., M. Edgar
0
11
0
Virginia
Revolutionary War, 1775-1783
history
Main article
85
Civil War Hand Grenades
Salzer, J. Richard
0
14
0
USA
Civil War Era, 1860-1865
Army
Ordnance
weapons, Ketchum; Hanes; Adams, Ganster
Main article
85
1st Cavalry Division (Airmobile), 1966-1967
Copeland, Peter F.
Emerson, William K.
333
19
0
USA
Korean War Era, 1948-1954
Army
Vietnam, uniform
Plate
85
Albany Burgesses Corps, 1849-1861
McBarron, Jr., H. Charles
Mulligan, Robert E.
334
20
0
New York
Westward Expansion, 1816-1859 & Civil War Era, 1860-1865
Militia
Artillery
uniform
Plate
85
British Navy, circa 1580
Manders, Eric I.
Snook, George A.
335
22
0
Britain
Pre-Colonial Era, 1492-1625
Navy
uniform
Plate
85
The 21st Regiment of Foot, 1814-1815, (Royal North British Fusiliers)
Marrion, Robert J.
336
24
0
Britain
War of 1812, 1812-1815
Army
Infantry
uniform
Plate
85
Les Enfants Perdus, 1861-1864
Balace, Francis Michael
Elting, John R.
0
26
0
USA, New York
Civil War Era, 1860-1865
Volunteer
Infantry
New York Independent Battalion
Note
85
187th Airborne Regimental Combat Team, 1950-1951
Deal, Ernest L.
0
28
0
USA
Korean War Era, 1948-1954
Army
Infantry
Note
85
ERRATA: MUIA Plate No. 314
Elting, John R.
0
30
0
Korean War Era, 1948-1954
Note
85
Virginia Looks for Arms, 1797
Pladeau, Marius B.
0
30
0
Virginia
Federalist Era, 1789-1811
Militia
muskets, firearms
Note
86
The Old Fortifications of New York Harbor
Williams, Ames W.
0
37
0
New York
War of 1812, 1812-1815, Westward Expansion, 1816-1859, Civil War Era, 1860-1865, & Reconstruction and Indian Wars, 1866-1897
Castle Clinton, Forts Wood, Gibson, Gansevoort, Jay, Richmond, Tompkins, Totten, Schuyler, Lafayette, Hamilton, Totten, Wadsworth, Hancock
Main article
86
The Sims-Dudley 2 1/2-Inch Dynamite Gun
Schreier, Jr., Konrad F.
0
46
0
USA
Spanish American War, 1898-1900
Army
Ordnance
weapons
Main article
86
1st Regiment Infantry, National Guard of Pennsylvania, 1885-1898
Chapman, Frederick Trench
Todd, Frederick P.
337
51
0
Pennsylvania
Reconstruction and Indian Wars, 1866-1897 & Spanish-American War, 1898-1900
National Guard
Infantry
uniform
Plate
86
Fort Loudoun Garrison, 1760
Copeland, Peter F.
McMaster, Fitzhugh
338
52
0
South Carolina, Tennessee
Colonial Period, 1625-1774
Cherokee War; uniform
Plate
86
140th New York Volunteer Infantry, 1864-1865
Grube, Harry T.
McAfee, Michael J.
339
55
0
USA, New York
Civil War Era, 1860-1865
Volunteer
Infantry
uniform
Plate
86
146th New York Volunteer Infantry, 1863-1865
Grube, Harry T.
McAfee, Michael J.
340
56
0
USA, New York
Civil War Era, 1860-1865
Volunteer
Infantry
uniform
Plate
86
Dress Hat of the First Regiment of Mounted Rifles, 1858-1861
Chappell, Gordon S.
0
58
0
USA
Westward Expansion, 1816-1859 & Civil War Era, 1860-1865
Army
Rifle
reconstructed, headgear
Note
86
Uniform of Captain John Ellis Wool
Winey, Michael J.
0
60
0
USA
War of 1812, 1812-1815
Army
Infantry
13th U.S. Infantry
Note
86
Russian-American Company Flag
Colwell, Wayne A.
0
63
0
Soviet
Federalist Era, 1789-1811, War of 1812, 1812-1815, Westward Expansion, 1816-1859, & Civil War Era, 1860-1865
flag
Note
86
A British Artillery Button, 1797-1815
Stainken, Dennis
0
64
0
Britain
Federalist Era, 1789-1811 & War of 1812, 1812-1815
Volunteer
Artillery
insignia
Note
86
Review - Artillery and Ammunition of the Civil War, by Warren Ripley
Wallace, Jr., Lee A.
0
68
0
USA, CSA
Civil War Era, 1860-1865
Army, Navy
weapons
Review
87
Notes on Bermuda Military Forces, 1687-1815
Chartrand, Rene
0
73
0
Bermuda
Colonial Period, 1625-1774, Revolutionary War, 1775-1783, Early Republic, 1784-1789, & Federalist Era, 1789-1811
Militia
history, Somers Island
Main article
87
Accoutrement Suppliers, 1830-1865
Johnson, Richard A.
0
80
0
USA
Westward Expansion, 1816-1859 & Civil War Era, 1860-1865
Army
Infantry, Cavalry, Rifle
accouterments
Main article
87
West India Regiments, 1814-1815
Marrion, Robert J.
Elting, John R.
341
87
0
Britain
War of 1812, 1812-1815
Provincial
Infantry
Battle of New Orleans
Plate
87
The First U.S. Volunteer Cavalry, Rough Riders, 1898
Thompson, Barry E.
Carlson, Everett
Marsh, John L.
342
88
0
USA
Spanish American War, 1898-1900
Volunteer
Cavalry
uniform
Plate
87
Colonel Hays' Regiment of Texas Mounted Volunteers, 1847-1848
McBarron, Jr., H. Charles
Elting, John R.
343
91
0
USA, Texas
Westward Expansion, 1816-1859
Volunteer
Cavalry
Mexican War; uniform
Plate
87
9th Regiment, Veteran Reserve Corps, 1863-1865
Madaus, Howard Michael
Vebell, Edward T.
344
92
0
USA
Civil War Era, 1860-1865
Misc
Infantry
Invalid Corps
Plate
87
A Civil War Wooden Mortar
Strong, Douglas J.
0
95
0
USA, Minnesota
Civil War Era, 1860-1865
Volunteer
Infantry, Ordnance
gum tree; 12 pounder
Note
87
Mould Variation for Light Artillery Belt Plate, 1814-1821
Brinckerhoff, Sidney B.
0
95
0
USA
War of 1812, 1812-1815 & Westward Expansion, 1816-1859
Army
Infantry
insignia
Note
87
Unidentified 18th Century Officer
Katcher, Philip R. N.
0
97
0
Colonial Period, 1625-1774
art
Note
87
Lee Rifles, Fourth Regiment, Virginia Volunteers, 1896
Walker, Carroll H.
0
97
0
Virginia
Reconstruction and Indian Wars, 1866-1897
Volunteer
Infantry
Note
87
A Comparative View of Military Chic in 1900
Chappell, Gordon S.
0
98
0
USA
Spanish American War, 1898-1900
Army
Chinese Relief Expedition; cartoons of critics of the US troops
Note
88
The Connecticut Light Horse, 1776-1783
Hayes, John T.
0
109
0
Connecticut
Revolutionary War, 1775-1783
Militia
Cavalry
history
Main article
88
Conservation of a Century-Old Painted Flag
Smith, Jr., James B.
0
113
0
USA
Civil War Era, 1860-1865
Misc
flag
Main article
88
The U.S. Cavalry Practice Saber and Single Stick
Ball, Leonard F.
0
119
0
USA
Reconstruction and Indian Wars, 1866-1897, Spanish American War, 1898-1900, & Progressive Era, 1901-1913
Army
Cavalry
edged weapons
Main article
88
The Yukon Field Force, 1898-1900
Marrion, Robert J.
Summers, Jack L.
346
123
0
Canada
Spanish American War, 1898-1900
Army
Artillery, Dragoons, Infantry
winter uniform
Plate
88
The Yukon Field Force, 1898-1900
Marrion, Robert J.
Summers, Jack L.
345
123
0
Canada
Spanish American War, 1898-1900
Army
Artillery, Dragoons, Infantry
summer uniform
Plate
88
The Ambulance Corps, 1862-1865
Vebell, Edward T.
Madaus, Howard Michael
347
126
0
USA
Civil War Era, 1860-1865
Army
Medical
uniform
Plate
88
New York City Legion, New York Militia, c. 1795
Elting, John R.
McBarron, Jr., H. Charles
348
128
0
New York
Federalist Era, 1789-1811
Militia
Infantry
uniform
Plate
88
Military Frock Coat: Mid-18th Century
McBarron, Jr., H. Charles
Elting, John R.
0
130
0
Britain
Colonial Period, 1625-1774
clothing
Note
88
ERRATA: MUIA Plates No. 330 & No. 347
Editor,
0
132
0
Korean War Era, 1948-1954
Note
88
The French Brass Guns at the Virginia Military Institute: A Footnote
Sanchez-Saavedra, Eugene M.
0
133
0
Virginia
Revolutionary War, 1775-1783
Ordnance
weapons, history of the guns
Note
88
The First Headquarters Flag of the Army
Madaus, Howard Michael
0
134
0
USA
Reconstruction and Indian Wars, 1866-1897
Army
flag
Note
88
U.S. Navy Enlisted Men's Waist Belts of the Civil War Period
Sturcke, Roger David
Rogers, Bernard P.
0
135
0
USA
Civil War Era, 1860-1865
Navy
accouterments
Note
88
Flag of the Second South Carolina Regiment, Continental Line
McMaster, Fitzhugh
0
137
0
USA, Continental, South Carolina
Revolutionary War, 1775-1783
Army
Infantry
flag
Note
88
Altered Federal Spur
Kerksis, Sydney C.
Miller, Robert L.
0
139
0
USA
Reconstruction and Indian Wars, 1866-1897
Army
Cavalry
spur
Note
88
Review - Confederate Faces A Pictorial Review Of The Individuals In The Confederate Armed Forces, by William A. Albaugh III
Wallace, Jr., Lee A.
0
141
0
CSA
Civil War Era, 1860-1865
Review
89
Signal Corps No. 1: The World's First Military Aircraft
Worman, Charles G.
0
1
0
USA
Progressive Era, 1901-1913
Army
Signal, Air
Wright Brothers
Main article
89
Small Arms from Spanish 18th Century Shipwreck Sites
Copeland, Peter F.
0
12
0
Spain
Colonial Period, 1625-1774
firearms, weapons
Main article
89
Royal 22e Regiment, 1965-66
Neary, Donna J.
349
19
0
Canada
Korean War Era, 1948-1954
Army
Infantry
uniform
Plate
89
Spanish Military Presidio Visitador, New Spain, 1730
Cisneros, Jose
Hefter, Joseph
Elting, John R.
350
20
0
Spain
Colonial Period, 1625-1774
Army
Inspector
uniform
Plate
89
United States Mounted Infantry, 1853
Jones, James T.
Elting, John R.
351
22
0
USA
Westward Expansion, 1816-1859
Army
Infantry
uniform
Plate
89
The Chicago Irish-American Corps, Blake's Irish Brigade -- South Africa 1900
Manders, Eric I.
Colwell, Wayne A.
352
23
0
South Africa
Spanish American War, 1898-1900
uniform
Plate
89
Two Uniforms of an Officer of the 13th Canadian Militia, circa 1867
Ross, David
0
26
0
Canada
Civil War Era, 1860-1865, & Reconstruction and Indian Wars, 1866-1897
Militia
Infantry
uniform
Note
89
Cook & Brother Sword
Woodlief, Jr., Horace L.
0
28
0
CSA
Civil War Era, 1860-1865
edged weapons
Note
89
A 9th New Hampshire Soldier and Identification Tag, 1862-1865
Lang, Jr., Wendell W.
0
29
0
USA, New Hampshire
Civil War Era, 1860-1865
Volunteer
Infantry
ID tag
Note
90
Stephen Crane and the Pictorial Artists of the Civil War
Marsh, John L.
0
35
0
Civil War Era, 1860-1865
art
Main article
90
Distinctive Belt Buckles of the 9th Infantry
Emerson, William K.
0
40
0
USA
Inter-War Years, 1920-1938, World War II Period, 1939-1947, & Korean Era, 1948-1954
Army
Infantry
insignia
Main article
90
Netherlands Corps of Marines in New York, 1673
Chapman, Frederick Trench
Nyland, Fritz C.
353
44
0
Netherlands
Colonial Period, 1625-1774
Marine
uniform
Plate
90
The Quebec Militia, 1775-1776
McBarron, Jr., H. Charles
Chartrand, Rene
354
45
0
Britain
Revolutionary War, 1775-1783
Militia
Infantry
British Militia, Canadian Militia
Plate
90
10th Royal Veteran Battalion, Fort Mackinac, 1812
Gringhuis, Dirk
Dunnigan, Brian Leigh
Chartrand, Rene
355
47
0
Britain
War of 1812, 1812-1815
Veteran
Infantry
uniform
Plate
90
The Pennsylvania State Regiment, 1776-1778
Katcher, Philip R. N.
Martin, Dennis
356
49
0
USA, Continental, Pennsylvania
Revolutionary War, 1775-1783
Army
Infantry
uniform
Plate
90
Two C. S. Marine Corps Officers' Uniforms
Wallace, Jr., Lee A.
0
51
0
CSA
Civil War Era, 1860-1865
Marine
uniform
Note
90
Reunion With A Cannon
Downey, Fairfax
0
54
0
France
World War I, 1914-1919
Ordnance
75-mm gun
Note
90
Mounted Rifles Shoulder Scale
Brinckerhoff, Sidney B.
0
55
0
USA
Westward Expansion, 1816-1859
Army
Rifle
insignia
Note
90
ERRATA: MUIA Plates Nos. 347, 353, & 354
Editor,
0
55
0
Korean War Era, 1948-1954
Note
90
A Description of Brunswick Officers' Dress, 1776
Stutesman, Jr., John H.
0
55
0
Hessian
Revolutionary War, 1775-1783
Brunswick
Infantry
William Heth's Diary
Note
90
6th Pennsylvania Cavalry Uniforms
Cavanaugh, Philip M.
0
57
0
USA, Pennsylvania
Civil War Era, 1860-1865
Volunteer
Cavalry
Rush''s Lancers, uniform
Note
90
A Texan's Service Medal
Olmsted, Merle C.
0
60
0
Texas
Westward Expansion, 1816-1859 & Civil War Era, 1860-1865
insignia
Note
90
Private Robert M. Parker of the California Hundred, 1863
Hill, Charles L.
0
61
0
USA, Massachusetts
Civil War Era, 1860-1865
Volunteer
Cavalry
2nd Regiment of Massachusetts Cavalry
Note
91
Notes on Troop Units in the Cambridge Army, 1775-1776
Manders, Eric I.
0
69
0
USA, Continental
Revolutionary War, 1775-1783
Army
order of battle
Main article
91
The Mystery of the Missing Confederate Medals of Honor
Musick, Michael P.
0
74
0
CSA
Civil War Era, 1860-1865
history, insignia
Main article
91
Dr. Maynard Pushes His Inventions
Pladeau, Marius B.
0
78
0
Reconstruction and Indian Wars, 1866-1897
Ordnance
firearms, conversion of muzzle loaders to breech loaders
Main article
91
10th Royal Veteran Battalion, Fort Mackinac, 1812 (cont'd)
Gringhuis, Dirk
Dunnigan, Brian Leigh
Chartrand, Rene
355
82
0
Britain
War of 1812, 1812-1815
Veteran
Infantry
uniform
Plate
91
Indiana Volunteers in the Mexican War, 1846-1847
McBarron, Jr., H. Charles
Grube, Harry T.
Elting, John R.
357
83
0
USA, Indiana
Westward Expansion, 1816-1859
Volunteer
Infantry
1st through 5th Regiment
Plate
91
U.S. Airborne Troops, Normandy, 1944
Chartrand, Rene
358
84
0
USA
World War II Period, 1939-1947
Army
Infantry
uniform
Plate
91
French Naval Infantry and Bombardiers, 1774-1782
Lelipvre, Eugene
Chartrand, Rene
359
86
0
France
Colonial Period, 1625-1774 & Revolutionary War, 1775-1783
Navy
Infantry
uniform
Plate
91
Colonial Militia in the Philippines, 1780
Bueno, Jose Maria
Hefter, Joseph
Elting, John R.
360
88
0
Spain
Revolutionary War, 1775-1783
Militia
Infantry
uniform
Plate
91
Uniforms of the Hesse Cassel Troops Sent to America in 1776
Chartrand, Rene
0
90
0
Hessian
Revolutionary War, 1775-1783
Hesse-Cassel
Infantry, Artillery
uniform colors
Note
91
Badges of Civil War Provost Guards
Lord, Francis A.
0
91
0
USA
Civil War Era, 1860-1865
Army
Military Police
insignia
Note
91
Uniforms in Bermuda, circa 1900
Chartrand, Rene
0
92
0
Bermuda
Spanish American War, 1898-1900
Militia
Rifle, Artillery
uniforms
Note
91
An Improvised Coffee Cup
Kerksis, Sydney C.
Hooper, John
0
94
0
USA
Civil War Era, 1860-1865
Army
equipment
Note
91
An Early U.S. Army Artillery Projectile Color Code
Schreier, Jr., Konrad F.
0
94
0
USA
Reconstruction and Indian Wars, 1866-1897
Army
Artillery, Ordnance
ammunition
Note
91
Harvard Cadets 1860-1861
Williams, Jr., Hermann Warner
0
95
0
Massachusetts
Civil War Era, 1860-1865
Cadet
Note
91
Liverpool Volunteer Artillery Button (Vol. 22, p. 65)
Herst, DiAnn
Chartrand, Rene
0
96
0
Britain
Federalist Era, 1789-1811 & War of 1812, 1812-1815
Volunteer
Artillery
insignia
Note
91
North Carolina Cartridge Box Plate
Jacobsen, Jr., Jacques Noel
0
96
0
North Carolina, CSA
Civil War Era, 1860-1865
Volunteer
Infantry
insignia
Note
91
Parrott Cannon Sight
Lang, Jr., Wendell W.
0
97
0
Civil War Era, 1860-1865
Ordnance
Note
91
Model 1912 Cavalry Cartridge Belt
Brinckerhoff, Sidney B.
0
98
0
USA
Progressive Era, 1901-1913
Army
Cavalry
accouterments
Note
91
Review - United States Military Magazine, Volume Two, 1840-1841, Huddy & Duval
Peterson, Harold L.
0
100
0
Westward Expansion, 1816-1859
reprint of historical magazine
Review
92
Corps Badges of the Civil War
Pladeau, Marius B.
Cohen, Jr., Roger S.
0
103
0
USA
Civil War Era, 1860-1865
Army
insignia
Main article
92
Ordnance at Hopewell Furnace
Biever, Dale E.
0
113
0
Pennsylvania
Revolutionary War, 1775-1783
Ordnance
Main article
92
Notes on Troop Units in the Northern Army, 1775-1776
Manders, Eric I.
0
117
0
USA, Continental
Revolutionary War, 1775-1783
Army